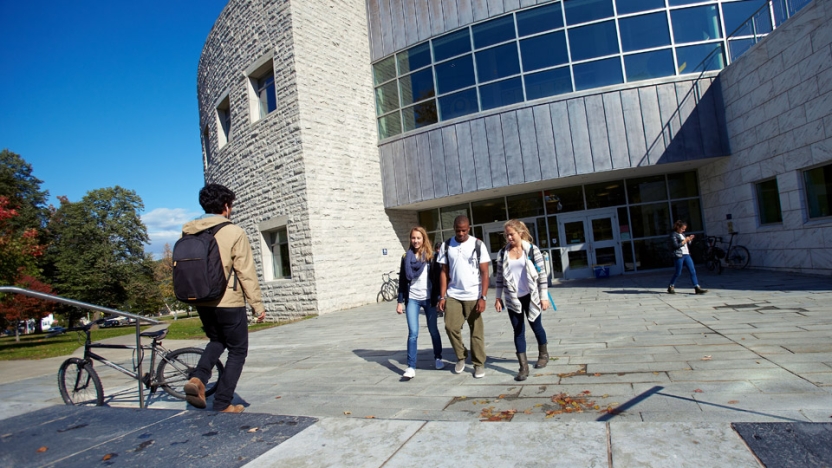 Davis Family Library is the main library on the Middlebury College campus.
Visiting
Davis Family Library is open to community between 8 a.m. - 5 p.m daily, so long as the library is open. Visitors may use computers, internet, and spaces, and it's possible to acquire a community borrower's card to gain borrowing privileges. Confirm that the library is open at by checking our hours.
Parking
There are several free parking spaces along Storrs Avenue behind the library's main entrance. Parking is also available at Q Lot at the Mahaney Arts Center. Visitors and guests coming to campus Monday - Friday between 8 a.m. - 5 p.m. should display a Middlebury College parking permit to avoid being ticketed. Temporary parking permits may be obtained online at the parking portal.
Students and departments hosting a special event are responsible for acquainting their guests with the parking regulations. Departments hosting a special event on a weekday should notify Public Safety in advance.
Work and Meeting Spaces
Review our Work and Meeting Spaces Guide to learn about the types of work environments available at Davis Family Library and information on the library's accessibility.
Library Atrium Displays
Middlebury College groups and offices are encouraged to present displays of library materials to coincide with current events on campus or in the world at large. Students may also present displays related to their academic work. (Space may also be made available for displays that do not specifically feature library materials.)
Please read detailed instructions to understand acceptable content, available equipment and props, and review the planning checklist for atrium displays. Then submit a proposal for your display at Davis Family Library.
Submit Display Proposal
Departments Located in Davis Family Library
Architecture
The Davis Family Library was built on the site of the former Science Center, in view of the historic old library, now the Donald Everett Axinn '51 Center for Literary and Cultural Studies at Starr Library. Each of its three levels is approximately one acre, and the top two floors include mezzanines. There are 298 individual study carrels distributed throughout the building, many in four tower-like structures along the northern and southern faces.
The main level features a café and 24-hour study area near the entrance area, which includes information and service desks; a 30-seat lecture hall; 18-seat video conferencing seminar room; two 12-seat video viewing rooms; 2 computer labs; individual video viewing carrels; 851 student seats; and staff offices.
Environmental considerations and energy efficiency were incorporated in the building design and construction process. Building materials include 11,000 board feet of local certified maple and beech wood, roughly 70 percent of which was harvested from land at Middlebury's Bread Loaf campus in Ripton.
Completed
July 2004
Total Square Footage
135,000
Project Manager
Tom McGinn
Project Cost
$40,000,000
Architect
Gwathmey Siegel & Associates Architects
New York,

NY

Construction Manager
Lee Kennedy Co Inc.
Quincy,

MA

Awards
American Society of Colleges and Universities,
Collegiate Citation for Excellence 2007
Floor Plans