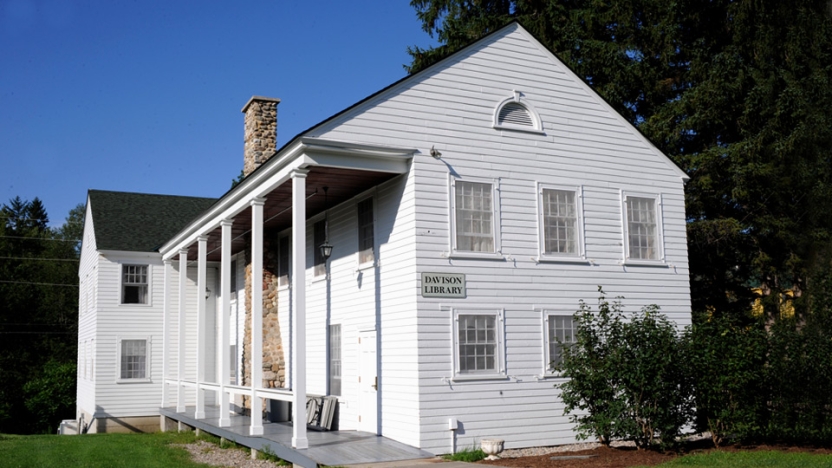 Davison Library houses a small book collection of English, American, and world literature, along with materials supporting creative writing and pedagogy.
Davison provides a quiet place to study in a quaint summer camp atmosphere, while the people, systems, resources, and collections of a noted academic library are readily at hand. Bread Loaf students, wherever they are, can access library resources that support their work while they are enrolled.
Reserve readings in print or electronic format,
Courier and Interlibrary Loan delivery of research materials,
Public computers and printers, and
Assistance in finding and using library resources.
Bread Loaf School of English Research Guide
Bread Loaf Writers' Conferences Research Guide
Land Acknowledgement
Middlebury College sits on land which has served as a site of meeting and exchange among indigenous peoples since time immemorial. The Western Abenaki are the traditional caretakers of these Vermont lands and waters, which they call Ndakinna, or "homeland." We remember their connection to this region and the hardships they continue to endure. We give thanks for the opportunity to share in the bounty of this place and to protect it.
History of Davison Library
The Wilfred Davison Memorial Library opened in 1930 and is named for the first dean of the Bread Loaf School of English.
Ten years prior, in 1920—the inaugural summer of the Bread Loaf School of English—Dean Davison brought a collection of his own books up the mountain and placed them in a small room at the Bread Loaf Inn. This room, where students in his course would read books by kerosene lamp, was the place where library services at the Bread Loaf campus first began. Within the decade, the Bread Loaf book collection had grown to more than 1,000. Dean Davison felt the School deserved a proper library, especially as the books shipped up the mountain from the main campus had long since exceeded the available space in the Inn.
Davison's untimely death in 1929 at the age of 41 was the catalyst for building a new library. The poet Robert Frost spoke at the library's dedication.
The following year, in 1931, just before the start of the summer session of the School of English, the new library was destroyed by a fire that also consumed the neighboring Music Hall and a portion of the Bread Loaf Inn. The library was rebuilt shortly thereafter. An addition was constructed in 1984 which added a classroom, a computing space, and a reading room.
Contact
Bread Loaf Mountain Campus
Route 125
Ripton, VT 05766
Campus Map
Tel:
Bread Loaf School of English and Bread Loaf Writers' Conferences Liaison
Email:

Tel:
Was this page helpful?