Faculty! Here's How to Help Students Get the Most from the Library this Fall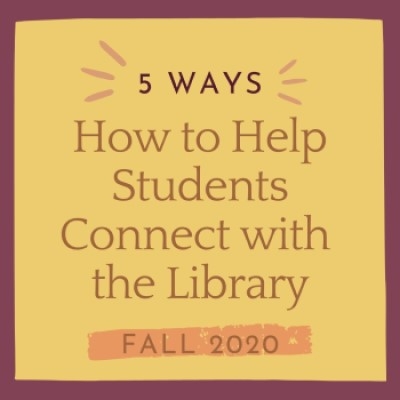 Even though librarians are not in the library, we're still able to meet with your students. Here are five ways to help your students connect with librarians and library resources during this unusual semester.
1. Tell students how (and why!) they can meet with a librarian
Talking with a librarian can be a huge time-saver. Librarians help students refine research topics, develop research strategies, find primary and secondary sources, use data and statistics, evaluate sources, acquire sources from other libraries, and cite sources. Not all students know what librarians do, so take a moment to explain to your students why you recommend consulting a librarian.
Where can students find a librarian? This fall, librarians are available for drop-in questions via chat, Zoom or email. Or, students can schedule an appointment for a Zoom meeting! Show students the "Chat with a librarian" button at the bottom of the Library home page. Or, direct them to the library's Ask Us page where they can schedule a meeting or find contact information for a subject specialist.
2. Schedule a library workshop 
Library research workshops and visits to Special Collections help students find and use sources effectively. Faculty tell us that students in classes that meet with a librarian do better research than students in other classes. Our workshops are interactive, and we customize them to meet your goals. Here are a few workshop ideas to give you a sense of the possibilities.
How can you request a workshop? Use this form to email a librarian, or contact your library liaison directly. In order to get the time, location and customized content that you want, contact us as early as possible. However, we'll try to accommodate your request with even a couple of weeks' notice. We look forward to working with you!
3. Link your class to the "Welcome to the Libraries" tutorial 
"Welcome to the Libraries" is a self-paced, interactive tutorial that teaches students how to take full advantage of our library collections. It includes lessons on how to find books and articles, how to start your research, how to cite sources, and (most importantly!) how to find a librarian. It is accessible as a standalone Canvas course, or as modules that you may selectively add to your Canvas site. If you'd like help adding the tutorial to your Canvas site, contact your library liaison.
4. Incorporate information literacy learning tools into your research assignments
You can pick from an enormous collection of step-by-step tutorials, videos and quizzes on topics like narrowing a research topic, evaluating sources, and joining the scholarly conversation (Midd credentials required). All of these tools, accessible from Credo Instruct, teach students how to think more critically about how and why we do research. The Credo Instruct collection is browsable via a standalone web page, and individual titles can be added to a Canvas site. Contact your library liaison for assistance and advice.
5. Customize the Library Research page in Midd's Canvas Commons template
If you're using Middlebury's Canvas Commons template, you'll notice that it has a Library Research page. You can customize the page by adding your librarian's contact information plus links to subject-specific library research guides. (To reach the template:  Navigate to Canvas Commons, then search for "Middlebury" in the box at the top.)
Talk with your library liaison about adding more library content to any Canvas site. For example, your librarian can:  a) customize the Library Research content from the Canvas Commons template, b) add the "Welcome to the Libraries" tutorial to introduce students to library resources, c) select Credo Instruct information literacy content for your assignments, d) embed a subject-specific library research guide, e) manage a "Talk with a Librarian" discussion forum.
We're looking forward to working with you and your students this fall! Please contact your library liaison to talk about all of the ways we can help.
Media Contact
Carrie Macfarlane is the Director of Research & Instruction at the Davis Family Library