Jurassic Ichnofossil in Armstrong
There was a legend of dinosaur footprints preserved in a sandstone slab, but it wasn't until 2020 that it was re-discovered in a cache of geology samples stored in the basement of Adirondack House.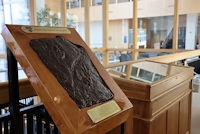 On Friday, Professor Pete Ryan unveiled this Jurassic ichnofossil, which is now on display in Armstrong Library.  Eamon McMahon (STSS) has built a custom display and has treated the surface of the fossil so visitors to Armstrong are welcome to view and touch this 200million year old record of a therapod.
Read more about ichnofossils here.
Read more about therapods here.
Media Contact
.Wendy Shook is  the Science Data Librarian.