New library resources pertaining to Japan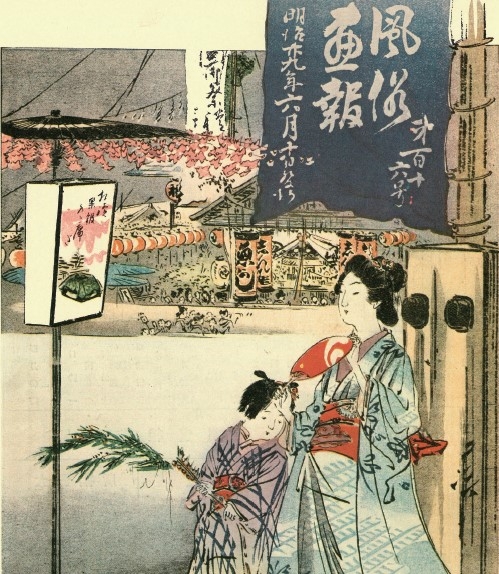 Middlebury (Vermont) users now have access to over a dozen new collections of primary source material that pertain to Japan as well as Japan's relations with other East Asian nations, and also the US.
Popular magazine archives
Bungeishunzu  Founded by author Kikuchi Kan in 1923 to share his own thoughts on literature free of the limiting framework of all other literary groups, the magazine soon became a forum for publishing essays and fiction by many of Japan's most prestigious authors including Akutagawa Ryu and Kawabata Yasunori and, in the early Showa period, began to add articles on current affairs and other topics of interest to the community. Bungeishunju remains one of the most prestigious and widely circulated literary magazines in Japan.
Fuzoku gaho The first ever graphic magazine produced in Japan, Fuzoku Gaho covered content about social and cultural trends through the Edo, Meiji, and Taisho periods as well as other current events of the time. While much more short lived than Bungeishunju, this magazine does have a rich collection of period drawings, prints, and photographs available for access (including the image at the top of this blog post).
Documents pertaining to Japan from the United States' State Department:
Japan: Records of the U.S. Department of State Relating to Commercial Relations between Japan and the US, 1910-1949: These documents are predominantly instructions to—and dispatches from— diplomatic and consular officials tracing the commercial relations between the United States and Japan over the course of almost half a century in the years 1910-1949.
Political Relations and Conflict between Republican China and Imperial Japan, 1930-1939: Included in this collection are US State Department records on: the Japanese occupation of Manchuria, beginning with the Mukden incident, in 1931; military action at Shanghai in 1932; further Japanese political and economic penetration into China, 1935-1936; and the course of the undeclared war between Japan and China, 1937-1939.
State Department's Bureau of Intelligence and Research Reports 1941-1961: This collection consists of research and intelligence reports prepared during 1941-1961 with topics ranging from individual commodities or countries to the economic and political characteristics of whole regions.
Records of the U.S. Department of State relating to political relations between Japan and the US, in three collections:
1930-1939 - The year 1931 stands as a major turning point in Japan's modern history. In September 1931 Japanese armed forces overran Manchuria, committing their government to a course of direct action in Asia and, ultimately, to the rejection of the structure of international relations which had emerged in the 1920s. This archive charts a key decade in U.S.-Japanese relations.
1940-1944 - This archive traces the outbreak of the U.S. war with Japan in December 1941 through 1944.
1945-1949 - Japan in the summer of 1945 was a nation totally exhausted by war. The Allied Occupation, dedicated to political and social reform, thoroughly transformed the country in a remarkably short period of time. 
Records of the U.S. Department of State relating to internal affairs in Japan, in two collections:
1950-1954 - documents in this collection are predominantly instructions to and dispatches from U.S. diplomatic and consular staff between 1950 and 1954 regarding political, economic, military, social, and other internal conditions in Japan.
1955-1959 - documents in this collection are predominantly instructions to and dispatches from U.S. diplomatic and consular staff between 1955 and 1959 regarding political, economic, military, social, and other internal conditions in Japan.
Japan: Records of the U.S. Department of State, 1950-1959 -  In 1945 Japan was a devastated and occupied country. A decade later it reemerged as an independent state within an American-led order of capitalist states. This rapid transformation was the product of the unusual circumstances of the U.S. occupation and the global rivalry of the Cold War. This collection includes commercial documents such as the Pacific Oceans Convention between the US, Canada, and Japan; and diplomatic correspondence such as those of U.S. Secretary of State, John Foster Dulles.
Documents from other sources
Records of the Far Eastern Commission, 1945-1952: All the activities of the multinational Far Eastern Commission (FEC), which oversaw the postwar governing and reconstruction of Japan, are fully documented in this publication of the records now held by the U.S. National Archives. 
Japan and Korea: Summation of Nonmilitary Activities, 1945-1948: The rebuilding of postwar Japan and southern Korea by Allied occupation forces is described here in a series of thirty-six monthly reports which offer detailed information on industrial reparations; conversion of production from military to consumer goods; land reform; restructuring of educational, public health, and welfare programs; and the establishment of a liberal, democratic political system.
Japan: U.S. Naval Technical Mission, 1945-1946: The U.S. Naval Technical Mission to Japan was established on 14 August 1945, to survey Japanese scientific and technological developments of interest to the U.S. Navy and Marine Corps in the Japanese islands of Kyushu, Shikoku, Honshu, Hokkaido; China; and parts of Korea.
Japan-U.S. Economic Relations Group Records, 1979-1981: On May 2, 1979, President Jimmy Carter and Prime Minister Masayoshi Ohira met in Washington, D.C. and agreed to establish the Japan-U.S. Economic Relations Group—informally known as the "Wise Men." These records from the US National Archives document their discussions and research.
The Papers of Ernest Satow: Sir Ernest Mason Satow (1843-1929) was a legendary British diplomat and scholar, a key figure in East Asia and Anglo-Japanese and -Chinese relations, particularly in Bakumatsu (1853-1867) and Meiji Era (1868-1912) Japan, and in China after the Boxer Rebellion (1900-1906). This collection, from the UK's National Archives, includes digitized personal papers, and transcripts of his diaries and travel journals.
Media Contact
Arabella is the Electronic Resources Manager and Library Systems Specialist.