Welcome to the Libraries, Febs!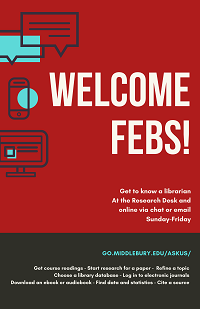 Get to know a librarian at the Research Desk and online via chat or email.
Get course readings
Start research for a paper
Refine a topic
Choose a library database
Log in to electronic journals
Download an ebook or audiobook
Find data and statistics
Cite a source
Spring Research Desk Hours
(February 10 – May 19)
Sunday 2pm-5pm
Monday 11am-5pm and 7pm-9:30pm
Tuesday 11am-5pm and 7pm-9:30pm
Wednesday 11am-5pm and 7pm-9:30pm
Thursday 11am-5pm
Friday 11am-4pm
And online anytime at: go.middlebury.edu/askalibrarian
No one's at the Research Desk?
Visit us in our offices! Librarians are conveniently located right behind the Research Desk at the Davis Family Library.
What about the Armstrong Library?
A librarian is available most days at the Armstrong Library in McCardell Bicentennial Hall, too. Just ask!
Media Contact
Carrie Macfarlane is the Director of Research & Instruction at the Davis Family Library