Why is Open Access Important?
What is Open Access? It's a way of publishing scholarly articles and books that makes these materials free to use and accessible to all. And you can download, print, retain, and share these materials — wherever, whenever.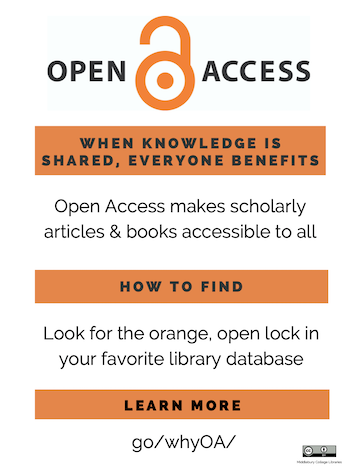 Why do authors choose to publish their work openly?
To provide immediate and unrestricted access to their research
To allow for collaboration with other scholars around the world
To contribute to a more fair distribution of knowledge that is available to everyone
Where do you find Open Access materials?
Look for the orange, open lock in your favorite database. Here are a few places to look:
Any questions about Open Access? Visit with us at the Research Desk! Contact information and links at go/askus/
Media Contact
Kellam Ayres, Library Reserves Coordinator and Liaison to the Bread Loaf Programs