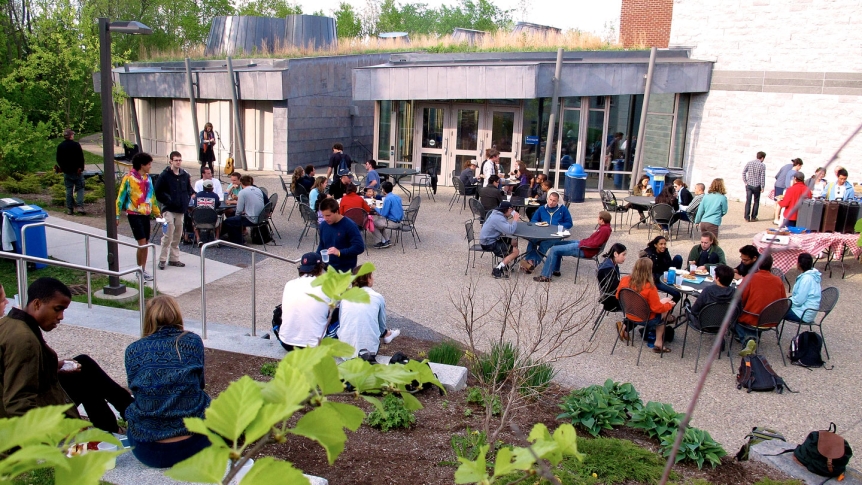 Middlebury offers three dining options on campus, each with its own menus and atmosphere.
You can check out our menus for each dining hall, updated daily.
Spring 2021
Each dining hall will be used for regular dining service for 3 meals a day/7 days a week. Subject to change as conditions require.
Breakfast 7:00 a.m.–10:00 a.m.
Continental 10:00 a.m.–11:00 a.m. 
Lunch 11:00 a.m.–2:00 p.m.
Dinner 4:30 p.m.–8:30 p.m.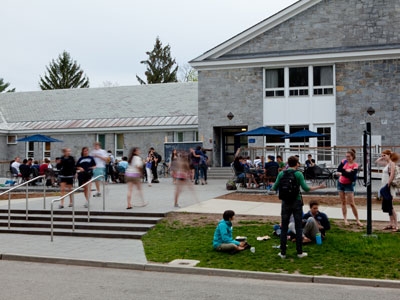 Proctor Dining Hall
Proctor has two different serving lines that give students plenty of options for hot, freshly prepared foods. Four beverage stations are scattered throughout the dining room as well as a large salad, soup and deli bar. Proctor is also home to our popular panini machines and self stir-fry station for those who prefer to prepare meals themselves using ingredients found throughout the dining hall. Proctor's convenient location in the middle of campus makes it the destination of "4 o'clock Proc" where friends duck in for a quick afternoon snack. Students may choose to eat in the main dining area, on the cozy couches and round tables of proctor lounge, in the more intimate booth room, upstairs or outside on the sunny patio and picnic tables.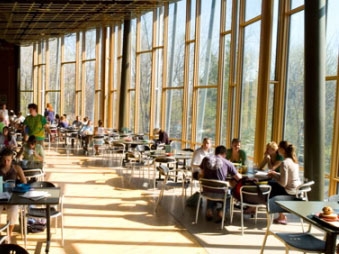 Atwater Dining Hall
Atwater has high sloped ceilings and its walls, consisting largely of windows, provide diners with natural light and views toward the Town of Middlebury to the east, and the Green Mountains beyond. The 21,400 square foot oval-shaped dining hall seats 225, features display cooking, a hearth oven which is the focal point as students enter the dining room, and diners may view the food being prepared as they pass through an open serving and cooking area with four cooking platforms and two islands. Atwater Dining Hall boasts a vegetated roof and popular outdoor terraces as well as a seminar room for meetings and classes. 
Due to increased dining services for the fall semester there will be no reserved Atwater dinner opportunities for specific groups.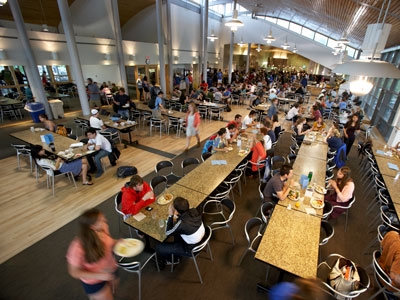 Ross Dining Hall
Ross is a 450-seat facility that opened in the Fall of 2002 and is located on the western edge of the campus. The Ross building complex includes residential living and classrooms so that living, dining and learning all take place in the same area in an environment that encourages a melding of academics and social life. Ross dining hall has high ceilings and a large window wall facing New York's Adirondack Mountains and amazing views of the sunset. Four open concept kitchen stations allow students to watch as their food is prepared and gives them the flexibility to assemble exactly what they would like to enjoy from the days offerings.