To Nourish and Nurture
Dining at Middlebury College is much more than three meals a day. We are a yearlong operation that strives to be an active and engaged part of the community.
Dining Services include three all-you-care-to-eat dining halls, several retail options such as the Grille and Wilson Café, and an exceptional catering staff to support campus events and private functions.
Our dedicated team works to serve and meet the needs of students, faculty, and staff during the academic year as well as the summer months when Middlebury Schools and Programs are in session. 
Each guest we serve allows us and opportunity to build community, create connections and share the fine culinary creations from our kitchens. It is our goal to deliver delicious meals, while honoring our commitment to locally produced, sustainable and high quality products.
Our Menus
You can check daily on the different menus for each dining hall.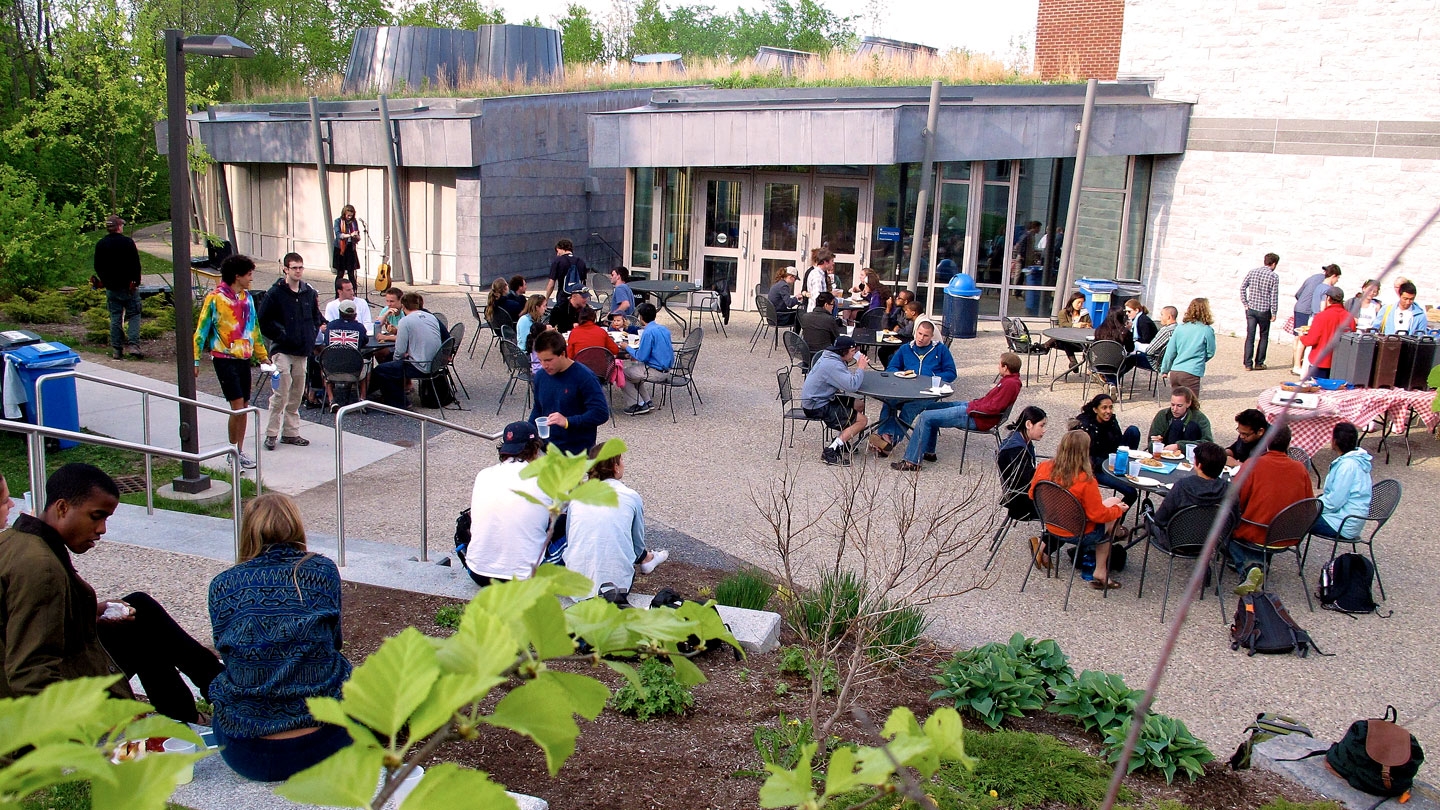 Our Dining Halls
We offer three options for dining on campus, each with its own welcoming and comfortable space and personality.

 
More about Dining Halls
Atwater Dining Hall
Atwater has high ceilings and windows to provide natural light and views toward the town and the Green Mountains beyond while diners enjoy specialities from the central hearth oven.
Proctor Dining Hall
Proctor is the center of campus and has panini machines and a stir fry station, as well as salad, soup, and deli bars to that give students plenty of options for freshly prepared foods.
Ross Dining Hall
Ross looks toward New York's Adirondack Mountains with amazing views of the sunset. Options range from pub food favorites for lunch and dinner with items such as burgers, specialty pizza, pasta, and paninis. We also will offer salad and deli items, a yogurt bar, and desserts
Retail Options Around Campus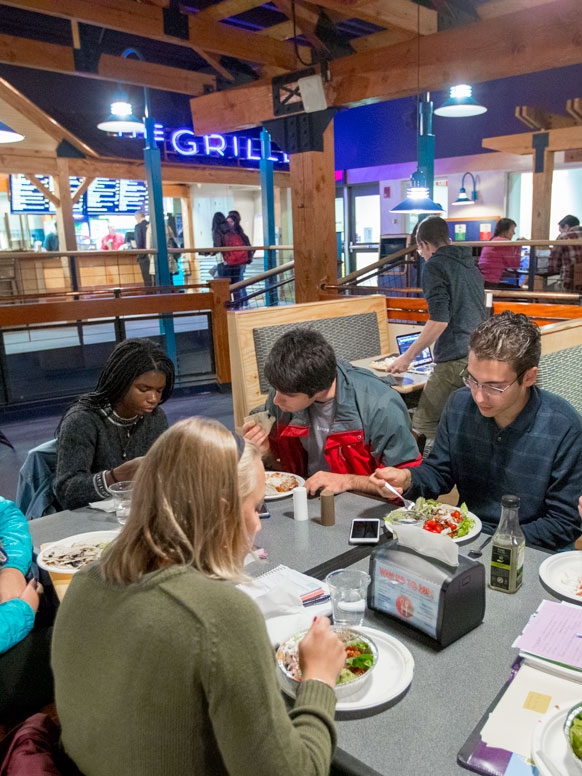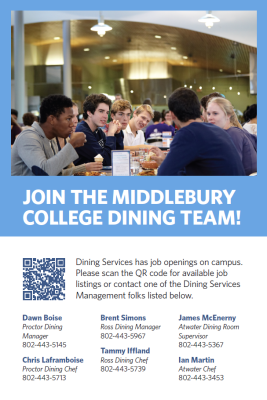 Get Involved
There are lots of ways for students to connect and engage with Dining Services. Whether hosting events, building community, or even sharing your favorite recipes from home, students are always at the center of what we do. Take a minute to meet the team! We look forward to seeing you around campus.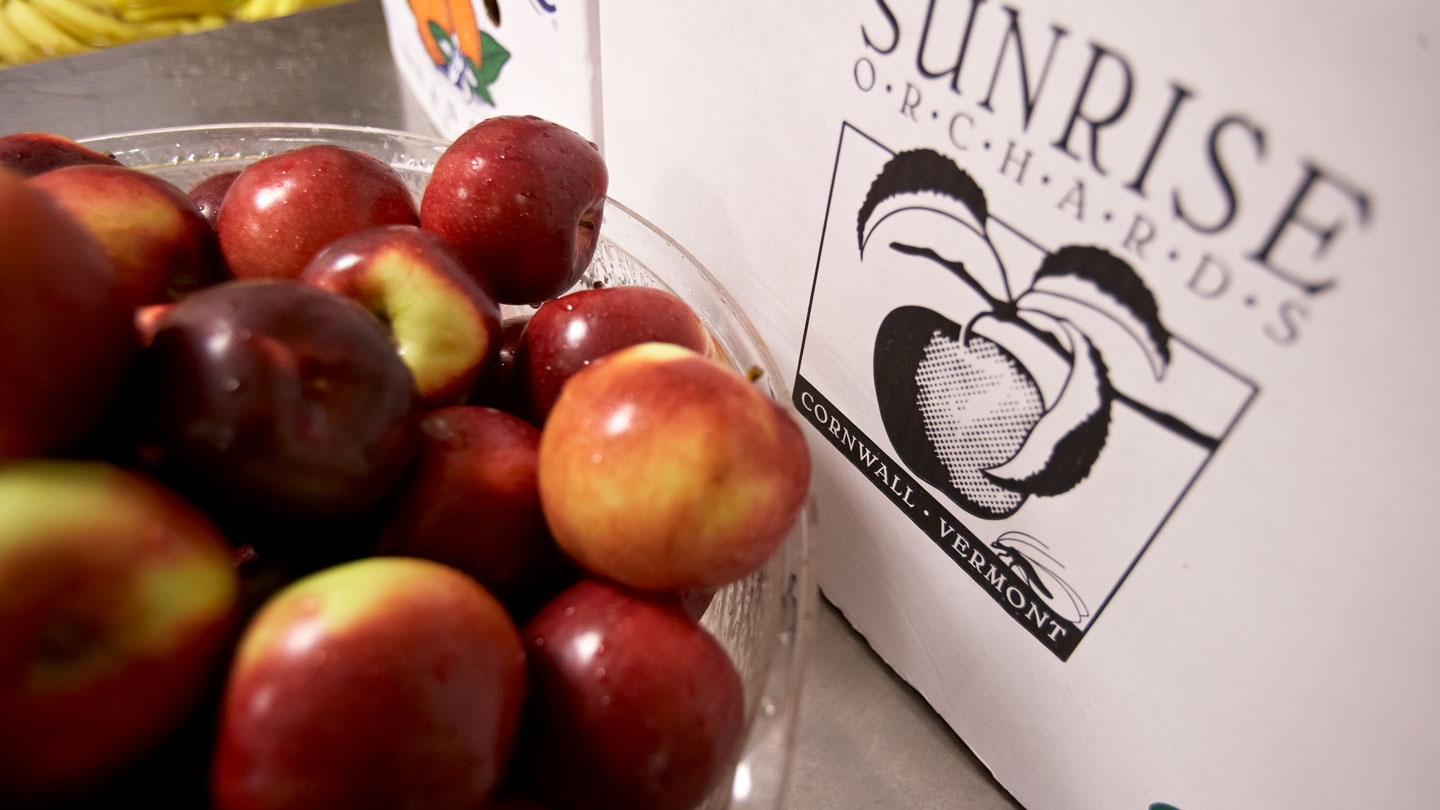 Local Food
Our number one goal is to bring you the highest quality and best tasting food every day and every season. By supporting our local food systems we create a dining experience that engages with our community and our environment. 
Read more about our commitment to sustainability.