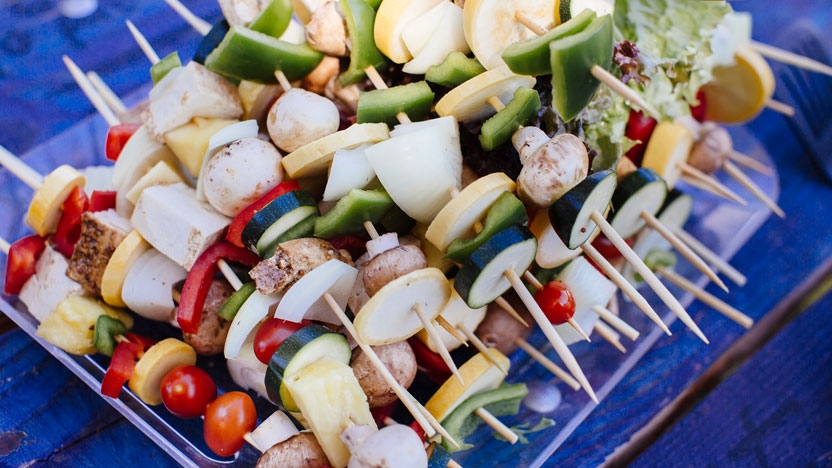 In 2021, Middlebury College Dining Services operations will be informed by current guidance from the CDC and the Vermont Department of Health. To prevent the spread of the virus, physical distancing and enhanced cleaning protocols will be integrated into everything we do. Hours, seating arrangements, and other details of dining service will change throughout the summer as public health conditions warrant. We are committed to operating safely and delivering delicious meals to our campus community.
Dining Centers
The experience in our dining halls will be significantly different in 2021. These changes have been put into place for your safety as well as the safety of our faculty and staff, by limiting physical access to food items as well as the amount of time students spend communally in the dining halls. Dining Services will utilize a flexible approach and alter its approach based on the evolving public health situation. Our dining staff ask for patience, understanding, and compassion from the student community in light of this very different way of operating.
Hours of Operation
Breakfast
Monday – Friday
Saturday & Sunday
Lunch
Monday – Friday
Saturday & Sunday
Dinner
Monday-Friday
Saturday & Sunday
Dining During Campus Quarantine
Dining halls will operate on a strict "to-go" model at least until all summer students successfully complete their Day-7

COVID

19 tests.
During this period, physically distancing inside and outdoor seating will be available.
Students will be required to pick up their meals, without distraction, and leave the serving area.
Students can eat their meals outside or inside in groups of 10 or less (with appropriate physical distancing) or back at their rooms.
Outside tents will be available at each location for outdoor seating.
You will be assigned a dining hall and mealtimes by school; all meals will need to be received at your assigned location unless otherwise directed.
English speaking students will be allowed to visit any dining hall they choose.  Please be respectful for the Language School's students that are following the language pledge and limit speaking English until you are outside.
Menus will be limited during this time, and the same menu will be offered in all dining halls. If your nutritional and dietary needs are not being met, please contact one of the chefs and we will do our best to accommodate them.
Unfortunately, due to staffing issues, we will not be offering any special meals this summer.
All condiments, cereal, yogurt, and eating utensils will be single serve and disposable.
Meals will be packaged in reusable containers by dining staff for takeout; limited self-service will be allowed.
Students are required to follow physical distancing requirements and wear face coverings at all times in all campus dining locations.
Dining for Students in Quarantine and Isolation
Delivery services will be available for students who are in quarantine or isolation on campus, as mandated by Health Services or the Vermont Department of Health. This will allow students to access meals without creating an exposure risk to the rest of the community.
Middlebury
ID

Cards

All diners (students, faculty, staff, and guests) are required to swipe their Middlebury College ID card prior to entering the dining halls. No one will be allowed to enter the dining halls without an ID card (in some cases, such as guests, this may be a temporary card). Please make sure that you carry your Middlebury ID card with you at all times.

If you lose your card, please contact Public Safety at publicsafety@middlebury.edu or 802-443-5133.
Dietary Needs and Special Diets
Middlebury College Dining Services strives to accommodate the individual dietary needs and preferences of everyone we serve on campus.
A complete ingredients list that highlights commonly avoided foods and allergens is posted next to every dish served. You will always find vegetarian, vegan, and gluten-free and dairy-free options.
If you have very specific dietary needs that may not be satisfied by the information above please fill out the Dietary Request Form.
Kosher
The Kosher food for the Summer Language School Program is not prepared by Middlebury College Dining Services. We contract Vermont Kosher to provide lunch and dinner meals 7 days a week for students wanting to eat Kosher. Should you have a specific question about our program prior to your arrival for the summer, the contact information can be found in the link above. You can also contact Bo Cleveland, Assistant Director, at rclevela@middlebury.edu or 802-443-5349.
How does it work?
Our kosher meal program is designed to provide individually prepared lunch and dinner meals Monday through Friday in the Atwater dining hall only, primarily for the School of Hebrew. Weekend cold meals, Saturday and Sunday, will be served in the Redfield dining room in Proctor. We will provide the individually prepared weekend meals and deliver them Friday evening to Proctor where they will be stored in a dedicated Kosher cooler for use on Saturday and Sunday.
Prepared Kosher breakfast meals are not included in this plan, but the Atwater dining hall provides suitable hectured options Monday through Friday and also in the Redfield dining room in Proctor on the weekend.
Middlebury College Dining Services will be transporting and delivering the meals to Atwater and Proctor in disposable containers. The menu cycles are planned and we will provide you with the menu for each week so you will have an idea of what to look forward to. The disposable containers will arrive with ingredients listed and also common allergens. We can accommodate special restrictions with enough notice. The double wrapped hot food containers will be heated in our ovens and then placed in enclosed heating cabinets in the Atwater operation. Cold food options will be held in a cold holding cabinet or will be left at room temperature in the separate serving area for the School of Hebrew students who have signed up for these meals.
Before service we set up the buffet line with items from the day menu along with disposable service ware and utensils to eat from. We will also have some additional hectured snack items to supplement your cravings during the day.  For Chabbat, we provide Challah bread and Kosher grape juice for you to take for services before dinner if that is your practice. You can take your meal to go for this night so you can eat after your service.
Retail Locations
In addition to the dining halls, Middlebury will continue to provide food and beverages at three retail locations: the Grille, MiddXpress, and at Tavern on the Tee at the golf course. All retail locations will have limited hours of operation, so please check the Dining Services web page for further information.
Alcohol
Alcohol is prohibited in our dining halls at all times. Customers are also not allowed to bring in any alcoholic beverages to any of our retail dining locations.
The Grille will only be open for late night services and will not offer alcoholic beverages until Wednesday, July 7th. If you would like to purchase an alcoholic beverage at the Grille, you must be 21 years of age.
The Tavern on the Tee, located at Ralph Myhre Golf Course, is open 7 days a week from 8:00am - 7:00pm and serves alcohol as well as a full menu.
Customers purchasing alcohol must provide a passport or a U.S.-issued driver's license, along with your college ID card for proof of age. Non-U.S. driver's licenses are not accepted as proof of age. If the dining services staff deem that an individual is intoxicated, they will not be served.
Failure to cooperate with dining staff requests may result in disciplinary action.