Accommodating Individual Needs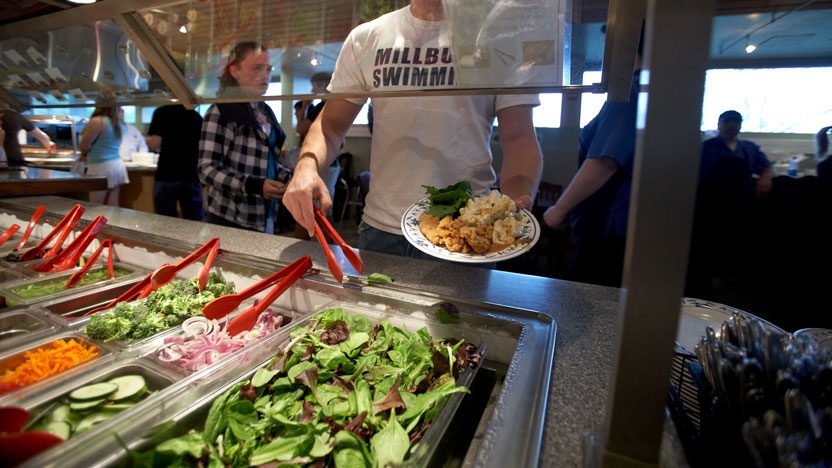 Our chefs and kitchen staff are prepared and willing to support your dietary needs. If you aren't able to find what you need at a meal time, you are welcome and encouraged to have a conversation with our supervising chefs and we will make a meal that you can enjoy
Allergies and Other Dietary Needs
Trying to navigate food as medicine through the lens of self-diagnosis, cultural and religious observances and medically diagnosed treatments can be challenging for students trying to find safe food to eat in the Dining Halls  and our culinary staff offering them options. Our approach has been to construct a system that allows the student to autonomously navigate the dining halls without having to draw attention to their actions finding safe food to eat. We are happy to go over any of this information below. We do make mistake as there are so many variables in this system but here is a list of things, we do in every Board Dining Operation.
Exhaustively label the food we serve, highlighting ingredients to draw attention to the known allergens found in the recipe as well as in the processed products that might be used in the recipe.
Have an open kitchen where a student can tour and inspect the food storage areas to personally confirm ingredients that may be of some concern to them.
Have a knowledgeable staff willing to answer questions about how a menu item is produced or the ingredients it is made from and what substitutions might be available to engineer out an offending ingredient.
Provide an opportunity to establish a personal relationship with the kitchen staff where a student is known and recognized by them. This relationship contributes to the staff being able to direct the student towards or away from any questionable menu items you may have discussed with them. In addition, the staff will inform the chef if they notice that someone, they are accustomed to seeing/assisting is not around. We do often prepare or have ready, food for students so this helps us manage our production if a student's dining habits change.
Provide personalized meetings with the chefs to tour the kitchen to see what ingredients we use and if that is not enough, we can strategize ways to strengthen our system. The results of these meetings may prove that our existing practices are adequate, but they may also direct us to purchase products specific to a students need while incorporating a system to have it readily available to them without putting it out for general consumption.
We may also have a system where food is cooked specifically for an individual from an agreed upon menu designed by the student and the chef and served in a dedicated operation at an agreed upon time.
We do have allergen free cooking equipment that is kept behind the regular service line for students to prepare their own food. They clean and return the equipment when they are finished.
We have separate coolers and storage areas that have alternative products that are individually wrapped to prevent cross contamination and provide options for students looking to avoid certain ingredients. The coolers have gluten, dairy, soy, nut free items that we keep in stock for general consumption.
We do often have proteins available Halal students looking for alternatives to the regular menu options. Depending on the operation and the popularity we will have to cook it to order, or we may have some ready and the student just has to ask for it.
Our cycle menus reflect our awareness of eating trends, so our template includes placeholders for GF, Soy Free, Dairy Free and Vegan items that we routinely offer for each meal period.
We will always cook up items from the Servery, salad, deli alternative bar that a student gathers if they would like something specific that is not available on the menu.
We have alternative bulk items that students can draw from to create a complete meal and have it heated for them or heat themselves in the microwave. Items like marinated tofu, brown rice, beans, and legumes are always available.
Can coordinate with the services of a dietician should you need service of this nature.
We encourage students to communicate with our knowledgeable and accommodating chefs and kitchen staff to better assist them in locating foods that meet their needs. Students can also request a personalized meeting with our Head Chefs to accommodate them further.
If you have very specific dietary needs that may not be satisfied by the information above please fill out the Dietary Request Form.
Take Out and Special Arrangements
In an effort to reduce waste and encourage sustainability, each dining hall offers a reusable take out container program. After the initial minimal purchase you may exchange your carabiner or dirty container for a clean one any time you prefer to take out rather than eat in the dining hall. Please see more information about to-go containers.
Middlebury College Dining Service will support arrangements to provide meals for students who may be confined to their rooms due to illness.
Early and late meals may also be arranged for athletic teams with games that do not coincide with the dining schedule by contacting the Dining Services office. 
During the summer Language Schools, specific meal schedules for each school supports participants in honoring their language pledges.