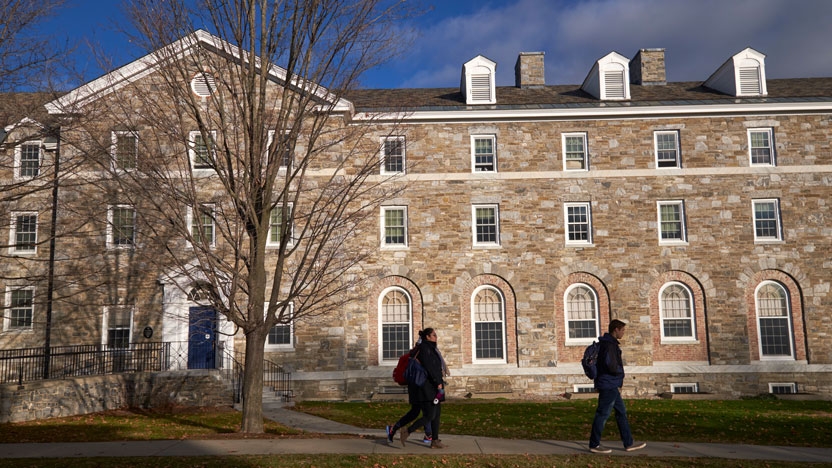 If you will be arriving at Middlebury in September or February as a first-year, transfer, or exchange student, this information is for you! 
Every new student is required to complete a housing application in their Housing Portal. 
Housing Contracts
The contract outlines expectations for every student around being a good roommate, neighbor, and member of any and all residential communities in which they may reside throughout their time at Middlebury College.
Housing Application
This form provides the Residential Life team with insights about you, your living habits, and other interests. Middlebury's goal is to create room/suite and hallmate matches that will not only support individual student needs but also introduce students to new ways of thinking, different perspectives, and lived experiences.
In terms of housing placement, your individual housing desires and needs are balanced against those of all other students as well as the mission and values of the College. Please note that Middlebury College cannot honor requests for specific roommates, nor can we honor requests for special housing assignments based on personal preferences. The Residential Life team strives to build communities where all students feel welcome and supported. If you have specific housing needs you wish to discuss, please reach out to us directly at reslife@middlebury.edu. Housing accommodations are also available for students with disabilities through our Disability Resource Center (DRC). 
If you have any additional needs or concerns which may impact your housing assignment (Example: Single gender floor for religious reasons, access to a single stall bathroom for gender identity reasons, gender identity different from legal sex, etc.), please add that information to your housing application and/or email our office directly at reslife@middlebury.edu.
Middlebury is a residential college. As such, our residence halls play an integral role in both your academic and cocurricular life on campus.
Fall term first-year students are generally housed in communities with other first-year students. Where possible, February (Feb) first-years are placed within first-year communities, or in small groups within general student housing across campus. Transfer and exchange students are housed based on the location of available beds as well as a student's individual considerations and needs.
Housing assignments, roommate details, and building access information are posted on a student's housing portal shortly before new students arrive. Students are also notified via an email to their Middlebury email account.
Submission Deadlines
First-year students and incoming Transfer and Exchange students arriving in September must submit their forms between June 1st and June 30th 2023.
New students (first-years and exchange students) arriving in February, please plan to submit your forms in the fall (more information to come as your arrival gets closer).
If there are concerns/questions about housing, all students are encouraged to email Residential Life at reslife@middlebury.edu. Requests for housing accommodations must be discussed directly with a student; doing so will help to foster open lines of communication and educate the student on how to address any further inquiries they may have during their time at Middlebury.
Move-In Information
Stay tuned for more information. 
Helpful Packing Tips
What's Provided
Extra-long twin bed and mattress (36 x 80 inches)
Closet or wardrobe
Desk and chair
Bookshelf
Waste basket and recycling bin
Dresser
Whiteboard on the door exterior
Face mirror (some rooms come with a full-length mirror as well)
What to Bring
Twin extra-long (80-inch) sheets, comforter, pillows, blanket(s), and mattress pad
Towels (two are ideal, one to use while washing the other!)
Study lamp and/or floor lamp with bulb
Small area rug or carpet remnant up to 12 x 8 feet in size
Hangers
Power strips (instead of extension cords) with surge protection
Posters, pictures, flags, and other decorations that can be affixed to the wall without using nails, cellophane tape, or screws
What Not to Bring
Halogen lights
Non-LED string lights
Candles, incense, or any devices that create open flames
Electrical appliances with exposed heating elements such as toasters, heaters, and hot plates (except irons with automatic shutoff mechanisms)
Pets, except approved support animals
Air-conditioning units (see policy here).