Expert Solutionists' Bios 2021-22
We bring in "expert solutionists" to train RG Scholars in solutions thinking.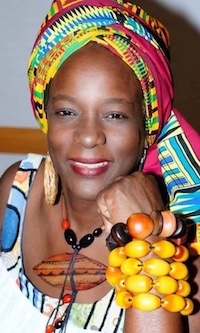 ---
Akilah Jaramogi 
Akilah Jaramogi is a Forester, Environmental Consultant, Social Entrepreneur and Cultural Activist. She is the co-founder and CEO of the Fondes Amandes Community Reforestation Project (FACRP) in St. Ann's, Trinidad and Tobago and a director of the Maroon Women Chamber of Cooperation in the Caribbean. As an environmentalist, Akilah has received many awards over the years, her most notable was being the recipient of Trinidad's highest humanitarian honour, the Hummingbird Gold Medal Award on behalf of her organisation, FACRP. In December 2017, Akilah attended the International Civil Society Week in Suva, Fiji, where civil society and environmental stakeholders worked together to find common solutions to global environmental challenges caused by climate change. She also partnered with Commonwealth Foundation and Civil Society organisations in the Caribbean to understand the linkages between Gender and Climate Change. This project ran from 2018 to 2019. Akilah was also part of the contingent, representing Trinidad and Tobago at the Slow Food Terra Madre gathering in Torino, Italy. Her passion for ecological sustainability and nature is rooted in the work of her Merikin ancestors living off the land in the Company Villages in South Trinidad.
Akilah engages in new forest conservation and rehabilitation methods within the Fondes Amandes Community to curb the trend of forest and bush fires and to reforest the hillsides by imploring methods of agroforestry and permaculture.
Over the past three decades Akilah has worked tirelessly to share FACRP's model of community forestry in Trinidad and Tobago, the Caribbean, the Americas, Europe and the South Pacific region by participating in conferences, workshops, facilitation sessions and training workshops. Through these partnerships many community initiatives were developed to address both social and environmental issues.
---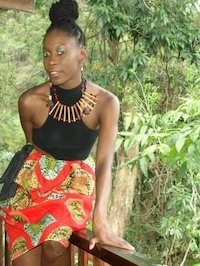 Kemba Jaramogi
Kemba Nefertiti Jaramogi is an environmentalist who focuses on transforming lives through environmental educational programmes. She designs programmes to suit all age groups from preschool students to university students, community groups and other concerned individuals. Since age 9 Kemba has been involved in conservation work. She now serves as the Technical Director of the Fondes Amandes Community Reforestation Project (FACR) where she develops projects, teaches environmental best practices, participates in national forums and partners with like-minded NGOs for a greater Trinidad & Tobago. She is also an ecological jewelry designer at Akilah's Jewelry. In 2005 Kemba served as a local youth ambassador representing T&T in the Small Islands Developing States' conference in Mauritius.
In 2011, Kemba graduated with Honours from the University of East London, England with a BA in International Development; Third world studies with NGO Management. Kemba's contribution to T&T has not gone unnoticed, in Trinidad and Tobago for the 3rd National ISESE Day – she was awarded the Isese Legba award for community service and Advocacy. In August 2014, she was the proud recipient of the National Youth Awards and Winner in the Environment Category, Ministry Child, Gender and Youth Development. In 2003, she was the recipient of the Top 20 Stars of Tomorrow awards; Winner in Environment Category, by National Action Youth Committee (NYAC).
Kemba remains a powerhouse, a young leader in the field of environmental conservation and a proud member of the World Economic Forum's Global Shapers Community. She has developed educational plans to engage students in practical environmental education. She continues to do outreach work in communities, training community members on the importance in being custodians of their local environment as well as presenting models for green entrepreneurial opportunities. Through strategic partnerships, Kemba hopes to see great collaborations for a greener region, natural resource conservation, mandatory environmental education in schools and protected green spaces respected and maintained for future generations.
---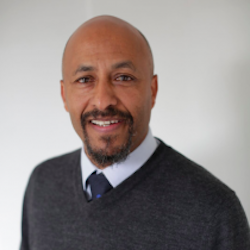 Yacob Mulugetta
Yacob Mulugetta is a Professor of Energy and Development Policy at the University College London; and held an academic post at the Centre for Environmental Strategy, University of Surrey, UK.  He is a founding member of the African Climate Policy Centre (ACPC) at the UN Economic Commission for Africa (UNECA) based in Ethiopia where he worked as Senior Climate & Energy Specialist (2010-2013). 
He has 25 years of research, teaching and advisory experience specialising on the links between energy infrastructure provision and human welfare. His research is focused on three interconnected areas: energy systems and development; energy systems and climate change; and political economy of low carbon development.
He served as a Coordinating Lead Author of the Energy Systems chapter of the Intergovernmental Panel on Climate Change (IPCC) 5th Assessment Report (Working Group III on Mitigation), a member of the core writing team for the IPCC synthesis report, Steering Committee member of UNEP's Emissions Gap Reports (2015-2017), and lead author in the upcoming IPCC Special Report on Global Warming of 1.5oC.  More recently, he served in the drafting team of the African Renewable Energy Initiative (AREI), and continues to provide technical support for the initiative. Yacob Mulugetta is a Fellow of the African Academy of Sciences (AAS).
---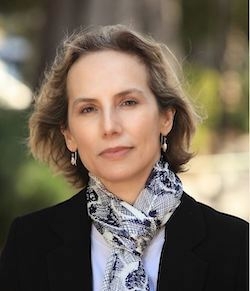 Moyara Ruehsen
Professor Moyara Ruehsen oversees the Financial Crime Management program, which offers a specialization for master's degree candidates as well as a stand-alone certificate for mid-career professionals. She has published articles and book chapters on a variety of topics related to threat finance and is a Certified Anti-Money Laundering Specialist and a Certified Financial Crime Specialist. Professor Ruehsen teaches financial crime-related courses on a variety of topics including money laundering, trade-based financial crime, corruption, proliferation financing, terrorist financing and cyber-enabled financial crime.
Before coming to MIIS, Professor Ruehsen received three graduate degrees from Johns Hopkins University, and spent a post-doc year at the University of California, Berkeley, to study international organized crime.Her regional areas of interest include South Asia, Southeast Asia and the Middle East, where she spent a year as a Fulbright scholar.
Professor Ruehsen also consults for the U.S. government, multilateral organizations and the private sector.She served for several years on the Editorial Advisory Board of Money Laundering Alert, and the Middle East Task Force of ACAMS (Association of Certified Anti-Money Laundering Specialists).
---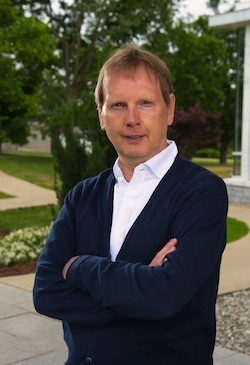 Frank Van Gansbeke
Frank Van Gansbeke is a Professor of the Practice at Middlebury College, where he teaches finance related courses deeply slated into sustainability. Frank has attained more than 30 years of global Senior Executive experience within the Corporate Finance and Capital Markets fields. Frank has an M.B.A. from Catholic University of Leuven (Belgium), is a CFA charter holder and obtained certifications at MIT in FinTech and at Oxford Said Business School in Impact Investing & Private Equity. 
Frank is founder and managing partner of Goose Creek Ventures, LLC, advising, and angel investing in early-stage companies evolving in FinTech, Medtech and sustainable development. Within this capacity, Frank mentors (Techstars) and is also a board member of several for profit and non-profit companies with a global footprint.
In 2020, Frank co-established the Sustainable Finance Unconference series, a quarterly platform where prominent Sustainable Finance peers present their recent contributions in the space. At COP26 in Glasgow, Frank co-launched the Rethinking Bretton Woods initiative, a global project reviewing the practice and principles of the current international financial architecture. 
Frank is a regular contributor to Forbes online, where he covers issues on the nexus of digital finance, sustainability, and global markets.
---
Rohatyn Center for Global Affairs
Robert A. Jones 59 House
148 Hillcrest Road
Middlebury, VT 05753