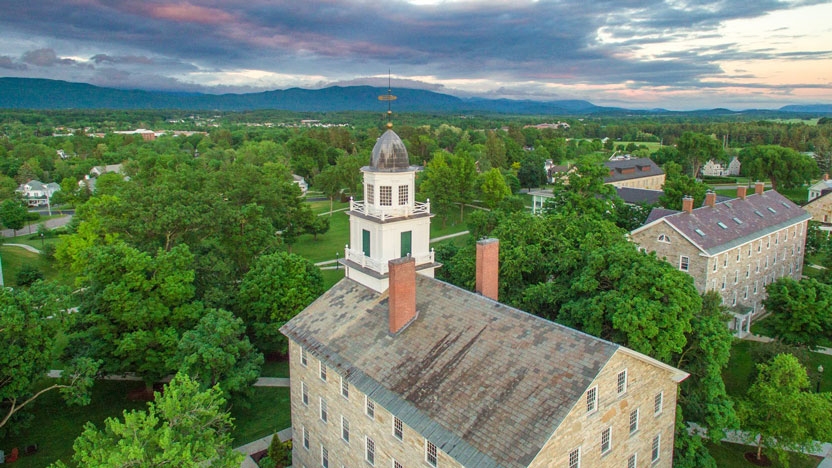 Our students come from diverse backgrounds and bring their own intellects, experiences, passions, and ambitions to their education at Middlebury. We are committed to ensuring that the strongest students can afford to attend Middlebury, regardless of their financial need.
Our Commitment to Affordable Education
Middlebury is one of only a few dozen undergraduate colleges in the nation that commit to supporting their students through need-blind admissions and meeting 100 percent of demonstrated financial need. Our commitment to access is central to our mission and reflected in Middlebury's generous financial aid policies.
Need-Blind Admissions
Your ability to pay will not be a factor in your admission decision if you are a first-year domestic student—including if you have DACA or undocumented status. International students may have their financial need considered when applying for admission.
Meeting Full Financial Need
Your financial aid offer will cover 100 percent of your demonstrated financial need for all four years of your undergraduate study at Middlebury. Through our generous financial aid program, many of our students pay less—often far less—than the cost of attendance. 
100 Percent Need-Based Aid
We award financial aid exclusively on the basis of financial need as determined by your CSS Profile and Free Application for Federal Student Aid (FAFSA).  
Reduced Loans
Your full demonstrated financial need will be met with a limited loan amount. The low-interest, deferred repayment loan amount included in meeting your need is between $1,000 and $3,500 annually (for incoming students), based on family income.
100

%
Demonstrated Need Met
51

%
Students Receiving Aid
$

79360
Max Awarded in Grants
What Is Included in Financial Aid?
One hundred percent of your demonstrated financial need at Middlebury is fully covered using a combination of grants, student employment, and a limited student loan amount.
Grants
Most of your financial need is met with Middlebury Grant funding. Grants are need-based funds that do not need to be repaid and are calculated based on information from the CSS Profile and Free Application for Federal Student Aid. Middlebury Grants are the main source from which students receive funds. Federal Pell Grants and Supplemental Educational Opportunity Grants and state grants are also included, if you are eligible.
Student Employment
The opportunity to earn $2,900 through Federal Work-Study or a Middlebury College job may be offered in your financial aid offer as part of meeting your need. You are not required to work, but you will not receive additional grant funds to replace student employment wages.
Student Loan
You may have a low-interest, deferred payment student loan that must be repaid at a later date included in meeting your need, according to the following guidelines:
| | |
| --- | --- |
| Total Income | Annual Loan Amount (Year One) |
| Under $50,000 | $1,000 |
| $50,000–$80,000 | $2,500 |
| Over $80,000 | $3,500 |
You are not required to accept the loan portion of your aid offer, but additional grant funds will not be awarded as a result. If you are eligible for federal direct loans, you will see the maximum amount you are eligible to borrow listed in your financial aid offer. This maximum amount is not used in meeting need. However, the additional loan may be used if your family chooses to borrow to cover any costs remaining after financial aid. Awarded loan amounts increase slightly each year. The average federal loan debt, upon graduation, for the Class of 2022 was $13,112.
92

%
Tuition Covered by the Average Grant
37

%
Students Who Earned Money in Student Employment
52

%
Students Who Graduate Debt-Free
How Does Middlebury Determine Financial Need? 
Middlebury offers aid on the basis of financial need. More than half of our undergraduate students are eligible for financial aid and receive need-based grants toward the cost of their Middlebury education.
Your financial need is equal to the difference between the cost of a Middlebury education and the calculated amount that your family is expected to contribute. 
Middlebury Cost of Attendance – Your Expected Family Contribution = Your Financial Need
Cost of Attendance
The chart below estimates the total cost of attending Middlebury College for fall 2023 and spring 2024 semesters as a full-time undergraduate student living on campus.
| | |
| --- | --- |
| Tuition | $64,800 |
| Student Activity Fee | $480 |
| Living Expenses, including Housing (On-Campus) and Food (Meal Plan) | $18,600 |
| Direct Costs | $83.880 |
| Books, Course Materials, Supplies and Equipment | $1,000 |
| Transportation (varies based on location) | $1,000 |
| Miscellaneous Personal Expenses | $1,000 |
| Total Cost of Attendance | $86,880 |
Direct costs (tuition, student activity fee, campus housing, and meal plan) are charges that you will incur on your bill and pay directly to the College. Indirect costs (books, course materials, supplies and equipment, transportation, and miscellaneous personal expenses) are estimated costs that you may incur that are not paid directly to the College.
Students are also required to have health insurance, by providing proof of their own coverage or through purchase of the Middlebury Student Health Insurance Plan. 
Expected Family Contribution 
Your expected family contribution is calculated based on the CSS Profile, Free Application for Federal Student Aid (FAFSA), and any other documentation you submit, including tax returns. 
The FAFSA collects information on your family's adjusted gross income, assets, and number of people in the household. This determines your federal financial aid eligibility (loans, grants, and work study).
The CSS Profile collects more in-depth information from both natural parents, even if they are separated or divorced. This information includes home equity, business assets, and family expenses such as number in college, private school tuition for younger siblings and paid medical expenses. The CSS Profile, along with our review of you and your parents' federal tax returns and other required documents, determines your eligibility for financial aid from Middlebury. 
Middlebury, like most colleges, assumes that you and your parents are primarily responsible for the cost of your education and will financially contribute to the fullest extent possible. Middlebury expects a minimum contribution from a first-year student of $2,400 per year, regardless of income. It is important to understand that the parent contribution represents an evaluation of what parents can afford to absorb in educational costs over time, not just your four years at Middlebury. Thus, parents should plan to fund their contribution through savings, current income, and/or future income. 
Important Tip: You and your family can determine how you pay or finance the family contribution using any combination of savings, 529 plan funds, monthly payment plans, and loan options. 
Financial Need
The difference between the cost of attendance and your expected family contribution is your financial need, which determines the amount of financial aid offered to you by the College. At Middlebury, we pledge to meet 100 percent of your financial need through a combination of grants, student employment, and limited loans. The combination of your expected family contribution and your financial aid offer will meet the total cost of attending Middlebury for an academic year.
Financial aid offers are generally similar during your four years of enrollment, unless there is a significant change in your family's household situation or finances.
Learn more about what your eligibility may be for financial aid in Estimate Your Cost, where you will find information on average grants by income, sample financial aid offers and our cost calculators.