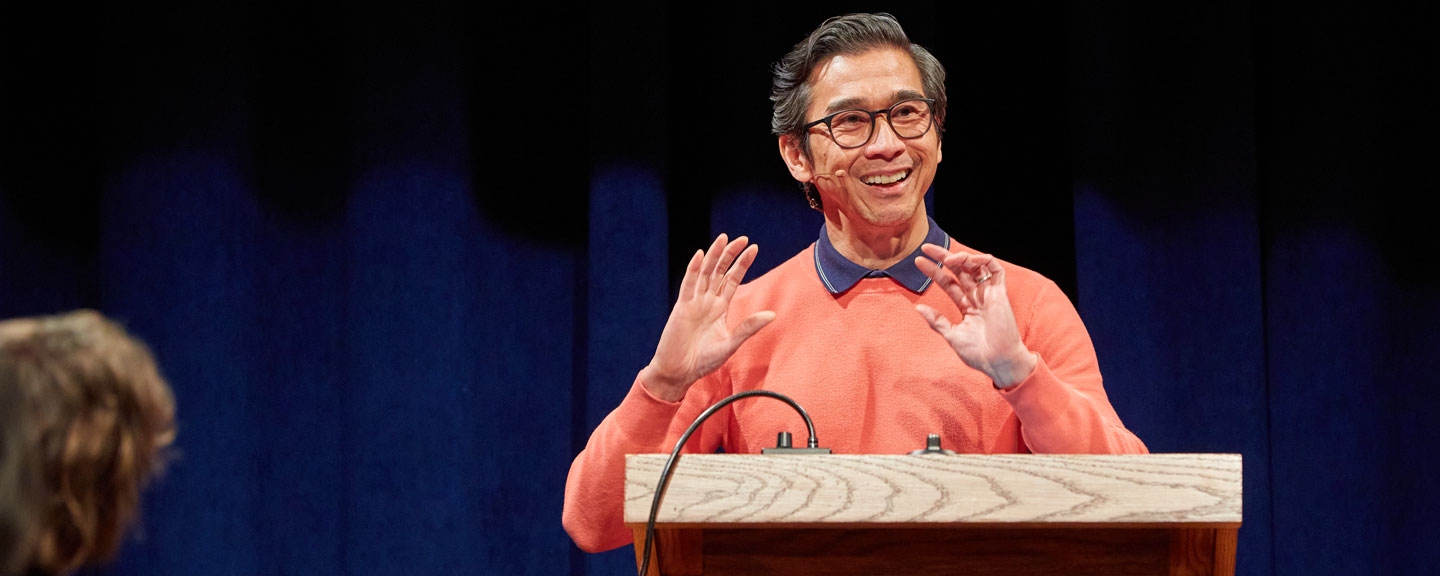 Bread Loaf Environmental Writers' Conference
The 11th annual Bread Loaf Environmental Writers' Conference is a week-long session designed to hone the skills of people interested in producing literary writing about the environment and the natural world.

Directed by Megan Mayhew Bergman, the conference is cosponsored by the Middlebury College Environmental Studies Program and the Franklin Environmental Center.
Overview
The conference, based on the Bread Loaf Writers' Conference model, incorporates small, focused workshops coupled with specialized classes centered on the craft of writing. Workshops are limited to ten participants so that each manuscript receives individual attention and critique. All participants also meet individually with their workshop leader to amplify and refine what is said in the workshop itself. The manuscript packet of student writing is available to each workshop group in the weeks leading up to the session in order to allow time to read and prepare.
Established editors, literary agents, and publishers give presentations on placing work in magazines and navigating the environmental book publishing world and also meet with participants individually and in small groups.
Participants include writers of poetry, nonfiction, and fiction whose work engages with or advocates for nature and the environment as well as environmental professionals, journalists, and teachers, who would like to explore and strengthen their writing in a literary context. For those who would like to learn more about environmental and nature writing who do not wish to receive feedback on their own work, an auditor option is available.
The 2024 Session
This year's conference will take place at the Bread Loaf Campus of Middlebury College in Ripton, Vermont from Tuesday, June 11 to Monday, June 17, 2024. Find out more about dates and fees.
Our faculty are acclaimed nature and environmental writers including poets Tarfia Faizullah, Nikky Finney, and Sean Hill; fiction writers Pitchaya Sudbanthad and Claire Vaye Watkins; and nonfiction writers Kazim Ali, Helen Macdonald, and Emily Raboteau. In addition to their literary accomplishments, each faculty member has been specifically chosen for their skill at guiding developing writers. Find out more about faculty and guests.
Financial Aid
Financial aid is limited, but thanks to support from the Katharine Bakeless Nason Endowment, the Michael Collier Endowment, and Middlebury College, several $500, $750 $1,000, and $2,655 awards will be given. Find out more about financial aid.
Though it's possible for a former financial aid winner to apply again in a subsequent year, please note that the admissions board gives preference to first-time financial aid applicants.
Apply
Applicants choose to apply as a contributor with a manuscript to a Fiction, Poetry, or Nonfiction Workshop. Applicants can also choose to apply as auditors. See Application and Acceptance Information.
What Past Participants Say:
"I'm leaving here more motivated than ever and feeling like our work really truly matters."

Jenny Belardi
Pittsburgh, PA


 

"Bread Loaf is a magical place. Being at the conference has changed my life. For the first time, I feel that I truthfully can say "I am a writer" and that I know what to do, what I must do, with that skill."

Cathy Cochrane
Toutle, WA

"This conference was the perfect balance of inspiration and practicality."

Hurley Winkler
Jacksonville, FL


 

"This was easily the best writing experience of my life. I loved it. The opportunity to get away and to focus for nearly a full week on writing with other writers was just fantastic. The faculty were incredible. Overall, a terrific experience."

Frank Vandervort
Ypsilanti, MI