The Knoll's Roots Run Deep: Garden on the Hill Celebrates 20th Anniversary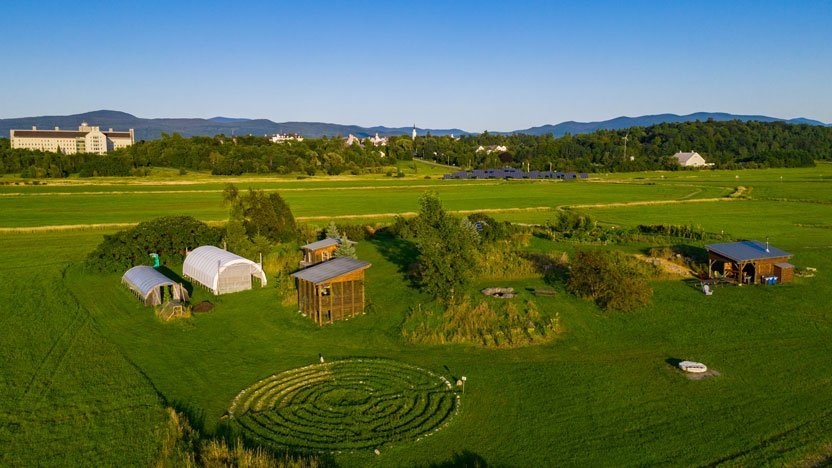 On the last day of classes this spring semester, a steady stream of students made their way to the Knoll—Middlebury's garden that sits on a hill just past Bicentennial Hall—where they sipped tea made from Knoll-grown ingredients, sampled light fare cooked up by Dolci's student chefs, and pitched in to plant seedlings.
The Tea Party was the first of several events planned to celebrate the Knoll's 20th anniversary this year. 
"Everyone who comes to the Knoll loves the Knoll," says Crystal Zhou '23.5, a Knoll intern who on a recent day was alternately using an old-fashioned scythe and a new-fashioned weed-whacker to mow cover crops before planting. 
This garden, which is the brainchild of two undergraduates (Bennett Konesni '04.5 and Jean Hamilton '04.5), has been blessed by the Dalai Lama (in 2012), and provides food for the campus and community, has become a beloved fixture on campus. It is a place where students, faculty, and staff go for refuge, research, and recreation.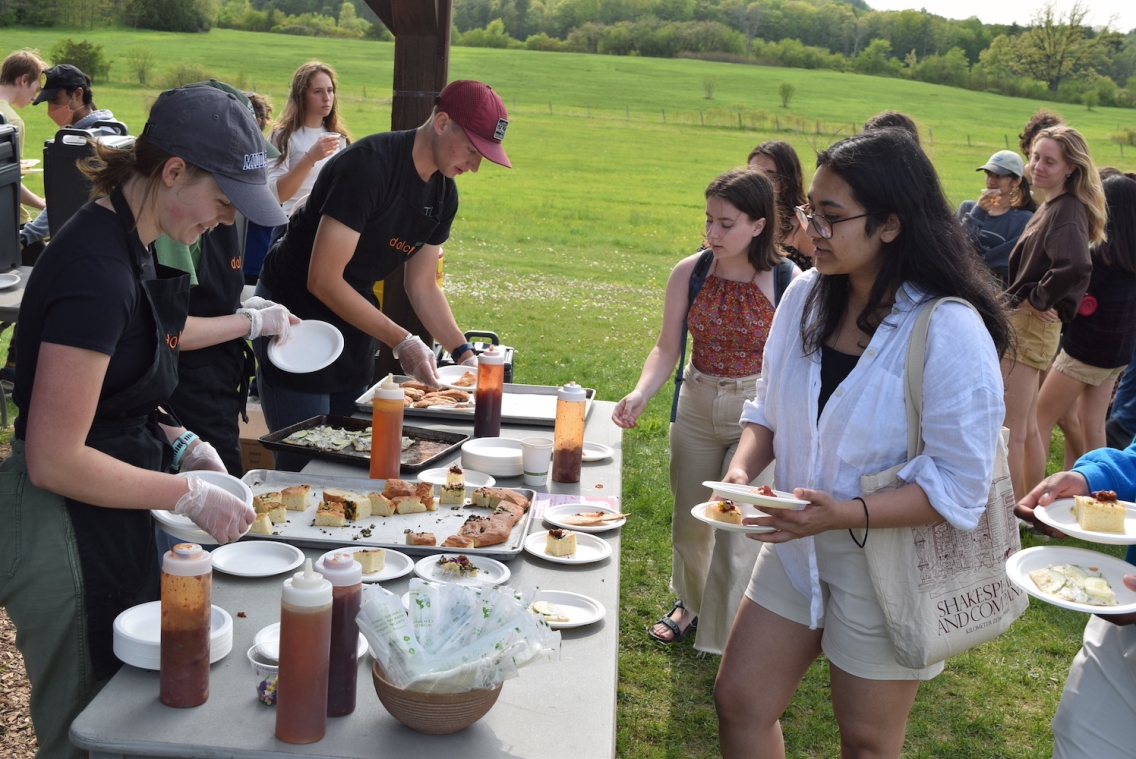 What's so special about the Knoll? 
"It feels like a place that is part of campus proximity-wise, but so different from the rest of campus," said Lauren Gemery '23, a conservation biology major and Knoll intern from Norwich, Vermont. "There's so much student-led learning here." 
The Knoll plays many roles at Middlebury. Academic classes go there to study soil, wildlife, hydrogeology, dance, food systems, and landscapes, among other subjects. Student interns and volunteers embrace the opportunity to dig their hands into the earth, learn how to coax various varieties of annual and perennial plants to life, and deliver the resulting produce to dining halls and local charities.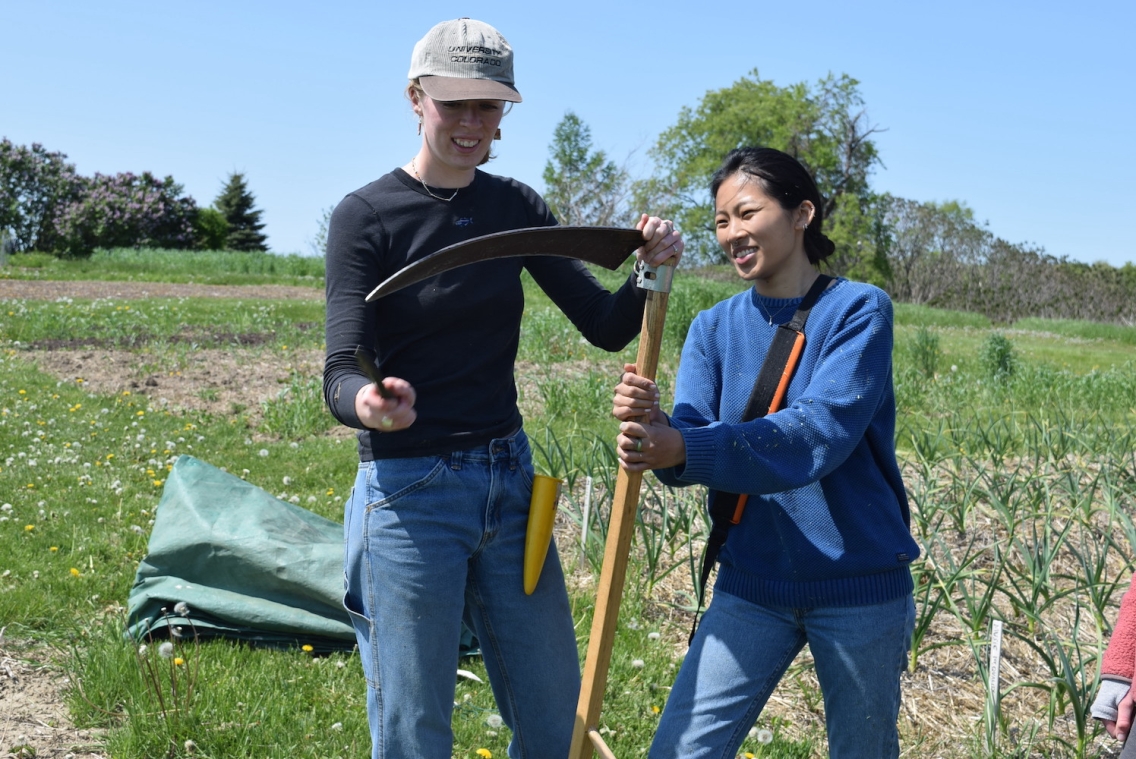 For students who spend most of their time in the classroom discussing theory, the Knoll offers a welcome change of pace. "I was interested in environmental science, but I don't do backpacking," Zhou said. "There's so much love here. This is a place I could come with no skills. I could start from scratch with a mentor who's incredible (Megan Brakeley '06, associate director of the Knoll). Once I came here, I acquired skills to grow plants that I enjoy cooking and eating." 
In welcoming all to the Knoll, Brakeley is conscious of her own history. As a student during the Knoll's infancy, she never made the trek to the garden on the hill.  "I always wanted to come out, but I thought 'I've never gardened before' and I was intimidated," she said. "I think about that—about how to welcome everybody."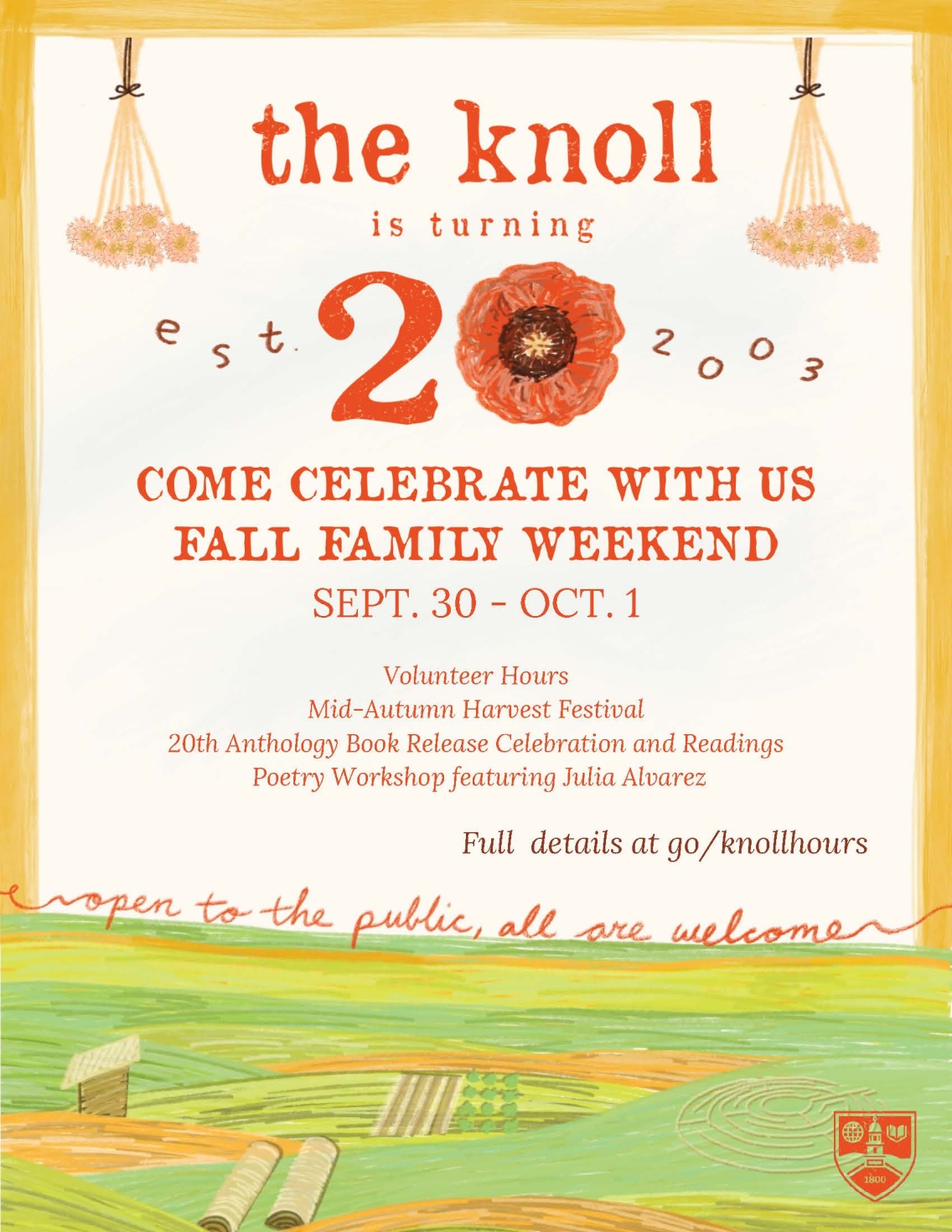 Celebrating the 20th anniversary
A celebration event is planned for September 29-30 during Fall Family Weekend.
Friday, 9/29 from 9-11am and 1-3pm: All are welcome (families, too!) to join us for Garden Volunteer Hours
Saturday, 9/30 from 1-4pm | Mid-Autumn Harvest Festival at the Knoll. All are welcome to join! 
Sunday, 10/1 from 2-4pm | Poetry Workshop with Julia Alvarez
Also in the fall, New Perennials Publishing will release a book on the Knoll's history. Growing with the Knoll  includes writing, poetry, and art from more than 60 Middlebury students, alumni, faculty, staff, and community members. It will be available as a free download and in paperback at The Vermont Book Shop in Middlebury, the Middlebury College Store (where Knoll merchandise is also available), and at Knoll events. 
What's new at the Knoll? 
Over the years, the Knoll has grown to include a well, solar panels, a pizza oven, and a labyrinth. One of its newest features started taking shape this spring—an Abenaki longhouse. The longhouse frame is made of maple saplings harvested on College lands by students in the Architecture and the Environment course.
The longhouse will serve both as a gathering place for the School of Abenaki, which began at the summer Middlebury Language Schools in 2020, and to foster conversations about the land's Native American origins, a history that dwarfs the Knoll's timeline by centuries.
Alumni and Families
700 Exchange St.
Middlebury, VT 05753