Middlebury Shield and Seal
The Middlebury shield, introduced in January 2015, brings together images familiar to generations of Middlebury alumni while also giving newcomers a sense of our history and pride.

The upper right quadrant is an open book, referencing the academic project at the institution's heart and also the image in the college seal.
The upper left quadrant is a globe, which refers to Middlebury's global perspective.
The shield's center features Old Chapel, the iconic building on Middlebury's campus.
The background displays a silhouette of the Green Mountains near Bread Loaf, which are visible from campus and are home to two of Middlebury's programs.
The bottom shows the founding year of Middlebury College.
Middlebury Schools and Programs
The institutional shield will rarely be used by itself. It was designed to be used together with the names of the schools, and programs of Middlebury.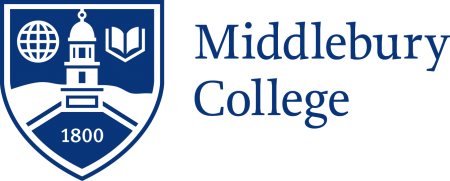 Middlebury Institute of International Studies
Middlebury has created a slightly different shield for the Middlebury Institute of International Studies at Monterey.

In place of the outline of the mountains and the depiction of Old Chapel, the Monterey shield features a rendering of the Segal Building, the one-time Monterey public library that the Institute acquired as its first building in 1961. Its distinctive California Mission architecture makes is a fitting symbol for the Institute and its West Coast location.
The Middlebury Seal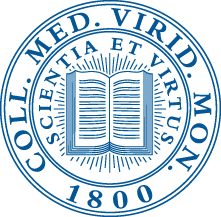 The first official use of the Middlebury College seal was on diplomas for the Class of 1806. The College's founding year, 1800, was added in 1932, and in 2007 the seal was revised by the design firm Chermayeff & Geismar & Haviv to make each of its components easier to read and to reproduce. Today, the seal is reserved for formal and ceremonial uses, including diplomas and commencement activities.