Farewell to Patrick Durkin '79, PSLA Founder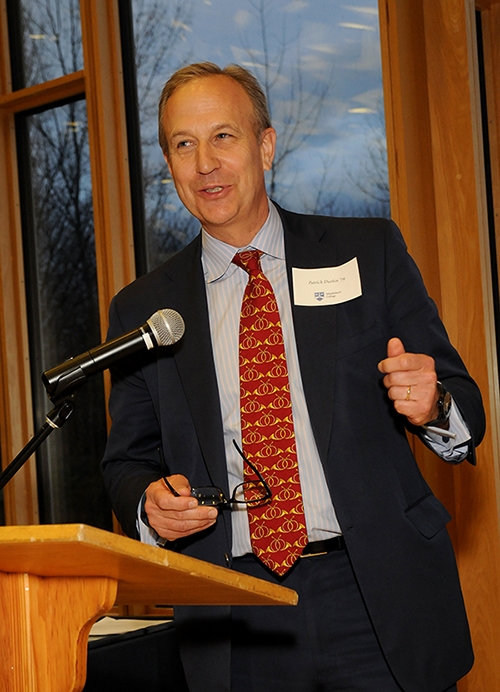 Patrick J. Durkin '79, founder of Middlebury's Public Service Leadership Awards and generous donor to the Center for Community Engagement, died on July 27, age 63.
"Patrick was passionate about public service and about encouraging our students to pursue projects and collaborations that benefited the public good, locally and around the world," said Tiffany Nourse Sargent '79, founder of the Center for Community Engagement. "I had the great privilege of being Patrick's classmate and then working with him throughout my tenure, spanning four decades at Midd. He had a heart larger than life and loved connecting people. His death is a tragic loss for us all."
Twenty-seven years ago, Durkin decided that students who dedicated themselves to service should receive the same recognition as those who achieved excellence in academics, athletics, or the performing arts. Over the decades, he helped Middlebury to celebrate civic leadership, nurture character development and personal growth, and collaborate with communities—local, national, and international. Through his support and his visits to campus, he inspired thousands of Middlebury students who have carried an ethic of service with them as they dispersed around the world.
In recognition of his immense contributions to Middlebury, Sargent said, "We are pleased and proud to name the leadership awards in Patrick's honor: the Patrick J. Durkin, Class of 1979, Public Service Leadership Awards. I think he would be gratified to know that his legacy will endure in this way. He loved bringing people together to advance good causes and important work."
Ashley Laux, director of the Center for Community Engagement, also reflected on the importance of Durkin's commitment to Middlebury and its students. "I am grateful for how deeply Patrick was invested in the civic pursuits of our students," she said. "He inspired and buoyed me to continue to deepen the culture of community engagement on campus."
Durkin was also a leader in the Class of 1979. He served as class agent for many years and co-chaired several reunions. "Our classmates and I knew him as a deeply caring, kind, and generous friend," Sargent observed. "He was always a leader in our class, bringing people together to their benefit and Middlebury's."
Durkin was the son of Virginia Hewitt Durkin and William Austin Durkin, Jr. He grew up in Greenwich, Conn., where he graduated from the Brunswick School. Sports were a big part of Durkin's youth, and he played four years of varsity soccer at Middlebury. He began his lifelong commitment to volunteering at Brunswick, and his activities over his lifetime ranged from helping at a homeless shelter to serving on the boards of the Red Cross and the National Wildlife Foundation.
After graduating from Middlebury and the Tuck School of Business at Dartmouth College, Durkin pursued a career in investment banking, working with Donaldson Lufkin and Jenrette, Credit Suisse, Barclays, and Atlas Merchant Capital. His business carried him around the world from South America, where he worked on telecommunication projects, to Moscow, where he opened DLJ's office there. It was in Moscow that he met his wife, Kristen Staples.
Prior to business school, Durkin worked for U.S. Representative Judd Gregg of New Hampshire and was a speech writer for Secretary of the Treasury Donald Regan. Later, he served on the Presidential Task Force of Market Mechanisms with Senator Nicolas Brady of New Jersey and was a tireless campaigner and fundraiser for Presidents George H.W. Bush and George W. Bush and Senator John McCain of Arizona, along with numerous candidates at the state and local levels.
Durkin is survived by his wife and his children, Luke, Austin, and Kate, with whom he shared a love for travel, the outdoors, and sports. He also leaves his mother; his brothers, Bill and wife Martha Jacobson Durkin '78, Tim and wife Liz, Tom and wife Sue, and Dan and wife Susan; and numerous nieces and nephews, including William '08, Ian '10, Thomas '12, and Elizabeth '14.
In Patrick's own words from the 2018 Public Service Leadership Awards:
It is with great disappointment that I am not with you tonight to enjoy one of my favorite evenings of the year at my favorite place on earth! But, in absentia, I am so glad to steal a moment of time to send my thanks and a couple of thoughts. Twenty six years ago, we started the Middlebury Public Service Leadership Awards to recognize the incredible works of service to others, and passion for causes greater than ourselves, that you and many other wonderful Middlebury students have led. We saw the recognition that was given for achievement in academics, athletics and performing arts, and decided that now was the time to recognize the hundreds and now thousands of previously unsung heroes, like you, who lift the lives of others by extending a helping hand and heart.
Don't for a moment lose sight of the importance of what you have done and what your contributions will continue to do. For it is from uncountable acts of kindness, hard work, and at times courage, that sets in motion waves of positive actions that together shape the character of individuals, a college, a community, a nation, and the world. And to the many people here tonight who lead organizations that provide ways for our students to embrace public service, thank you. And to the incredible staff, coaches, and teachers of the College who do the same and believe in the goodness of service, thank you to … a couple of great professors, and what I learned from them, who inspired me to enter politics and government service when I graduated. I could not be more proud of the way our College, under Laurie's leadership, is so much more open to debating the hard political issues of the day. Having worked in the political trenches, engaging in tough debates is emotional and hard. It takes courage to do so.
Civic engagement is all about promoting the quality of life in a community through both political and non-political processes. Middlebury, more than ever, is a college that matters when it comes to every kind of civic engagement!
Donate
The permanently endowed Patrick J. Durkin, Class of 1979, Public Service Leadership Fund provides support to Middlebury's Center for Community Engagement (CCE) to recognize outstanding students and to provide for annual awards and for the ongoing work of the Center. Donations to the Patrick J. Durkin, Class of 1979, Public Service Leadership Fund at Middlebury may be made in several ways:
Checks made out to Middlebury College with notation of Patrick J. Durkin, Class of 1979, Public Service Leadership Fund in the memo or an accompanying note and mailed to Middlebury Gift Administration, 700 Exchange Street, Middlebury, VT 05753.
Online using a credit card by visiting https://engage.middlebury.edu/give and entering the Patrick J. Durkin, Class of 1979, Public Service Leadership Fund after clicking the option Other in the "Give To" pull-down menu of designations.
Transfer of securities, wire transfer, or donor advised fund request. Please contact Susan Kavanagh in Middlebury's Advancement office for details by emailing kavanagh@middlebury.edu or calling 802-443-2322 (office)