UpNext: Careers in Technology Panel and Breakout Sessions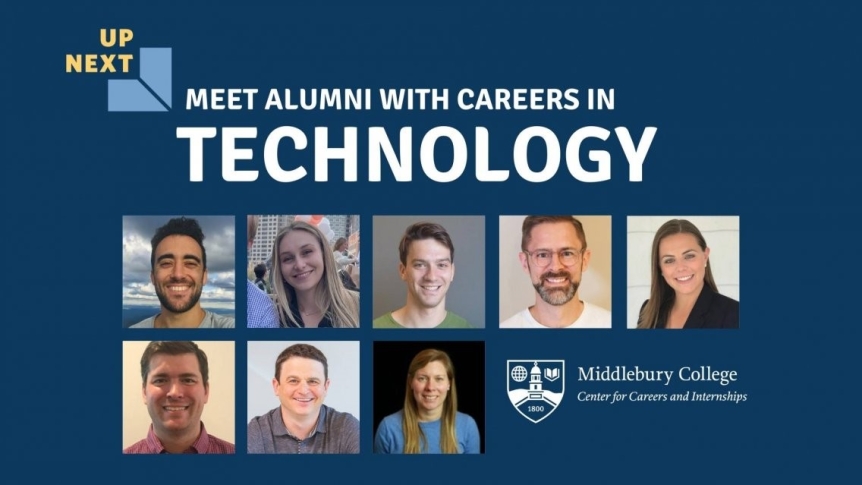 Join the Center for Careers and Internships (CCI) for an UpNext Technology series starting with a careers in technology panel discussion Friday, October 21 in Hillcrest 103 @ 12:30 PM ET. See the full schedule below with data analytics and data science breakouts and a link to sign up for an alumni resume review.
How Data Analytics & Data Science is Used in Marketing (Hillcrest 103) 2:00 to 2:45PM
Pete McSherry '06 (Economics), Senior Vice President, Platform Data Strategy and Solutions, Epsilon, will give an overview of the marketing analytics space and speak to how data science is used in advertising & personalization, and how different functional roles interact with data and technology to drive business outcomes. Pete will highlight some of the cutting-edge work Epsilon does in that space. Students attending will also gain a good understanding of the skill sets that help when first starting in the various analytics and consulting roles within the marketing field.
Applying Data Analytic Methods to Natural Language Processing Capabilities (Hillcrest 103) 3:00 to 3:45PM
Chris Hench '11 (German Literature and Economics), Senior Applied Scientist ML/NLP, Amazon Alexa, will describe his path from studying languages and literature to building state of the art NLP models in industry. He will talk about some of the advances in NLP over the years and the current state of the field, as well as what it takes to acquire the necessary skills for industry applications. His unique pathway from literature to data science reinforces the idea that data science is not only for quantitative majors.
What Data Science Tells Us in the Wearables Market (Bi Hall 219) 4:00 to 4:45PM
John Bowllan '19 (Math), Data Science Technical Lead, Whoop, will share his experiences working as a data scientist in a start-up tech company focused on the wearables market.  His discussion will include an overview of the wearables market, the data and tools he uses in his work, the intersection of data science and software engineering, and his interactions with other functional roles.
1:1 Alumni Resume Review for Students (Kitchel House) 9:00 to 12:00AM
If you are interested in a career in technology, don't miss this chance to get valuable feedback on your resume from Middlebury alumni currently employed in the industry.  Resume reviews are private, one-on-one conversations and approximately 20 minutes in length. Sign up to meet with alumni in Handshake.
Contact Jeff Sawyer at jsawyer@middlebury.edu with questions.