"Rohatyn Global Fellows program allows students to investigate the international implications of their studies"
December 8, 2022  I  The Middlebury Campus

This fall, the Rohatyn Center for Global Affairs (RCGA) launched the Rohatyn Global Fellows (RGF) program, an initiative providing sophomores, juniors and seniors the opportunity to delve deeper into the international implications of their chosen majors. 

The new RGF program expands upon the Rohatyn Global Scholars (RGS) program — established last year by Professor of International and Global Studies Nadia Horning and Professor of Political Science and Rohatyn Center Director Mark Williams Read more….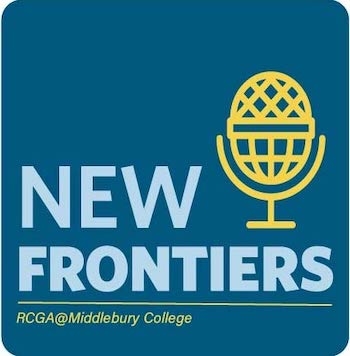 "Two alums from Wellington Management kick off Global Sustainability Speaker Series."
More
November 17, 2022 I The Middlebury Campus

Middlebury welcomed two alums, Sandhya Subramanian Douglas '93 and Soyibou Sylla '20, back to campus on Nov. 14 to give a talk on "Applying Sustainability and Environmental, Social and Governance (ESG) Factors in the Capital Markets." This was the first installment of the Global Sustainability Alums Speaker Series co-sponsored by Franklin Environmental Center at Hillcrest, Rohatyn Center for Global Affairs,… read more here.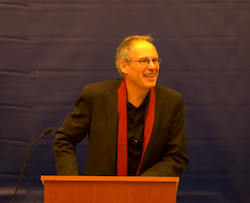 James Morone '75 Visit
Oct 2022- James Morone '75 is back at Middlebury College with a dynamic presentation "Republic of Wrath: How American Politics Turned Tribal." More than 300 students, faculty, alumni and community members attended via the zoom webinar and over 75 attended in the Robert A. Jones '59 Conference Room. Organized and sponsored by the Rohatyn Center for Global Affairs program on Global Trends in Autocracy and Democracy supported by the Cangiano Family Fund. Click here for a link to the Middlebury Campus newspaper article.
---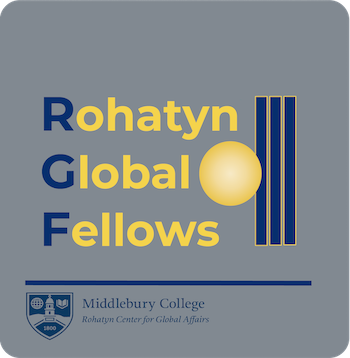 CENTER NEWS
New Program- Rohatyn Global Fellows
Sept 2022-The Rohatyn Global Fellows program provides students a unique opportunity to enhance their academic experience, explore career options, and connect with faculty, visiting experts, alumni and fellow students around complex global issues. Open to sophomores, juniors, and seniors, this year-long program brings students from diverse disciplines together to examine, discuss, and enhance their understanding of world events through formal affiliation with one of RCGA's six thematic programs. This fall, sixteen students were chosen to participate in this program.
Click here for more information.
Rohatyn Center for Global Affairs
Robert A. Jones 59 House
148 Hillcrest Road
Middlebury, VT 05753