Review the steps below for your housing application and room selection.
Note that students who have already been assigned or committed to a fall term bed through the following processes are not eligible to participate in further application processes and should not complete an application:
Specialty Housing

Academic Interest
Special Interest
Social Houses

Approved to Live Off-Campus
Committed to Fall Study Abroad Program
The Application Process
The first step in applying for housing for the fall semester is filling out a housing application. Once the application for your room selection process has opened, you can access it by logging into the housing portal and looking in the "Applications" tab.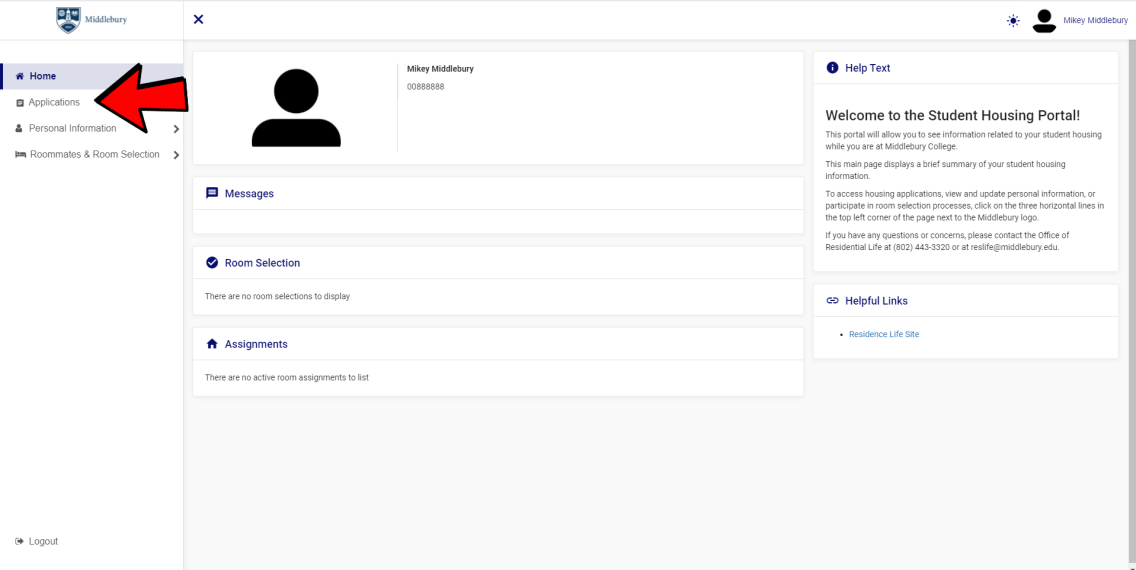 When you are in the "Applications" tab, you will be able to see the applications that you are eligible to fill out. Please email us at reslife@middlebury.edu if you are not seeing your correct application so that we can address the error.
To begin filling out an application, click on the application that you would like to fill out. In order to move forward with filling out your application, you will need to first agree to and sign the housing contract. We encourage students to read the housing contract carefully.
By providing your signature, you are agreeing to abide by the policies listed in the housing contract.
You may sign the contract by typing out your full name, or using the signature pad to draw your signature.
You will receive a copy of your housing contract along with a confirmation email when your housing application has been completed.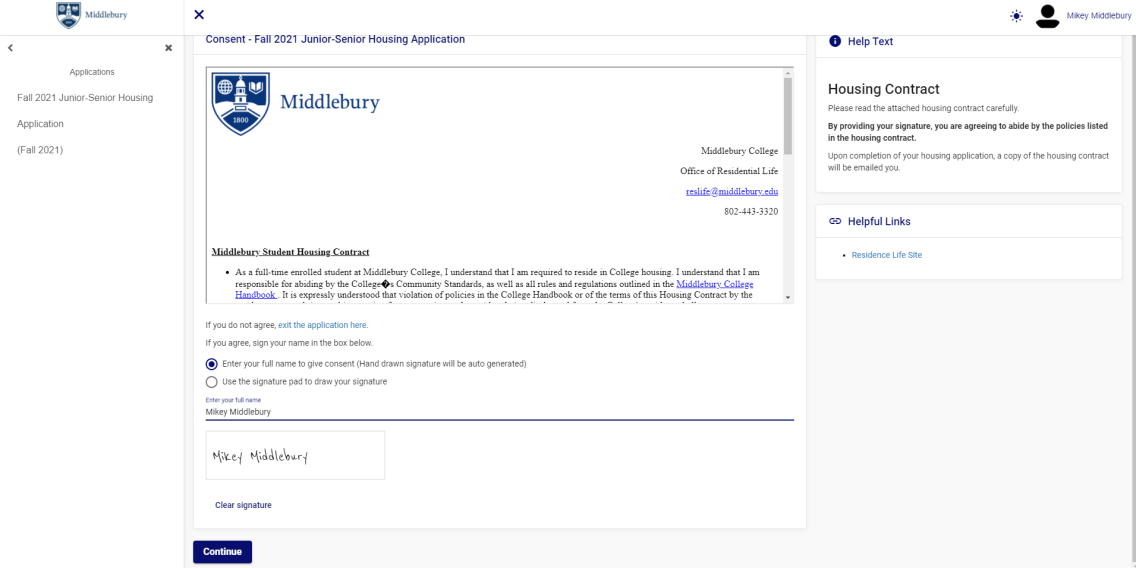 Next you will be brought to a page to answer lifestyle questions. We encourage students to complete the information on this application themselves and to answer questions honestly and authentically!
Information provided in this application will be used for roommate matching purposes as needed.
For questions that have a default answer of "none", please be sure to de-select "none" before submitting your application.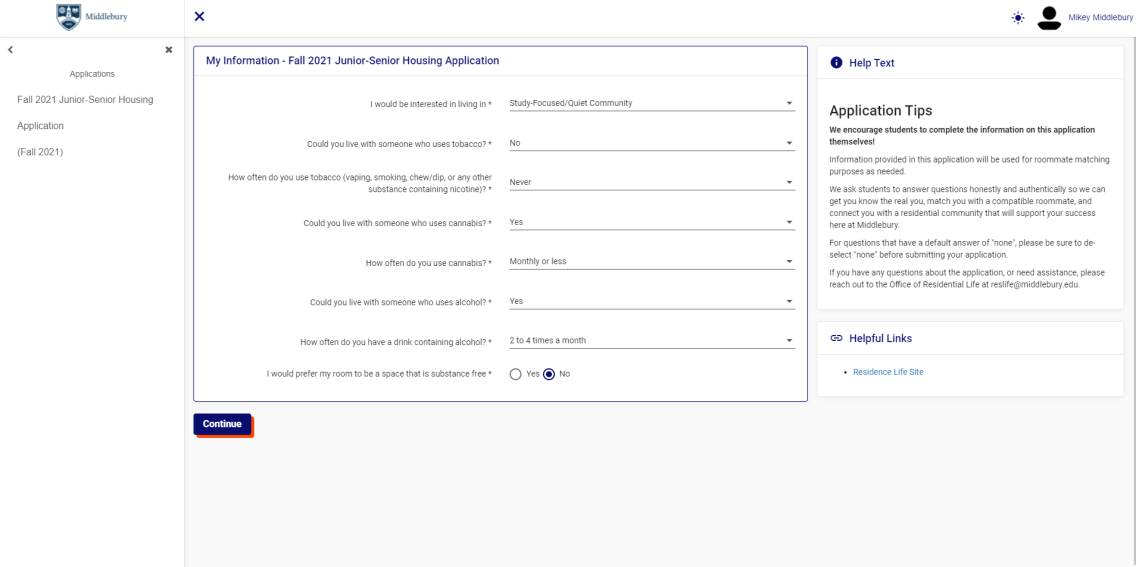 If you are having any trouble filling out or submitting your application, please contact us at reslife@middlebury.edu.
Once you have submitted your application, you should see a confirmation page and receive an email with information about next steps. You should also be able to see in the "Applications" tab, that it will say "Completed" next to the application you have filled out.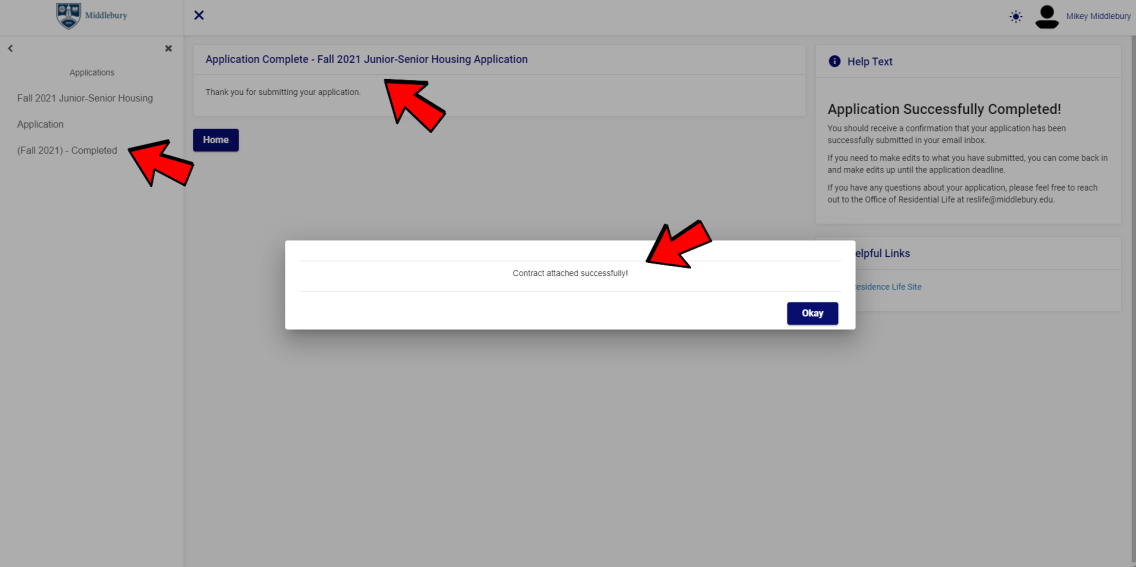 If you want to go back in and edit any of your answers on the application, you can go back to the "Applications" tab, click on the completed application that you want to edit, and in the drop down menu, select "Revisit/Update" this application. You will only be able to edit your application while the application is open. After the application deadline has passed you will not be able to go back in and edit your application.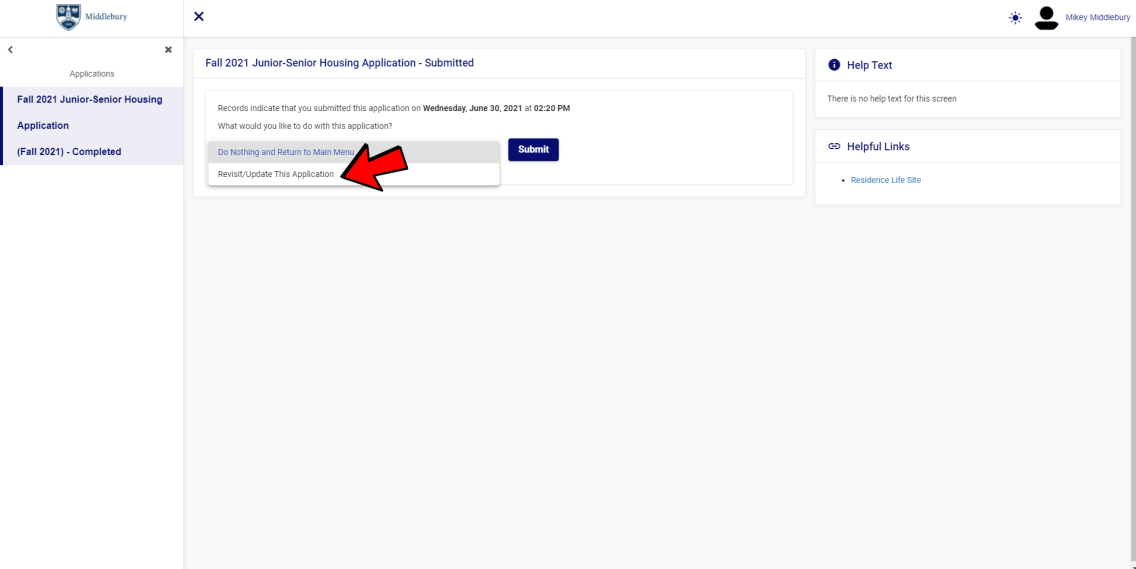 If you are entering Room Selection as an individual, you are now all set and can await your time slot information from Residential Life. If you are looking to enter room selection with a group, you will want to continue on and read the next section.