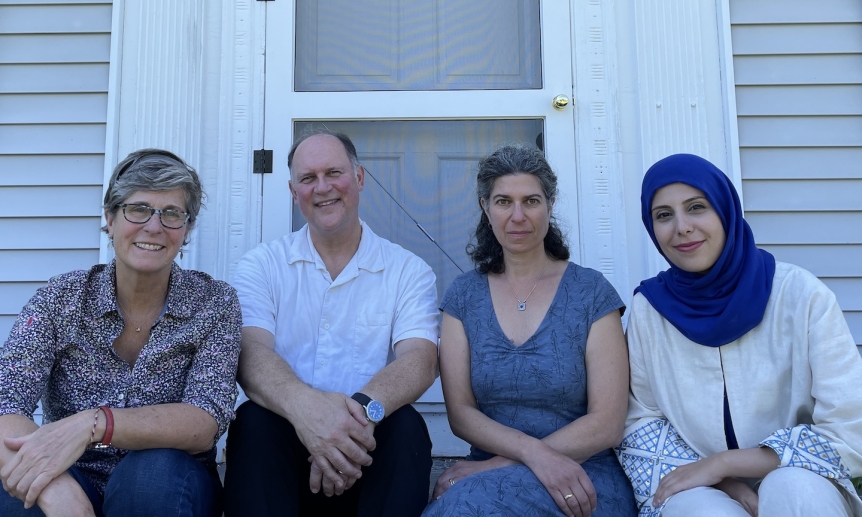 Welcome Class of 2027!
The Scott Center is the hub of spiritual life on campus. It's the place where students gather to explore big questions, celebrate together, find time to reflect, and enjoy social time with other students from all walks of life. This ranges from students who do not identify religiously at all, finding The Scott Center to be a radically hospitable and relaxing place to be, to students who are hoping to delve deeply into one or more spiritual traditions while at college.
Everyone is welcome!
We can't wait to meet you and hope you can come to our Fall 2023 Orientation events; see below for a complete list.  Click here to see a walking map to our home at 46 South St.
If we can help make this semester a smooth transition and these years a successful and fulfilling part of your life's journey, please do not hesitate to let us know. Please give us a call at (802) 443-5626.  
We look forward to meeting you and being a part of your life at Middlebury College.
Peace and Blessings,
Ellen McKay Jewett, Program Coordinator
Zahra Moeini Meybodi, Associate Muslim Chaplain
Mark R. Orten, Dean of Spiritual and Religious Life
Rabbi Danielle Stillman, Associate Chaplain
Fall 2023 Orientation Activities with The Scott Center
Thursday, August 31
11:00-12 noon
First@Midd Student Resource Fair
Great Hall, Bicentennial Hall

Thursday, August 31
2:30-4:00 pm
First@Midd Family Resource Fair
Dana Auditorium in Sunderland

Monday, Sept. 4
3:00-4:00 pm
Family Resource Fair
Atwater Dining Hall

Tuesday, Sept. 5
12:00-1:00 pm
Connect and Learn at The Scott Center
46 South Street
Come meet the staff of The Scott Center for Spiritual and Religious life for tea, snacks, and an informal discussion of spiritual life at Middlebury. Learn about existing programs and resources ranging from student orgs to the interfaith house, to how we support all students whether religious or not. You are welcome!

Wednesday, Sept. 6
12:00-1:00 pm
Connect and Learn — Mindfulness at Middlebury
46 South Street
No matter your background or experience, come meet the staff of The Scott Center for Spiritual and Religious Life (and some of our affiliates) to explore ways to be intentional about mindfulness practices and meet other students who are interested, too. What is mindfulness and how is it different from meditation? What opportunities and resources exist across the college? How might you begin or maintain a practice that helps with life at school? 

Wednesday, Sept. 6
2:00-4:00 pm
Open House and Scavenger Hunt
46 South Street
 
Keep up with The Scott Center!