The Scott Center supports creating a campus atmosphere that is open to religious faith and practice, and encourages moral and ethical reflection and spiritual development.  As part of the Office of Institutional Diversity, Equity and Inclusion, we make these concerns central to our work across campus and throughout the college.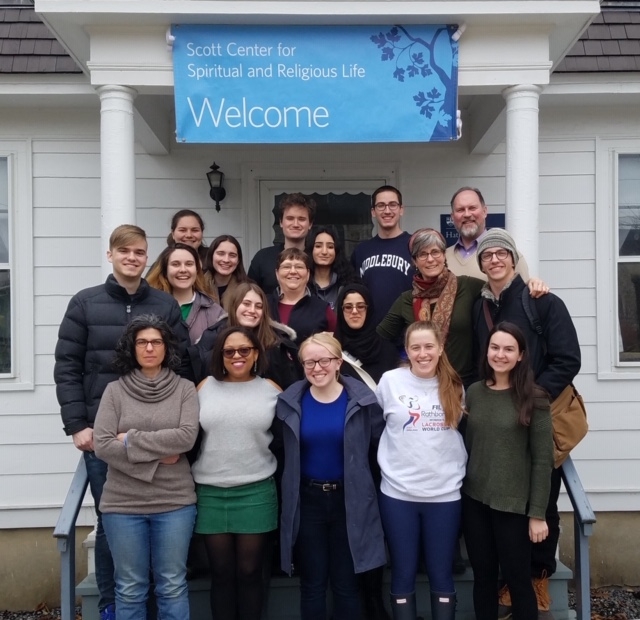 The Scott Center strives to:
Promote religious programs and provide support in a manner that reflects the virtue of hospitality;
Foster an atmosphere of personal warmth and community;
Provide opportunities for students to learn from religious and cultural diversity and to foster interfaith respect;
Provide liturgical leadership at a variety of worship venues;
Support student initiatives to bring breadth and depth to spiritual life on campus;
Seek opportunities to be integrated into the intellectual life of the College;
Maintain and model the highest standards of truth and civility;
Look for opportunities to work together with community members in efforts that focus in issues of justice, honesty, integrity, peace, and concern for the marginalized;
Offer pastoral care and outreach to the campus community;
Forge interpersonal relationships with students that will last beyond graduation.
Reverend Charles P. Scott
The Reverend Charles Powell Scott, Chaplain Emeritus
September 12, 1920 – October 10, 2004
In 1986 Charles P. Scott retired from the chaplaincy at Middlebury College as the most senior college or university chaplain in the country. That year he wrote a brief letter that was published on the back page of the Middlebury Magazine. In part, he wrote: "Where else in our society do warm friendships between young and old have such a good chance to flower but at a place like Middlebury?" Pastor, mentor, Middlebury icon and warmest of friends linking generations of students, faculty and staff, Chaplain Scott died in October 2004 at the age of 84.
Read more about the Scott Center's namesake.