Middlebury is a Fulbright 2020-2021 Student and Scholar Top Producer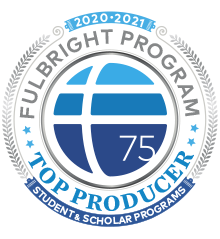 Each year the U.S. Department of State's Bureau of Educational and Cultural Affairs (ECA) announces the list of U.S. higher education institutions that produced the highest numbers of Fulbright U.S. Scholars and U.S. Students. For 2020-2021, Middlebury is a top producer for both its student and scholar programs. See details about the program and how to apply at go.middlebury.edu/fulbright.
This year also marks the Fulbright Program's 75th Anniversary. Throughout 2021, ECA, Fulbright partners, and stakeholders in the United States and throughout the world,  are highlighting the impressive accomplishments of Fulbright alumni, the legacy of the program, and the impact on education, industries, culture, and communities. www.fulbright75.org
Learn more about Fellowships at go.middlebury.edu/fellowships.
Center for Teaching, Learning, and Research
Davis Family Library, Suite 225
Middlebury, VT 05753