Rifelj Series to Feature Approaches to Justice Across Academic Disciplines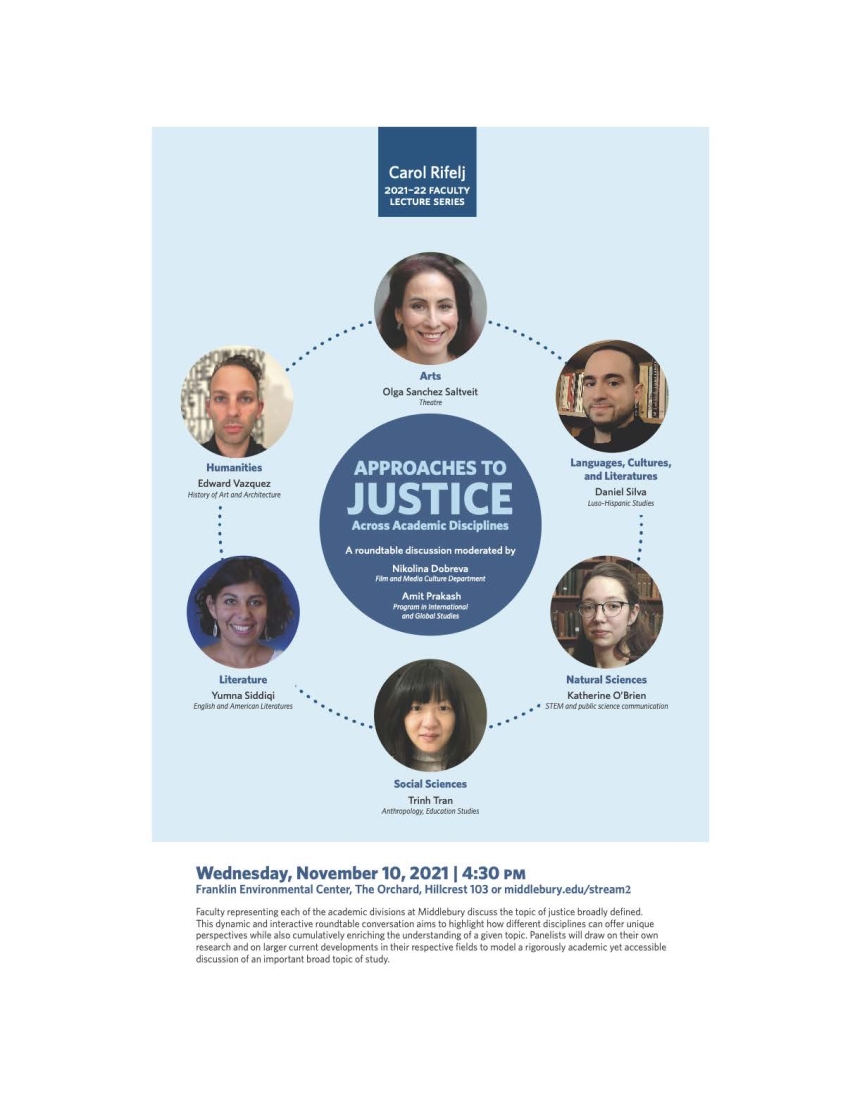 The next Carol Rifelj Faculty Lecture will be "Approaches to Justice Across Academic Disciplines" by Nikolina Dobreva (FMMC) and Amit Prakash (IGS) on Wednesday, November 10 at 4:30 pm in Hillcrest 103 and livestream. A panel with faculty representing each academic division will discuss how research and current developments in their respective fields speak to the topic of justice.
Faculty representing each of the academic divisions at Middlebury will discuss the topic of justice broadly defined. Through a dynamic and interactive roundtable conversation, the panel will highlight how different disciplines can offer unique perspectives, while also cumulatively enriching the understanding of a given topic. Panelists will draw on their own research and on larger current developments in their respective fields to model a rigorously academic yet accessible discussion of an important broad topic of study.
Joining this roundtable discussion are Olga Sanchez Saltveit (Theatre), Edward Vazquez (History of Art and Architecture), Daniel Silva (Luso-Hispanic Studies), Yumna Siddiqi (English and American Literatures), Katherine O'Brien (STEM and public science communication), and Trinh Tran (Anthropology/Education Studies). 
This discussion will be streamed at: www.middlebury.edu/stream2
If anyone watching the event through the stream would like to ask a question or make a comment, you may do so by using this form: go/justiceq/.
Please note: Vaccinations (or valid medical or religious exemptions) and masks required if attending in person. 
Sponsored by: Academic Affairs
See the event details on the Campus Events Calendar.
Center for Teaching, Learning, and Research
Davis Family Library, Suite 225
Middlebury, VT 05753