Winter Term Course Chronicles the Pandemic in Vermont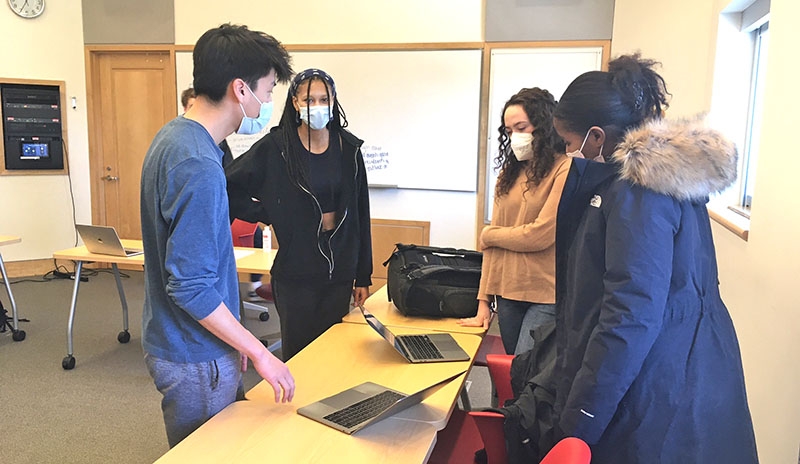 Middlebury History Professor Amy Morsman shares how her Winter Term course on chronicling the pandemic in Vermont impacted students. Partnering with the Vermont Folklife Center, the course resulted in a series of stories published in the Addison Independent. The Project-Based Learning course was also supported by the Academic Outreach Endowment through the Center for Community Engagement.
When I planned my Winter Term 2022 course, "Chronicling COVID-19: Capturing the Pandemic Experience in Vermont," I got some excellent advice from Diane Munroe, Assistant Director for Community-Based Learning, who suggested that I collaborate with the Vermont Folklife Center. I knew that I wanted my students to conduct oral history interviews with local residents as part of our larger, historical study of how Vermonters have responded to community crises over the years.
Connecting with Mary Wesley, Education & Media Specialist at the Vermont Folklife Center, really enabled my students to approach the important tasks of listening, empathizing, being patient, and reflecting, not only on what other people shared about COVID, but also on what the students experienced through the pandemic, themselves. An Academic Outreach Endowment grant from the Center for Community Engagement supported Mary Wesley's strong connection to the class. We enjoyed two long visits with her, where Mary helped the students understand what an institution such as the Vermont Folklife Center can do within a community and what skills the students could embrace and hone to capture a part of local history through the people who had lived through it.
In addition to preparing the students to conduct oral history interviews on their own, Mary Wesley also led them in a story circle, a recorded group oral history experience, where she invited them to be the interviewees, instead of the interviewers. This story circle activity was incredibly valuable: Real emotion came out; an authentic bonding opportunity emerged; and the students gained an awareness of what it felt like to be listened to, to be valued, just for their personal thoughts about their human story over the last two years. I was grateful that they had had that learning experience with Mary, so that they could then go out and help others make meaning of their own pandemic history.
I know from student comments that the experiential learning component of this course distinguished it from other courses they have taken at Middlebury. Being entrusted with chronicling a stranger's story and saving it for posterity in a collection at the Vermont Folklife Center was a weighty endeavor, but one that they valued and appreciated, much more than just the grade they would typically receive. We took it one step further in this writing-intensive (CW) course and spent some quality time writing about those interviews and what they meant about Middlebury's pandemic experience.
Working together, the students highlighted the strengths and the weaknesses of what each had gleaned from their interviews; they found worthwhile connections and compiled their findings into three theme-based articles that were published in the Addison Independent in March of 2022, on the 2-year anniversary of COVID's first impact on our town.
Here are some excerpts from comments students shared as they reflected on this project-based learning experience: 
"This project has taught me a great deal! Not only was I able to interview and speak with someone who gave me an amazing story and outlook of her COVID experience, but I was able to interact and learn things about my classmates."
"Through this project and other exercises in class, I feel as though I am finally able to write in a voice that is my own. Not only does this satisfy me, but the knowledge that I have created a product that will be stored as part of a historical collection is an extremely valuable experience to me. Having helped an individual share and record her story thereby assuring her that she has left a mark on this world is an incredibly rewarding accomplishment."
"I really enjoyed this project because of how much I learned about how Covid impacted small business owners in Middlebury…The stories I heard in my interviews made it clear how Middlebury's community is truly special because neighbors go out of their way to help each other…Moving forward from these interviews, I will remember to be grateful for where I go to college as it is filled with special people that are consistently looking out for the greater good of the town. Additionally, I will always be appreciative of this opportunity to hear such unique perspectives from the pandemic and the raw emotion during our conversations."
"I used to be afraid to speak with new people, especially those who are much older and have more experience than me. However, my perspective on these interactions has completely shifted. I now see interviews and meetings as learning experiences and places where I can share my own thoughts and perspectives as well."
Center for Teaching, Learning, and Research
Davis Family Library, Suite 225
Middlebury, VT 05753