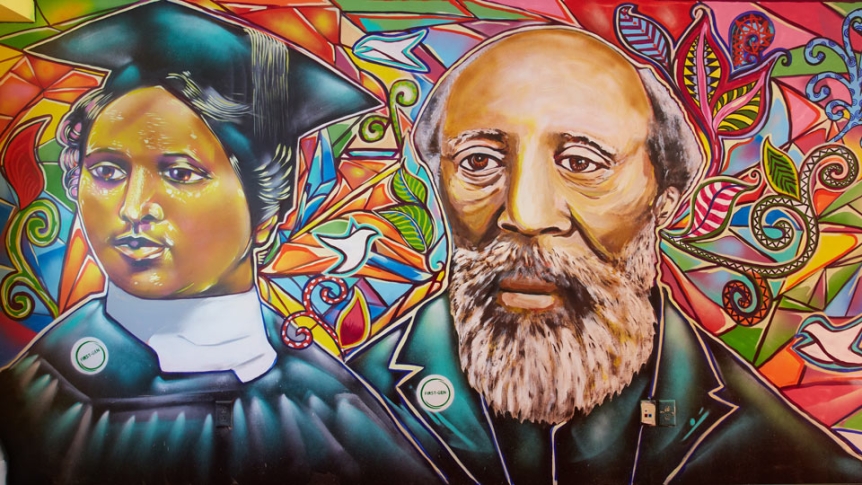 The Anderson Freeman Resource Center (AFC) is Middlebury's intercultural center located in Carr Hall. The AFC maintains an environment that encourages the holistic development of students as they attain their goals of academic achievement and personal growth, while exploring and sustaining their identities and cultures. The AFC also supports the Middlebury College community around intercultural issues, focusing on the unique social and cultural concerns specific to the students it serves.
Our Focus
The center is the heart of a community of care and support for students from historically underrepresented groups. We proudly serve and support:
Students of Color

First-Generation College Students

Students from Low-Income Backgrounds

LGBTQ+ Students

Students from any other group who have been historically underrepresented or marginalized in United States higher education
The staff hosts a vibrant array of programs, advocates for students, and provides resources to ensure students develop a personal, social, and academic sense of belonging at Middlebury.
Our Mission
The Anderson Freeman Center fosters an inclusive environment for students of color, LGBTQIA+ students, low-income students, and first-generation students by providing advocacy, holistic support, and intentional programming. Through an intersectional and social justice framework, the AFC encourages student growth, identity exploration, and achieving personal, academic, and social sense of belonging. Our services ensure the accessibility of intercultural student support and continued success for students with marginalized identities at Middlebury College. We accomplish this by:
Integrating the programming of diversity initiatives on campus and making them easily accessible.
Providing a forum for civil discourse regarding difficult issues surrounding cultural differences, often in conjunction with other centers on campus.
Fostering intercultural exchange as well as answering student demands for support and leadership around complex issues of identity.
Providing information about available resources to the families of underrepresented students.
Providing a visible hub that broadly demonstrates the College's commitment to sustaining a healthy, inclusive, and diverse community.
Our Space
The AFC is bright, colorful, covered in beautiful murals and the staff keeps a lively environment. The center has two lounges with comfortable seating, TVs with DVD and Blu-ray players and streaming access; a reading library featuring a multicultural book collection and academic resources; study rooms and a computer room; and a full kitchen with an array of cooking supplies and small appliances. 
Our History
The Anderson Freeman Resource Center grew out of a movement during the 2013-14 academic year by students working for a more just, inclusive, safe, and supportive environment at Middlebury College. Recognizing a demographic shift in the student body over the past decade, the students requested that the College create a space that visibly represented diverse students and educated the campus community on issues of identity and privilege. They urged the administration to develop and institutionalize a campus intercultural center to more fully support the College's mission to "challenge students to participate fully in a vibrant and diverse academic community."
Then-President Ronald D. Liebowitz approved the opening of the intercultural center and secured the funding. In December 2014, Shirley M. Collado, vice president for student affairs and dean of the College, announced appointment of a director, Roberto Lint Sagarena, and associate director, Jennifer Herrera.
In May 2015, Middlebury's trustees approved naming the new center the Anderson Freeman Resource Center for two of Middlebury's earliest alumni of color: Mary Annette Anderson (1899) and Martin Henry Freeman (1849).
The Anderson Freeman Resource Center officially opened in the fall of 2015 in Carr Hall, alongside the Comparative Study of Race and Ethnicity (CCSRE). The AFC provides a student life complement to the academic mission of CCSRE. The pairing of the two centers creates opportunities for students, staff, and faculty to work together across academic and student life.
The AFC is named after two of Middlebury's earliest alumni of color: Mary Annette Anderson and Martin Henry Freeman.
Mary Annette Anderson: First Woman of Color to Graduate from Middlebury
A native Vermonter, Mary Annette Anderson was the first woman of color to be inducted into Middlebury's Phi Beta Kappa chapter and to graduate from the College. She also was a member of Alpha Chi sorority and valedictorian of the Class of 1899.
Anderson grew up in what then was the only black family in Shoreham, Vermont. Her father was a former slave who settled in Vermont after the Civil War, worked as a hired hand, saved money to buy a farm, and married a woman of French Canadian and Native American descent.
Anderson's formal education began in the Shoreham School, continued in the Northfield Seminary for Young Ladies in Massachusetts, and culminated at Middlebury College. She not only wrote the Class of 1899's ode but also delivered the valedictory address, "The Crown of Culture." In addition, she was the first woman to address the distinguished guests—the College president, trustees, alumni, and professors—at the "Corporation dinner," which was held after degrees were conferred on Commencement Day.
After graduation, Anderson left Vermont to teach at Straight College in New Orleans and later taught English and rhetoric at Howard University in Washington, D.C. She returned to Shoreham to marry, and she spent several months there every summer. She died in her birth home in 1922.
Martin Henry Freeman: First African-American President of a U.S. College
Born in Rutland, Vermont, Martin Henry Freeman grew up under the guidance of his grandfather, a free slave who had served in the American Revolution and operated a potash plant. A local minister, Reverend William Mitchell of Rutland Congregational Church, tutored the younger Freeman and wrote his letter of recommendation for admittance to Middlebury. Freeman graduated in 1849, delivering the salutatory address at Commencement.
After college, Freeman traveled to Pittsburgh, Pennsylvania, to become a junior professor at the newly established Allegheny Institute and Mission Church, a coeducational school for African-American students. The founder, Charles A. Avery, was a philanthropist, Methodist lay preacher, and abolitionist, and the school proved to be a fertile training ground for activists and supporters of African-American colonization in Liberia and was believed to have been part of the Underground Railroad. Freeman advanced through the faculty, eventually becoming president of the institute, making him the first African-American to lead a U.S. college.
Like many students and faculty on campus, Freeman was a strong advocate of black Americans' relocation to Africa, arguing that African-American children would benefit from learning in an environment free from racial hierarchy. In 1863, he resigned as president of Avery College (the Allegheny Institute had been renamed as such after Avery's death in 1858) and accepted a position as chair of mathematics and natural philosophy at Liberia College in Monrovia.
Freeman's trip was delayed for almost a year, and he traveled throughout New England on a lecture tour. He finally arrived in Liberia in 1864 but returned to the United States because of health reasons in 1887. He eventually returned to Liberia, and the college's Board of Trustees elected him president in January 1889. However, his health declined, and he died two months later. He was buried in Liberia.
For more information on Freeman and his involvement in the Colonization Movement, explore Colonization and Martin Freeman, an online research project by students in a web museum class at Middlebury College.