Community Friends is a one-on-one mentoring program that matches Middlebury College students with children ages 6-12 in Addison County. 
Fall 2023 mentor applications are now closed.
Applications to become a mentor for the Fall 2023 semester are now closed. Please check back in early spring 2024 for information about applications. Email comfriends@middlebury.edu with any questions or to be added to a list to receive the application link in the spring!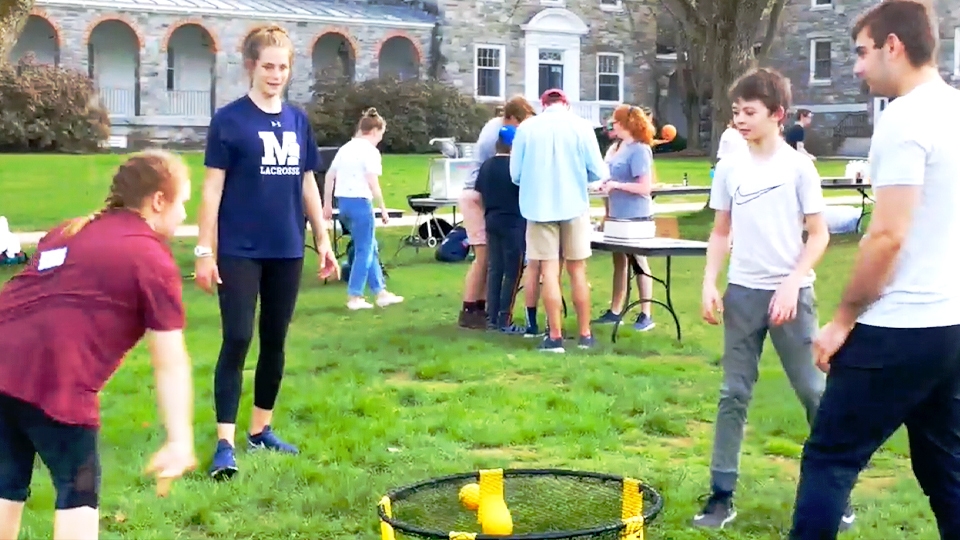 The program was originally founded in 1960 by the Counseling Services of Addison County (CSAC), and now runs as a Student Organization advised by the Center for Community Engagement. Learn more about our 60th Anniversary Stories of Mentoring project.
How It Works
Mentors and mentees get matched by Student Coordinators during our Fall Recruitment season (or later, via a wait list). After an initial match meeting with Student Coordinators and parents/guardians in attendance, mentors and mentees begin to meet regularly one-on-one for about two hours each week. The mentor and mentee coordinate the timing of that meeting, based on mutual availability, and the meetings usually occur on Middlebury College's campus.
Mentors and mentees often play games, visit fun areas around campus like the gym or dining halls, construct crafts, and can attend group events for mentors and mentees held occasionally throughout the year. Mentors are trained in two training sessions per semester, and are supported with weekly ideas emails and Student Coordinator check-ins.
Apply to be a Community Friends Mentor
Community Friends accept applications for new mentors every Fall and Spring semester. Email comfriends@middlebury.edu with any questions.
After you apply, you will get an email to schedule an interview and have you process your background check shortly after submitting your application. After the screening process, if you are accepted, you'll attend a New Mentor Training and schedule your Match Day where you'll meet your new mentee virtually! Or, if you don't match immediately, we let you know you're on a mentor waitlist.
Refer a Child
Referrals for the Fall 2023 semester are now closed. To add a child to the waitlist, you may still complete the Mentee Referral Form and we will contact you in January or February for information about matching.
To learn more about the program and make a referral in Spanish, use our Spanish Language Mentee Referral Form.
If you cannot access the Mentee Referral Form via the Google Form and need a Word Doc version of the application either emailed or mailed to you, please reach out directly to comfriends@middlebury.edu.
Once you submit a referral, we will get in touch to schedule a first virtual mentor/mentee meeting at one of our Match Days, or a separate meeting if you've indicated that those days don't work for you. Or, if you don't get matched immediately, we will let you know if you are on a mentee waitlist. If you submit a mentor application or mentee form after the Fall deadlines, or we are unable to make a good match in the Fall recruitment season, you'll be put on our waitlist and we'll be in touch when we are able to find you a match, usually by February. If you submit your form after February, we'll likely not be able to match you until the following Fall.
We are continuing to accept mentee referral forms on a rolling basis even after the priority deadline has passed. Please click on the referral link above to submit your form.
Contact
For questions or inquiries about Community Friends, please contact our Lead Student Coordinator(s) at comfriends@middlebury.edu, or the Community Friends staff advisor, Shannon McClain at slyford@middlebury.edu or (802) 443-5082.