Middlebury Alternative Break (MAlt)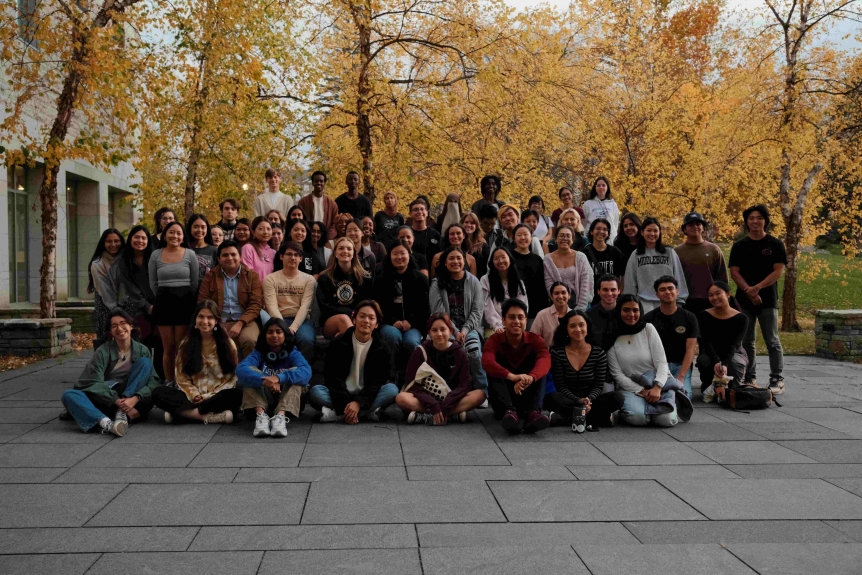 MAlt is Middlebury's alternative break program. Trips run during February Break each year.
The goal of MAlt is to engage Middlebury students with communities across the nation and the globe in order to share an experience, provide service where service is needed, and learn about the systems that shape community realities around the world.
Social issues in the past have included: environmental conservation, gender equity, migrant justice, education access, anti-racism, food systems, and more. They have traveled to communities in places such as Boston, MA; Washington DC; Puerto Rico; San Diego, CA; San Antonio, TX; New York, NY; and beyond! 
Support MAlt 2024 trips!
Current MAlt Trips:
Environmental Justice in Los Angeles: Seeing the rapid and intensifying changes of the global climate has pushed the MAlt community to pursue a trip centered around environmental justice so that we can address the various injustices that come as a result of climate change. Though there are various regions we can aid, for the 2023 - 2024 academic year, 11 Middlebury College students and their trip leaders will be serving the Los Angeles and surrounding communities. From working with well-known organizations like Mud Town Farms to Scope LA, students will have the chance to learn about topics ranging from what causes climate change and how we can provide some restoration and aid to the community partners we serve.
Privilege and Poverty in New Orleans: New Orleans is a deeply historic city which has experienced the growth of the United States, while simultaneously experiencing its economic and social inequality. Through this trip, participants will have the opportunity to understand the effects that privilege and poverty has on the city dweller. We will aim to understand New Orleans by learning its history and culture, and discussing its homelessness, racial inequality and continued impact from Hurricane Katrina. Through the week, participants will get to work with several non-profits to serve the community where most needed, providing equitable assistance to the city. Participants will also develop engagement skills with the local community by understanding the individual characteristics that shape the modern city, through the lens of 'privilege and poverty', equipping them with skills and understanding that they can continue to engage with even after Middlebury.
Immigration Advocacy in San Diego: San Diego, CA is a major city that has seen rapid immigration in the US due to its proximity to the US-Mexico border, primarily Tijuana, Mexico and is home to one of the busiest land border crossings in the world, known as the San Ysidro Port of Entry, which has about 70,000 northbound vehicles a day, and 20,000 northbound pedestrians, compromising primarily of immigrants. The city has approximately a 21.5% immigrant population from all across the world, but especially immigrants from across Latin America seeking economic opportunities or fleeing from political instability in their home countries. San Diego also has been a huge topic of discussion when talking about immigration border control, and debates on immigration reforms. This trip would focus on immigration and humanitarian relief in San Diego, and how we can create action plans going forward not only in San Diego, but to Vermont immigrant communities as well. Through this trip, we want participants to learn how to be advocates in their community, as well as fostering constructive dialogue surrounding immigration through mutual understanding and respect. San Diego has many advocacy groups and organizations we plan to work with in order that protect immigrant rights, provide legal assistance, and support the community overall.
Sustainable Coffee Farming in Guatemala: Sustainable coffee farming: Coffee has played a major role in Guatemala's economy since the late 1800s, serving as the backbone of the country's GDP for nearly a century. While Guatemala's economy is more diversified today, coffee remains one of the top exports by value. Within Guatemala, there are approximately 125,000 coffee farmers, 97% of which are small-scale producers that account for nearly 45% of the country's production. Large scale plantations, which represent only 3% of Guatemala's farmers, are producing more than half of the coffee in the country. Small-scale producers like those with whom we work, despite intergenerational experience and expertise in the industry, continue to be more susceptible to price fluctuations, climate change, and exploitative supply chains. Our community partner, De La Gente works in partnership with five coffee growing communities, eight cooperatives total, representing over 150 small-scale coffee producers, and channels nearly $350,000 each year to farming communities in sales alone. They have transparent relationships with the cooperatives with which they partner and offer the immersive opportunities within those communities.
Sustainable Community Engagement in Costa Rica: Rural communities in tropical countries encounter a multitude of intersecting challenges, spanning across societal structures and environmental changes. During this trip, we will visit Punta Banco, Puntarenas, a small coastal town situated in the far south Pacific of Costa Rica. Our time on site will represent an opportunity to gain and exchange knowledge regarding a range of topics, including climate-related threats, environmental justice, economic development, and the many intricate effects that visitors and tourists have on these rural communities. Throughout our visit, we will collaborate with local organizations, such as Simbiosis Costa Rica, Tortugas Punta Banco, and Asociación de Vecinos de Punta Banco, to contribute to initiatives such as sea turtle conservation, beach erosion and waste management, and rural infrastructure, with the purpose of better understanding how the interplay of local and foreign forces impact the environmental, economic, and socio-cultural growth of rural towns like Punta Banco. Knowing Spanish is not expected/required for the trip, but helpful. There will be long transportation by plane and bus. Some projects can be physically demanding, especially in high temperatures and humid environments.
Public Health in New York City: Basic healthcare is a human right that should never be less than number one on an individual's hierarchy of necessities. This trip is purposed to address the needs of an underserved community in the United States. Through engagement with community members, students will be able to build a strong enough relationship given their time there to help address the medical needs of the community. The goal is to partner with an already established NGO providing healthcare to various communities in the nation. This can be in providing hygiene kits or helping to administer medication or deliver vaccines to impoverished areas. A hope for the trip would be to move around various communities to also learn the stories of those who have not always been able to have their voice heard. Individuals on the trip are expected to have an aptitude of compassion and efficiently be able to complete tasks.
Past MAlt Trips
Five MAlt trips took place in February 2023. These were the trip descriptions:
Environmental Justice : Los Angeles, CA Seeing the rapid and intensifying changes of the global climate has pushed the MAlt community to pursue a trip centered around environmental justice so that we can address the various injustices that come as a result of climate change. Though there are various regions we can aid, for the 2022 - 2023 academic year, ten Middlebury College students and their trip leaders served the Los Angeles and surrounding communities. From working with well-known organizations like TreePeople to Heal the Bay, students had the chance to learn about topics ranging from what causes climate change and how we can provide some restoration and aid to the community partners we serve. Trip leaders: Nerjes Azzam '25 and Julianna Martinez '24

Immigration Advocacy: New York City, NY This trip focused on immigration and humanitarian relief in New York City. Some areas of work included translating documents, immigrant resettlement, aiding with legal documents, and food security. Throughout the week, the students worked with several organizations to learn more about the process of entering and settling in the United States for immigrants. Most importantly the trip focused on how participants can continue to be advocates in their communities. Participants dived into conversations and action plans for the future. Trip leaders: Nathaly Martinez '24 and Aylin Atzin '24

Privilege and Poverty: New Orleans, LA This trip focused on the relationship between privilege and poverty through engaging in a variety of different projects throughout New Orleans. Some areas of work and education included sustainability, improvement of educational infrastructure, and creation of community spaces. Throughout the week, students worked with HandsOn New Orleans, serving the community where best suited through their various projects. Engagement was focused on education and mutually beneficial work that allow participants to truly aid the community while learning about how to remain involved with these phenomena and conversations even after returning to Middlebury. Trip leaders: Tayyaba Akhtar '25 and Megan Paluska '25

Sustainable Coffee Farming: Guatemala Coffee is one of the world's most valuable commodities, and Guatemala produces hundreds of millions of pounds every year. Yet, most coffee farmers receive very little compensation for what they produce. In this week-long trip across Guatemala's main coffee-producing regions, centered around the city of Antigua, Participants connected with locals directly involved in coffee production. Through action focused on agricultural sustainability and social justice, our group was in contact with the region's historical sites and local producers in this immersion experience for any coffee lover who cares to see the story behind a plant that has shaped Guatemala's history. Knowing Spanish was not expected/required for the trip. Trip leaders: Maya Teiman '25 and Javier Merino '25

Environmental Solutions: Puerto Rico The trip focused on environmental topics on the beautiful island of Puerto Rico. Partnering with local environmental NGOs, we explored a series of themes ranging from clean energy to environmental justice - including efforts to recover from severe hurricane disasters. As a group, we also spent time enjoying the rich culture, unique cuisines, and fun water sports the island has to offer. Knowing Spanish was not expected/required for the trip. Trip leaders: Yiran (Steven) Shi '23 and Christina Chen '23
Frequently Asked Questions