The reloadable, prepaid Wisely Pay card is a convenient way to receive your paycheck funds from Middlebury College.
NOW AVAILABLE as a payment method in Oracle HCM!
Some benefits of the Wisely Pay card include:
No charge for direct deposit. Get paid up to 2 days early for your pay and other sources of income. A no-fee upgrade is required.*
Shop and pay bills in stores, online, in apps, or by phone, everywhere Visa debit cards are accepted and where Debit Mastercard is accepted.*
Manage your money. Save for a rainy day with an in-app savings envelope. Plan your budget and track your spending habits to boost your financial wellness with the myWisely app.*
Balance is protected from fraud if the card is lost or stolen, and is FDIC insured.*
Order up to 3 extra cards for your family or trusted individuals.*
Easy and fee-free access to cash at 80,000 nationwide in-network ATMs as well as domestic over-the-counter transactions at 120,000 in-network Visa and in-network Mastercard banks, and cash back at point of sale at thousands of retail locations, as well as down-to-the-penny cash access at most Walmart retail outlets.*
*Terms and conditions apply. Please review the Wisely Pay card guide for a full list of requirements.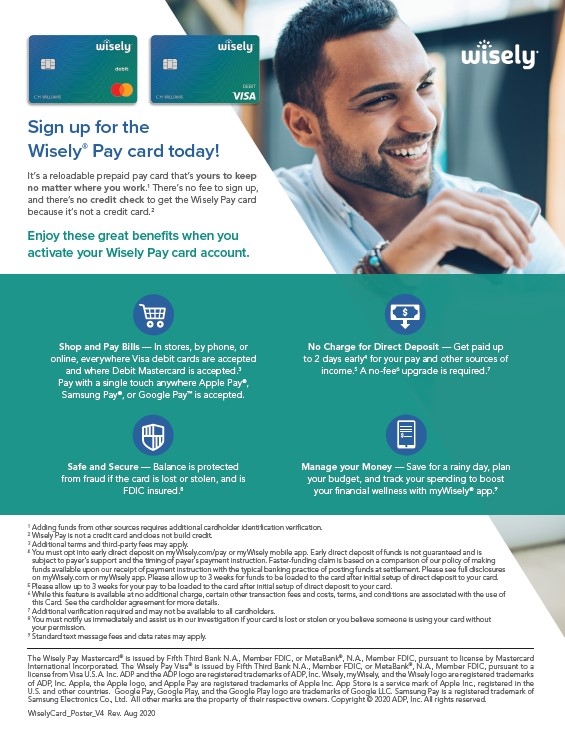 Frequently Asked Questions
*Please review the Wisely Pay card FAQ for more information about activating, adding money, and using your card.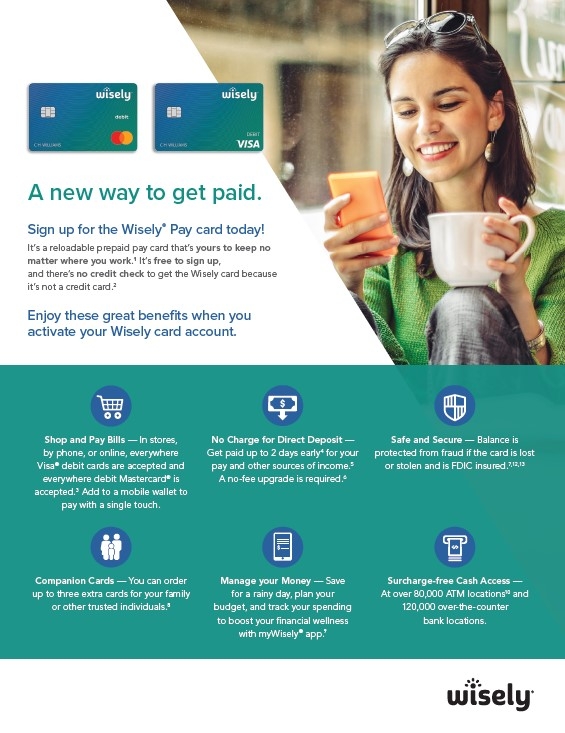 If you are interested in signing up for the Wisely Pay card, contact Human Resources:
802-443-5465