Our compensation program is designed to provide fair and competitive wages throughout a staff member's career at Middlebury. From that perspective, when it comes to assessing individual rates of pay we begin with considering where an employee is in their overall career progression.  Placement into range is managed with a skill matrix (below) focused on the impact and ownership shown in their role. This is step two in the process, once the range is established.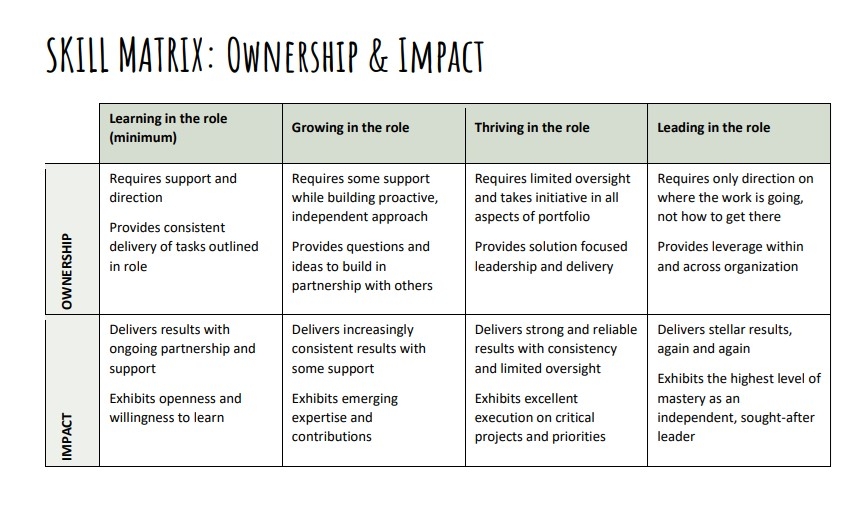 Each staff member will progress through the stages of career progression at a different pace and may stay in a given level for several years or indefinitely.  For example, for some seasoned experts in a role, reaching thriving may be the pinnacle of their career progression while others may develop further into leading.   Each year, managers will be asked to identify any staff member who has moved up in their skill matrix level and the related change in pay will be included in the next fiscal year. 
The role and individual components of the program come together at this stage.  Market medians are tied to the thriving level so we can ensure that staff functioning at a high level and embracing their roles fully will remain competitive with market trends.  Staff whose skill matrix level remains unchanged in a given year may be eligible for market increases associated with their current level and grade.  
The skill matrix is a valuable tool to support ongoing collaboration between managers and their staff as it helps us to interpret how the impact and ownership each of brings to our work translates into success for the department and institution.  For guidance and support in making the most of the skill matrix, please connect with your HR Business Partner. 
The table here shows fiscal year 2023 (July 1, 2022 – June 30, 2023) rates by skill matrix level and pay grade. 
The skill matrix is also used to assess where someone is in their career progression and how that translates to a salary offer for candidates considering joining Middlebury.  This will ensure that competitive offers are made while maintaining a connection to the pay of our current staff at similar places in their careers. 
Likewise, if a current employee transfers from one position to another, the grade of the new role and the skill matrix will be used to create a new rate. 
Human Resources
Marble Works
152 Maple St.
Middlebury, VT 05753