Requesting Books, DVDs, or Other Physical Materials from Middlebury College Libraries
Items from the Middlebury College Libraries' collections can be requested for pick up or shipment as part of our new paging service.
 
Please note that paging excludes some loaner equipment such as cords, cameras, etc., a list of circulating equipment is available to review.
In order to request physical materials (books, DVDs, CDs, etc.) from the library, please follow these steps:
1) Go to MIDCAT
If you're using the mobile

MIDCAT

view from a device, please choose "Main Site" from the main

MIDCAT

page in order to place requests.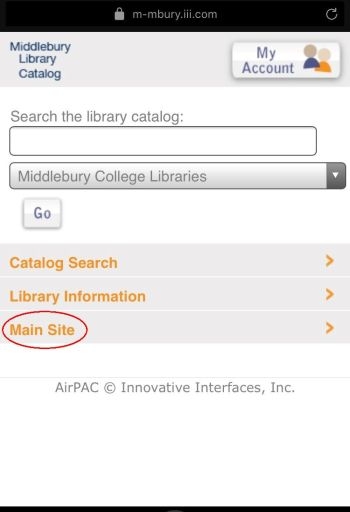 2) Search for the item you want to request
If the item you want to access has a due date, it means it is checked out.  We recommend that you request another copy of the item via Interlibrary Loan request.
3) Click either the "Request this item" button on the left hand side of a list of results
OR the "Request" button above the record
4) Enter your Middlebury College username and password
5) Select your delivery method
If you are on campus, select "Davis Family Library" from the drop down menu to pick up from the vestibule at the entrance to the Library
If you have access to BiHall and want to pick up books there, select "Armstrong Library".  These books will be on a table near the book drop in the Great Hall.
If you are outside of Middlebury, select "Mail to the address below in the notes field" to have a book mailed to you.  Please include your full mailing address, including street, city, state, country if international, and zip or postal code in the "Note" field.

Please note that depending on your location and the item you are requesting, we may not be able to mail the item to you.  We will contact you to discuss options.

If you only need a portion of the book scanned and emailed to you as a

PDF

file, please select "Scan and email the pages below"
6) Enter any relevant notes that you want, including your mailing address or the pages you would like scanned and your email address
Once you have submitted your request:
You will get an email when the item is available for pickup (usually within 48 hours)
Come to the Davis Family Library and access the Library Vestibule with your college 

ID

or the Great Hall outside of Armstrong Library
Find your item(s) in a paper bag with your name on it (arranged by last name).  Please note that if you made requests at different times, there will be multiple bags.
Take the bag and enjoy the rest of your day!
Information about due dates and returning materials to the library can be found on our borrowing page (go/borrowing/)
For questions or more information, please contact Library Borrowing:
Email:  library_circulation@middlebury.edu
Phone: (802) 443-5494