MIDDVantage: Careers in Data Analytics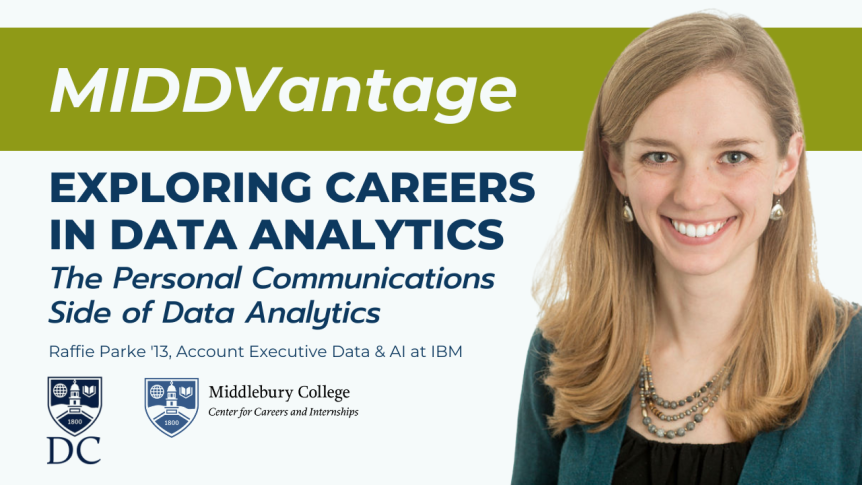 Watch Episode 10: The Personal Communications Side of Data Analytics with Raffie Parke '13, Account Executive Data & AI, IBM (27 min)
Interviewer: John Cambefort '22
Check out the latest episode on YouTube: https://www.youtube.com/watch?v=aMNtLW5APJI
Raffie Parke '13 is an account executive at IBM with a focus on Data & AI solutions for commercial businesses. In this role, she serves as her client's main point of contact for IBM's Information Architecture portfolio (in other words, the infrastructure that businesses need to manage and analyze their data). Before joining IBM, she spent eight years in consulting: first in CPG shopper marketing at Kantar Retail, then in nonprofit strategy at Community Wealth Partners. She graduated from Middlebury College in 2013 with a BA in Psychology and a minor in French. She is currently pursuing a part-time MBA at Boston University's Questrom School of Business.
About the Data Analytics series: Data analytics is broken down into four basic types. Descriptive analytics describes what has happened over a given period. Diagnostic analytics focuses more on why something happened and predictive analytics moves to what is likely going to happen in the near term. Finally, prescriptive analytics suggests a course of action. Market watchers project the number of jobs for data professionals in the U.S will increase to over 3 million by 2022. This series includes interviews with many professionals who will share their vantage points on how they use data analytics in their career roles, their paths from campus to career, and career advice they would have for students interested in this career space.
Exploring Careers in Data Analytics is a collaborative series developed by the Center for Careers and Internships and Middlebury in DC with content contributions from members of the Middlebury Professional Network and Middlebury students.