MiddVantage: Exploring Careers in Data Analytics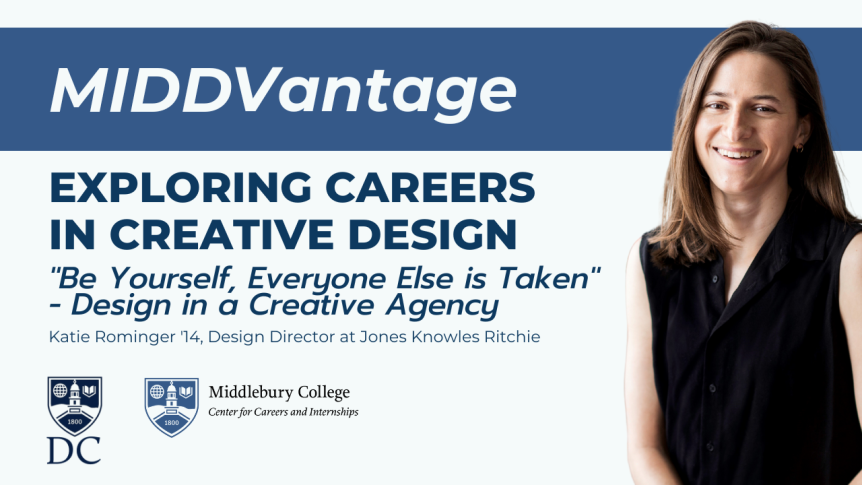 Watch Episode 2: Be Yourself, Everyone Else is Taken—Design in a Creative Agency with Katie Rominger '14, Design Director at Jones Knowles Ritchie (27 min)
Interviewer: Clara Wolcott '22
Video link: https://www.youtube.com/watch?v=NDji4FhTJQM
About Katie Rominger '14. Katie is a graphic designer based in New York City. She holds a B.A. in International Studies from Middlebury College and a degree in graphic design from the School of Visual Arts. Currently, she is a Design Director at Jones Knowles Ritchie, where she develops distinctive graphic identities and brand systems for a wide range of clients. Previously she was an Associate Partner at Pentagram, where she worked on new brand identities for Mastercard, the Academy Museum of Motion Pictures, San Diego Zoo Wildlife Alliance, The Frick Collection, Central Park Conservancy, and many others.
About the Creative Design series: Design is absolutely everywhere—from the clothes we wear to the apps we use; from the cars we drive to the chairs we sit on. As a designer, you have the power to shape the world in which we live. The global market for design services is expected to be nearly $250 billion by 2022. This series includes interviews with many professionals who will share their vantage points on how they use creative design in their career roles, their paths from campus to career, and career advice they would have for students interested in this career space.
Exploring Careers in Creative Design is a collaborative series developed by the Center for Careers and Internships and Middlebury in DC with content contributions from members of the Middlebury Professional Network and Middlebury students.