MiddVantage: Exploring Careers in Data Analytics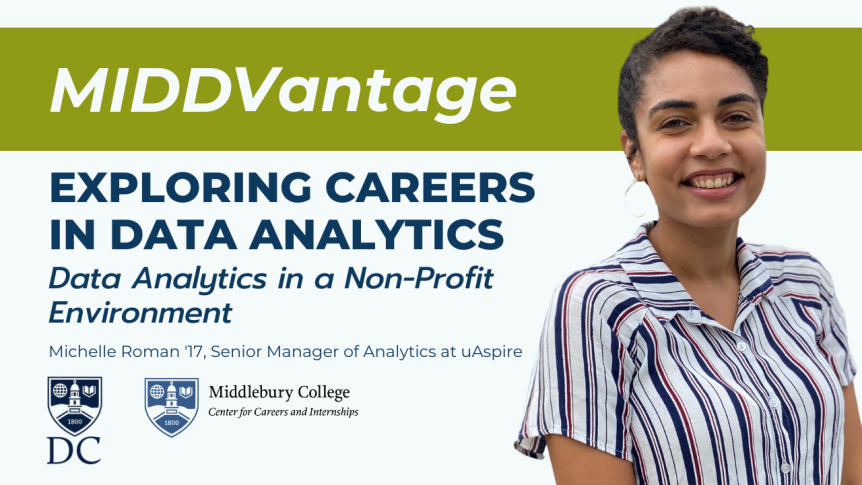 Watch Episode 9: Data Analytics in a Non-Profit Environment with Michelle Roman '17, Senior Manager of Analytics, uAspire
Interviewer: Ulysses Kamps '24
Check out the latest episode on YouTube: https://www.youtube.com/watch?v=MYct5utA_JU
Michelle Roman '17 is the Senior Manager of Analytics at uAspire, a national nonprofit that is hyper-focused on college affordability for marginalized communities. Their mission is a personal one for Michelle who joined this organization soon after graduating Middlebury as a first-generation low-income student of color.
In her current role, Michelle oversees the processing of student data, aligns external data dissemination systems with evolving organizational needs, collaborates with stakeholders on program evaluation, and contributes to research on student outcomes.
Michelle received her BA in Sociology and Anthropology with Minors in Spanish and Russian Language from Middlebury College in 2017.
About the Data Analytics series: Data analytics is broken down into four basic types. Descriptive analytics describes what has happened over a given period. Diagnostic analytics focuses more on why something happened and predictive analytics moves to what is likely going to happen in the near term. Finally, prescriptive analytics suggests a course of action. Market watchers project the number of jobs for data professionals in the U.S will increase to over 3 million by 2022. This series includes interviews with many professionals who will share their vantage points on how they use data analytics in their career roles, their paths from campus to career, and career advice they would have for students interested in this career space.
Exploring Careers in Data Analytics is a collaborative series developed by the Center for Careers and Internships and Middlebury in DC with content contributions from members of the Middlebury Professional Network and Middlebury students.