Trump, COVID, and Other Apocalypses: Ancient Eschatology in the Modern Media
Midd.data Lightning Talk by Christopher Star (Classics) was on Thursday, 3/16 from 12:45-1:45 PM ET in Lib 105 A/B and on Zoom.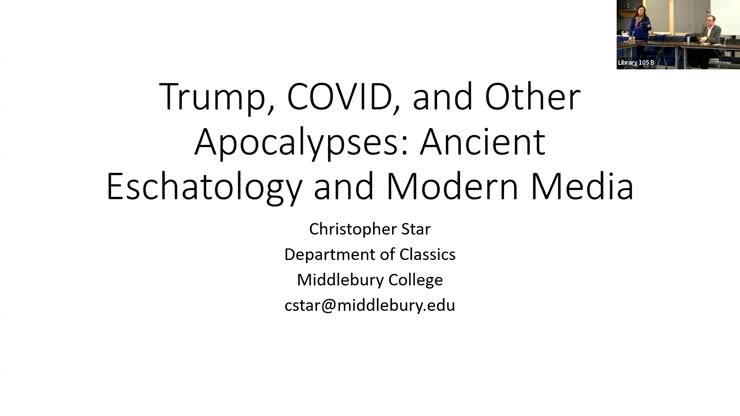 This talk will include a report on Star's ongoing diachronic study of the use of the word "apocalypse" and related ideas in the press. For centuries apocalypse typically referred to the book of Revelation, the final book of the Christian Bible. Since the middle of the twentieth century this word has come to refer to an ever-growing number of topics, including technological developments, such as nuclear weapons and artificial intelligence, climate change, pandemics and political elections. Uses of apocalypse range in tone from the humorous to the hyperbolic to the apotropaic and the prophetic.
Overall, conceiving of contemporary crises as an apocalypse unites several realms that are typically seen as opposed, such as science and religion, reason and revelation, and ancient and modern. This research informs a larger project on how ancient ideas about the end of the world shape contemporary visions of the future.