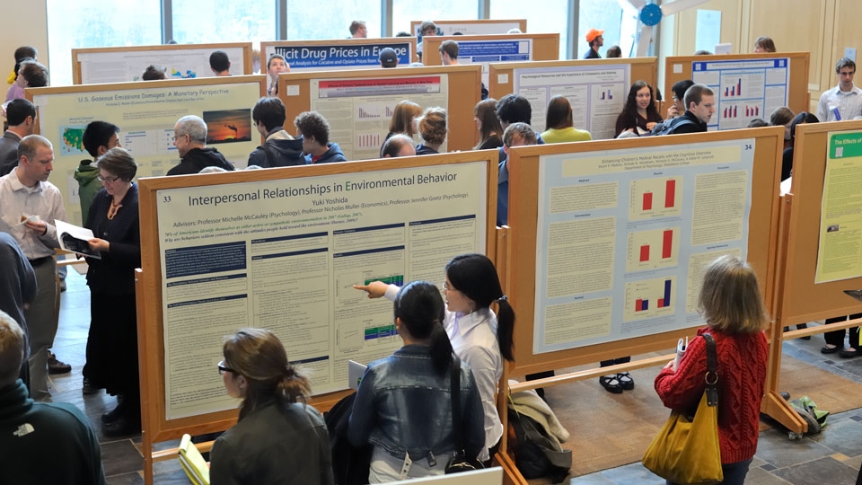 The Spring Student Symposium is an all-campus event that provides students an opportunity to showcase their academic projects to a campus-wide audience in a professional conference setting.
A celebratory day for student presentations scheduled for Friday, April 22, 2022, the symposium allows students of all academic disciplines and graduation years to present independent research through oral presentations, posters, and artwork. Classes are canceled, allowing the entire Middlebury community to come out to enjoy the intellectual inquiry and inspiration.
2021 Spring Student Symposium
Thank you to everyone who participated in Middlebury's 14th annual Spring Student Symposium! It was a lively event with synchronous Zoom sessions and a poster viewing on May 11 and asynchronous recorded presentations, digital posters and media shared on the event site through Sunday, May 16. Projects in all disciplines were available from over 250 presenters in all class years.
Event Schedule
The full event schedule was available though a private event site. Below is a presentation schedule and an overview of the day.
Schedule Overview
Welcome
President Laurie Patton's welcome was viewable in all the first session Zoom rooms.
Zoom Sessions I
Synchronous Zoom Presentations (14 rooms)
Zoom Sessions II
Synchronous Zoom Presentations (12 rooms)
Zoom Sessions III
Synchronous Zoom Presentations (13 rooms)
Zoom Sessions IV
Synchronous Zoom Presentations (12 rooms)
Poster Session
Posters were available for viewing in Bi Hall Great Hall and Discovery Court. Asynchronous posters were also available online.
Asynchronous Presentations
Asynchronous presentations were available all day and were listed in the schedule in this session block.
Since its start in 2007, the event has grown to showcase the academic and creative works of more than 275 students annually. Students from all classes and all disciplines are encouraged to apply to present.
In addition to presenting, students enjoy attending to support their friends, explore a major, or learn more about undergraduate research topics here at Middlebury.
"The Student Symposium was one of my favorite days of the year. Presenting my work was very rewarding, but the day was great because of the quality of everyone's work and presentation. Students at Middlebury work hard, and the Symposium is an amazing way to celebrate achievements and also gain essential presentation skills."

"I enjoyed being able to share my work with my friends and family in a public setting, but I was really amazed by the depth and breadth of the other research I got to learn about during the Symposium. I felt reenergized at the end of the day because it was a great reminder of the passion and brilliance of so many members of the Middlebury community."
Spring Symposium supporters include the Norbert K. Vaughn '10 Memorial Fund, established in 2008, to honor Norbert's memory and an event that exemplifies his approach to scholarly inquiry. 
Center for Teaching, Learning, and Research
Davis Family Library, Suite 225
Middlebury, VT 05753