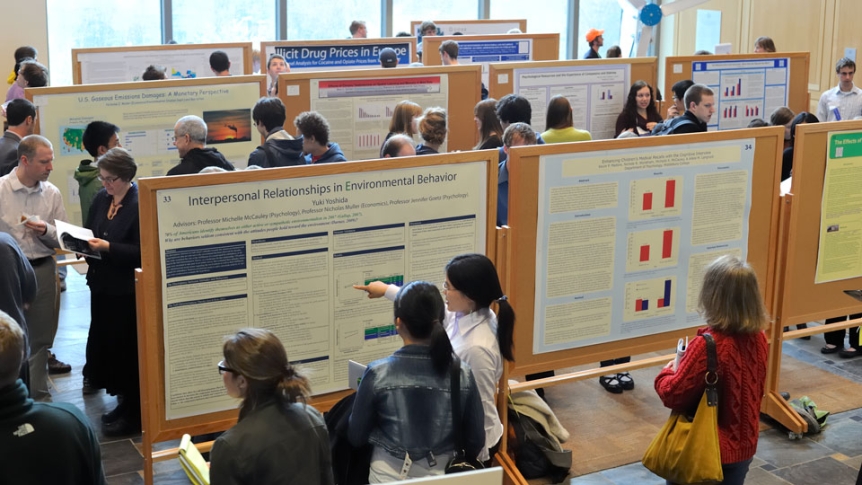 The Spring Student Symposium is an all-campus event that provides students an opportunity to showcase their academic projects to a campus-wide audience in a professional conference setting.
Join us for the Spring Student Symposium on Friday, April 14, 2023!  Students from all class years and all disciplines are invited to share their academic and creative works through oral presentations, posters, and artwork.This is a day to share your ideas, research and creations with the entire Middlebury community. Applications for the 2023 Spring Student Symposium are due Wednesday, March 1, 2023 at noon. Whether you are a first-year or senior, we encourage you to share your work at the symposium!
2022 Spring Student Symposium
It was wonderful to be back in-person at McCardell Bicentennial Hall after two years. Over 200 students from 34 different departments and programs presented at this year's Symposium, sharing their excitement and knowledge from research and projects they worked on throughout the year. See presentations list.
Since its start in 2007, the event has showcased the academic and creative works from students in all years and disciplines. In addition to presenting, students enjoy attending to support their friends, explore a major, or learn more about undergraduate research topics here at Middlebury.
"The Student Symposium was one of my favorite days of the year. Presenting my work was very rewarding, but the day was great because of the quality of everyone's work and presentation. Students at Middlebury work hard, and the Symposium is an amazing way to celebrate achievements and also gain essential presentation skills."

"I enjoyed being able to share my work with my friends and family in a public setting, but I was really amazed by the depth and breadth of the other research I got to learn about during the Symposium. I felt reenergized at the end of the day because it was a great reminder of the passion and brilliance of so many members of the Middlebury community."
Spring Symposium supporters include the Norbert K. Vaughn '10 Memorial Fund, established in 2008, to honor Norbert's memory and an event that exemplifies his approach to scholarly inquiry. 
Center for Teaching, Learning, and Research
Davis Family Library, Suite 225
Middlebury, VT 05753