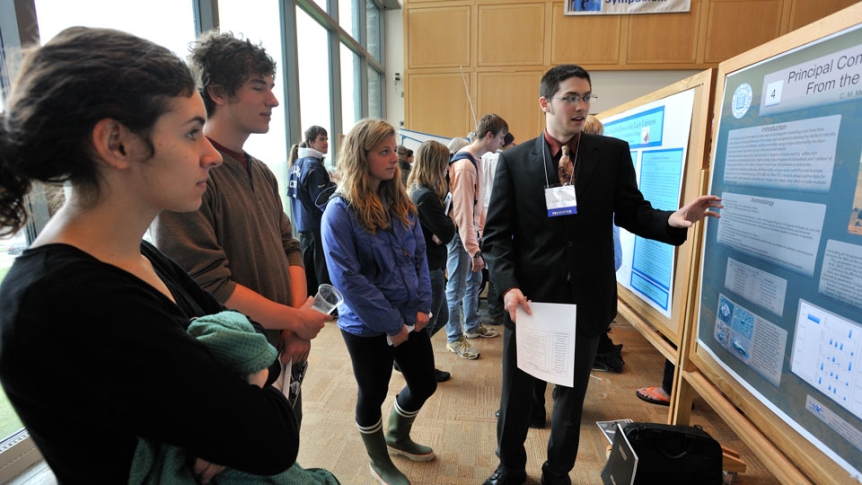 The following information was for Spring 2020 and is for reference only.
Presenter Meeting
The meeting for new presenters is scheduled for Wednesday, March 11, 2020 from 6:30–7:30 p.m. in Bi Hall 216 (Oral Presenters) and Bi Hall 220 (Poster and Display Presenters).
Workshops
Using Adobe Illustrator to Create Symposium Posters
TBD in Davis Library Wilson Media Lab
Educational Specialist Joe Durante is available to assist you with technology related to your poster.
Digital Media Tutors are also available in the Wilson Media Lab in the Davis Library during open lab hours or by appointment.
Public Speaking
Tuesday, April 14 at 4:30-6:00 p.m. in Lib 201
Sign up online for an interactive Oratory Now workshop with Ben Powers.
Oratory Now coaches are also available for individual appointments. Book online at www.oratorynow.org.
Oral Presentation Practice Sessions
Tuesday, April 14 from 4:30–7 p.m. in Lib 105A
Wednesday, April 15 from 7–10 p.m. in Lib 105A
At these walk-in sessions, a media tutor will be available to allow you to project your presentation on the screen and use the microphone to rehearse your presentation.
Deadlines
Final Abstracts, Titles and Presenter's Information
Due March 12
No changes to your submission information will be possible after that date since the information will be printed in the symposium program. To update your submission login and choose "View my Final Drafts." 
Powerpoint Presentations and Dynamic E-Posters
Due April 13
Upload online or bring a copy to the CTLR desk in Davis Library. You must submit at least a draft version and preferably the final version for review. On the day of the symposium, you can bring a final version of the presentation on a usb drive to your presentation room for backup or for uploading onto the room computer prior to your session. Dynamic e-posters presenters need to bring final presentations on a laptop with HDMI cable to their poster session.
Is your PowerPoint or Keynote file too large? Visit the presenter resources for more information on how to shrink your file size by compressing the images within your presentation.
Non-media Presentations
Please email uro@middlebury.edu stating such so the technology staff knows you are all set for Friday.
Final Posters
Must be printed by 5 p.m. on April 15
Drop off the printed poster to Cathy Ekstrom in Bi Hall 330 and upload online or bring a copy to the CTLR desk in Davis Library.
Tickets for Symposium Day Lunch
These will be in the name tag you pick up at check-in Friday morning. Mentor tickets will be at the Atwater door. Additional guests are $7 each at the door. Lunch for students who are not presenting is available at Ross and Proctor.
Center for Teaching, Learning, and Research
Davis Family Library, Suite 225
Middlebury, VT 05753