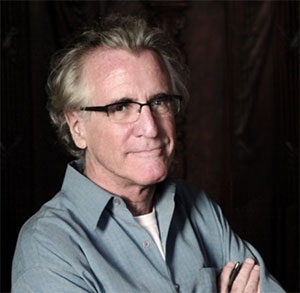 The Academy for Teachers is the type of magical realm that you expect to discover in a work of literature—perhaps a tale written for children yet beloved by adults as well. But instead of a school for wizards, the academy is a place where cultural giants conduct master classes for the most dedicated, curious, and talented secondary school teachers. So it's fitting that this school—which does exist, in New York City—was founded by a children's book author and teacher, Sam Swope.
A longtime faculty member at BLSE and the founding dean of the Cullman Center Institute for Teachers at the New York Public Library, Swope founded the academy in 2011 both to recognize talented teachers in New York City and to provide them with professional development opportunities that might not otherwise be afforded to them.
Swope's vision was inspired by his experience at Bread Loaf. In a 2012 Wall Street Journal story on the academy, Swope said, "This is a small effort to keep teachers in the classroom. And a lot of these people are really impressive and working in difficult situations, with troubled populations. They need to be celebrated and supported. Good teachers are really incredible professionals."
To refuel the creative juices and lift morale of the educators, Swope designed one-day experiences in which 18 fellows, nominated by peers and selected from a highly competitive pool, spend time being inspired by a who's who of cultural and educational New York—think Gloria Steinem, Stephen Sondheim, Sree Sreenivasan—while also networking with impassioned peers. The endeavor has been so successful that the New Yorker has chronicled Swope's creation not once, not twice, but three times.
A couple of years ago, Swope and the Academy for Teachers reached back to their roots in forming a partnership with BLSE to create Bread Loaf scholarships for Academy for Teachers Fellows. (Fellows are any teachers selected to attend one of the Academy for Teachers' workshops.) Applicants must be Academy for Teachers Fellows and full-time teachers in New York City metro-area schools. Those selected—three in 2018 and three more for this summer's 2019 session—are among the most outstanding fellows to emerge from Swope's academy. This much is evident when reading the statements of purpose that each scholarship hopeful submits with his or her application.
Wrote one: "There are ways in which teaching is the best learning; I wish I could give my students the opportunity to plan a unit. In fact, this is often how I approach teaching. How can I create the space for students to construct a framework of knowledge, decide what words matter, read, analyze, and connect to the world at large? What kind of prereading and scaffolding do we need? Should I explicitly address the second-person familiar? How can I get them to know about the Victorian era without a slide presentation? How can I explain a complete sentence if they don't know parts of speech?"
Wrote another, a chemistry teacher (yes, Bread Loaf/Academy Scholars can be teachers in any academic discipline): "Understanding science has never been more important, yet the scientific community seems to have lost control of the narrative. The strongest defense I can mount in favor of truth is in my own classroom—yet how do I make sure that the story I'm telling is one my students can really hear? Taking courses at Bread Loaf might seem an oblique solution to this challenge, but it would provide a unique opportunity to inject my work with a fresh perspective. I truly believe that the craft of teaching science is really about teaching students—and what better way to learn about people than by studying the humanities?"
Both of those teachers were among those selected for a Bread Loaf/Academy for Teachers scholarship and both attended the 2018 summer session. Three more will arrive on the mountain in June.
That magical realm created by Sam Swope is getting more magical—and more real—by the day.