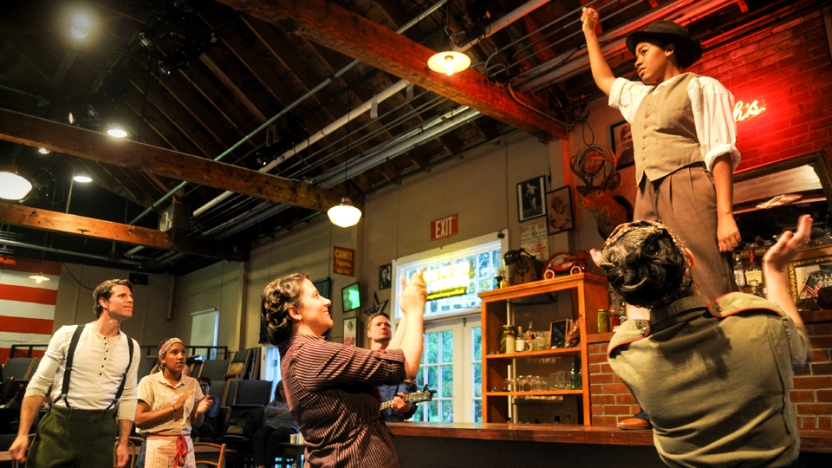 Bread Loaf incorporates the theater arts into the student experience at all three campuses.
Bread Loaf, since its inception in 1920, has made space in its curriculum for theater arts. The program in theater serves as a laboratory for acting, directing, playwriting, stagecraft, and design, illuminating the many intersections between theater, teaching, and literary study.
Complementing Bread Loaf's courses in theater arts, in Vermont and New Mexico professional actors bring performance into Bread Loaf classes as a powerful vehicle for the interpretation of poems, plays, narrative, theory, and student writing.
In Vermont, the Acting Ensemble works with students and faculty to stage a major theatrical production every summer, along with smaller staged readings or events. Students have opportunities to attend rehearsals and participate in the productions in a number of ways.
In recent years, major productions have included Hamlet, Our Town, To Kill a Mockingbird, Blues for Mister Charlie, and Othello. In summer 2022, ensemble director Brian McEleney produced an adaptation of Jane Eyre as well as an original play, Johnny Eyre.
Bread Loaf's Oxford campus offers a rare opportunity to see some of the best theater in the world. Each summer, the whole school makes excursions to see at least one major play in places like London and Stratford-upon-Avon. Students may also take a page-to-stage course on British theater or join class trips to plays in Oxford, London, or Stratford.
At all three Bread Loaf campuses, there are many courses in theatrical literature.