Vermont
Thoughts of my fifth and final summer of Bread Loaf continue to elicit inescapable joy and melancholy. It's hard not to feel gratitude for being given so much to cherish.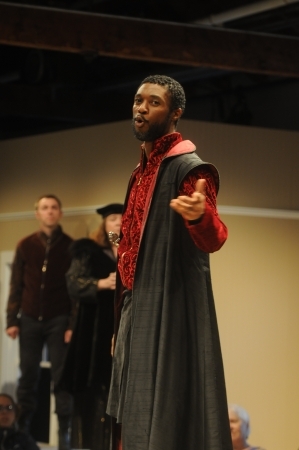 There was Democracy Week, dedicated to the looming preoccupation of what that term, "democracy," can or should mean now. Envisioned and precipitated by Professor Doug Jones and his class, this sustained dwelling on one matter over several memorable days will persist. I don't remember a comparable attempt to probe or perseverate communally. Whether listening to Jasmine Johnson or to classmates during the community fishbowl discussion, we could admit how little we understood about what we always espoused, with the hope to find better ways to listen and care. I hope such symposia recur.
There was the phrase "signs and wonders," which often boomeranged around my mind throughout these weeks—"as the lights of a car stabbed through the darkness" and fog while careening up and around 125, its ridges and curves like a creemee's more than I'd ever before noticed; as a black bear heaved about my rental cabin at 2 a.m. and rived the wooden trash shed, favoring Jax cheddar cheese curls; as the eyes of the Barn's twin owl andirons blazed in the fireplace and witnessed people's yearnings and strivings between classes and dances; as veins raged and saliva misted during this session's haunting Othello; as a leech wriggled into darkness from Lake Pleiad's shallows; as night laughter and banter rippled from the ruddy deck named after Melville's whale; as strangers and friends fused voices for song in a basement bar or around a fire near a pond; as we mendicants filed toward caffeine, convalescing every morning; as trees soughed during the golden hour.
There is Vermont.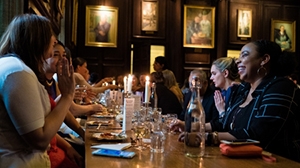 Oxford
"J. K. Rowling shouldn't get so much credit for thinking up Hogwarts," a friend joked as we took in the mahogany dining hall, including the long student tables and elevated dais reserved for our professors. "It's just Oxford."
I smiled, knowing that his cynicism belied a genuine wonder.
For over 800 years, Oxford has been the home of so many important English writers, and every time I turned a corner, I found myself walking into yet another one of their literary landscapes. In the Eagle and Child, I sipped a pint in the very spot where the Inklings (J. R. R. Tolkien, Lewis Carroll, and C. S. Lewis) met weekly to discuss their work. When my professor guided us in a punt down the River Cherwell, I imagined Lewis Carroll doing the same between math classes.
Even long days in the library took on a certain magic, especially when my latest paper was mercifully nearing its end, and I was headed back to Lincoln College through St. Mary's Passage, a cobblestone alleyway where a solitary lamppost stood sentinel against the night sky. Since C. S. Lewis had commuted through here hundreds of times, locals declared this very lamppost to be the inspiration for the one marking the beginning of Narnia.
Some nights, after the tourists had cleared out, I looked back at the glowing lamp and felt the power of a writer's imagination opening the door to a story. The best part was that whichever Bread Loaf student was seated next to me at dinner would understand exactly how I felt.
New Mexico
We gathered in layered semicircles under the slanting orange light with our bare feet on the warm bricks of the courtyard, to read our poetry and sing our songs and play our spoons on a Sunday evening in July.
Who would stop to think of October?
Who would stop to think that the tentacle petals of Apache plume would drop and blow away, that the expanses of blue-green chamisa would bloom yellow next to purple aster flowers? That the arroyo sand would turn dark with rainwater, that the sky would turn a piercing blue, that the ambient air would turn electric enough to levitate strands of hair? And who would stop to think that in the meanwhile of this desert autumn, we would be in our separate states (with their marching torches and their wild hurricanes and their record-breaking heats), pulling poems from our annotated anthologies and printing papers of our summer colleagues' lesson plans? Who knew that we would sometimes find ourselves in tender reveries, thinking of the rich feeling of Becoming we had singing on that porch, conversing in that classroom, writing in that arroyo? And who knew that across our separate states we would be watching the faces of our hundreds and hundreds of students, electric, too, with the feeling of Becoming?
I suppose we did know, somehow. Hot and dry in our summer desert on a Sunday evening, we came together to drop pebbles in mirage water and were eager to watch the ripples expand.