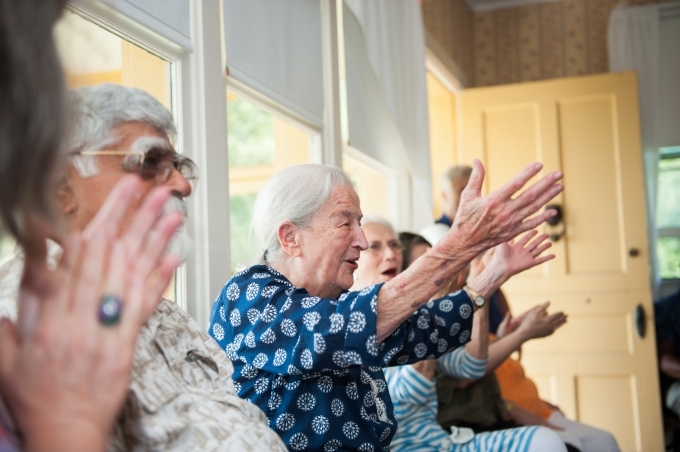 Described as "indefatigable," "a wonder," "the mother of the revolution," "visionary," "wild and wily," and "understated—with a surprise punch," Bread Loaf Professor and Director Emerita of BLTN Dixie Goswami retired in August after 40 years at the School of English.
In a tribute to Dixie, Andrea Lunsford, Stanford professor emerita and former Bread Loaf faculty member, once remarked, "Dixie is woven so closely into the warp and weft of my intellectual, professional, and collegial life that I can't remember a time without her."
Dixie has transformed Bread Loaf, the lives of countless Bread Loaf students, and the scholarship of teaching. "When we think of the major advances in researching and teaching the language arts in this country," writes Lunsford, "we inevitably think of Dixie." Former BLSE director Jim Maddox reflects, "We all knew that she was the spearhead of improving the teaching of English in the United States. She helped to assemble a magnificent faculty of writing… . She was the person most instrumental in making Bread Loaf a 52-week-a-year school instead of a six-week-a-summer school."
In 1993, Dixie, along with Maddox and Rocky Gooch, cofounded the Bread Loaf Rural Teacher Network, which became today's Bread Loaf Teacher Network (BLTN), a collective that brings unprecedented numbers of public school teachers to Bread Loaf, many of whom teach in some of the most economically distressed settings in the nation. Most recently, Dixie provided the guiding vision and wisdom to form the BLTN Next Generation Leadership Network, through which youth collaborate to bring literacy and social action skills to equity and social justice work in their communities.
From Frothingham Cottage, Dixie launched countless teaching and writing projects and raised millions of dollars, conversation by conversation. "My exposure to Dixie, and to the exhilarated community buzzing around her Frothingham hive," says John Elder, longtime Bread Loaf faculty member and Middlebury College professor emeritus, "transformed my teaching and writing alike. Through her, I was introduced to writing as a dramatic process of discovery, as well as to the ways such a perspective can foster an authentic and inclusive community of learners. Dixie has been both a colleague and a guide."
"When Dixie Goswami walked into my middle school classroom 26 years ago, I had no idea how she would forever change my life," says Bread Loaf alumnus and philanthropist Doug Wood MA '97. "Her mentorship, support, colleagueship, friendship has meant and continues to mean the world to me. She has encouraged many of us to find our narrative voice, to put our students at the center, and to collectively contribute to and sustain our communities. She saw in all of us our 'magic potential' and we are all so very lucky to have been touched and influenced by this remarkable person."
Goswami, who received an honorary Doctor of Letters from Middlebury in 2000, earned the College's Virtue Family Exceptional Service Award at the 2019 Bread Loaf Commencement. "If ever there was a Bread Loaf faculty or staff member who has 'gone above and beyond their normal professional responsibilities to support and connect with students in ways that build a more engaged and inclusive Middlebury community,'" wrote BLSE Dean Emily Bartels, "it is Dixie Goswami." 
Dixie will remain firmly woven into the fabric of Bread Loaf as she continues to advise BLTN and Write to Change, the nonprofit she founded in 1996. 
—Tom McKenna MA '96
A Tribute to the Legacy of Dixie Goswami
I met Dixie Goswami at Strawberry Lane.  I was living in Atlanta at the time, serving as a consultant in the humanities for the Atlanta Public Schools through the National Faculty Program.  Dixie had agreed to brainstorm with them about a funding opportunity, and the director of the program asked me to come along to Clemson to talk about what we were doing with writing and literature.  It was a good meeting.
Not long after that meeting, I received a call from Dixie.  In true Dixie fashion, she said to me something like:  "Jackie, I want you to teach at Bread Loaf."  Those of us who know Dixie well understand that Dixie doesn't quite ask you to do things.  She pretty much declares agreement and speaks the world that she wants to see exist.  Whomever she's speaking with can, of course, decline, but in so many ways doing so just doesn't seem practical.
In my case, my children were very young at the time – five and seven – and I made it clear that I didn't do anything that separated me from them for more than a few days at the time.  Thinking back on the moment and knowing Bread Loaf as I now know it, the concern was literally laughable, and she convinced me in about two seconds that Bread Loaf is very much a "child-friendly" place.  When I agreed to come (in summer 1990, I think that it was), I really didn't know that I was already caught in the Goswami web and would be so until this very moment thirty years later.
So, what have I witnessed as the impact of these three decades?  On a most fundamental level, having the privilege of being in Dixie-sphere, I was able to offer my children a truly magical set of summer experiences.  Not only did they forge lifelong relationships with the Gooch-Goswami grandchildren, under the guidance of Betty Bailey, they discovered every berry patch, swimming hole, pottery barn, and tourist site within forty miles of Bread Loaf.  As they got older, my daughter developed skills as an administrative assistant and a fry cook.  What a combination!  My son learned how to race frogs, build sets in the theatre (and was even awarded his own hammer by the crew—which he found to be absolutely amazing), and, wonders to behold, to drive a gator.  They wrote stories and went on marvelous adventures.  When we talk about those years now that they are adults, they literally glow with the memories of good times – all because Dixie Goswami said to me, "Jackie, I want you to teach at Bread Loaf."
If my children were able to benefit so marvelously from Dixie's interventions, I too was a direct beneficiary.  It goes without saying, actually, that I found Bread Loaf to be the most intense intellectual experience I could ever imagine.  Everything at Bread Loaf combined to make it so, but all were anchored by the conversations and planning meetings with Dixie as she dreamed with all of us about how we might change the world for children and for communities.  These moments were amplified by my actually being able to teach with Dixie and watch her nourish the transformation of all of us into serious advocates for top-quality literacy experiences for children, families, communities, teachers, and administrators, but especially for the un-noticed and the under-served, helping us to understand fully that, if we can build and sustain ecosystems in which teachers can "catch fire," then magic can happen in classrooms, our basic asset for democratizing experiences. 
Suffice it to say, that in the presence of Dixie Goswami, we all caught fire from the most passionate of hearts and the most active of minds—hers.  I witnessed teachers from many places and circumstances come into their own, find their own agency and authority, forge communities of learning and engagement, and go back to their places to accomplish innovative and amazing things, a process, given the nurturing hand of Dixie Goswami, that became an ordinary, not an extra-ordinary experience.  In my own case, during one of the busiest decades of my career, in the company of the flourishing community that Dixie Goswami built on Bread Loaf Mountain, I was able to get my own work done, with one example being my book, Traces of a Stream.  This book indeed became a book on the mountain.
So, what is the legacy of Dixie Goswami?  Well, the complexity of answering such a question is that the Goswami legacy is manifold.  From my observations, one basic and core legacy is that for untold numbers of people, she enters lives like a warm and comfy garment, with her quiet voice, outrageously southern accent, and quirky sense of humor.  She reminds all who come into Dixie-sphere that it's okay to care, to think, to do meaning-filled things, to have fun in the presence of others, and to believe in the power of young people.  As Jim Maddox once stated, she is the "indefatigable Dixie" who makes you feel quite guilty when you stand still.  Why?  Because she never stops.  Her wheels are always turning, with the rest of us struggling just to keep up.  She is, in fact, a wonder to behold.
- Jacqueline J. Royster, former BLSE faculty member and professor of English, Georgia Tech School of Literature, Media, and Communication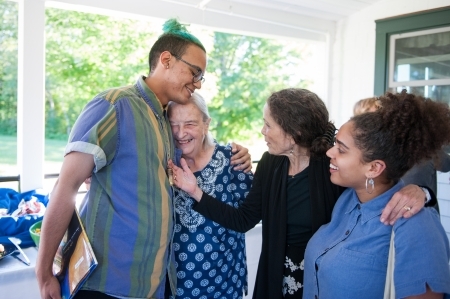 Dixie Remembers the Student Who Changed Her Life
It's been a privilege to teach—and learn from—terrific, inspiring Bread Loaf students over the years.  I'll admit to having more than a few pangs upon retiring from Bread Loaf last August, but I'm cheered by reflecting on my experience at the remarkable Middlebury Bread Loaf School of English, celebrating its 100th year.  I want to mention now just one from among the scores of Bread Loaf students who changed—and still are changing—my life: Mary Guerrero MA '04. Mary is by no means typical but must stand in this brief note for so many who have shaped my thinking, my work…my life.
I met Mary O'Brien Guerrero in late 1990s when she came to Bread Loaf as a member of the Andover Bread Loaf Writing Workshop (ABL), the Phillips Academy-BLSE partnership founded in 1987. Later an outstanding BLSE student (with her two young sons, her daughter, and husband Antonio's support) Mary worked year-round with Bread Loaf faculty member Michael Armstrong until Michael's death in 2016.
Michael Armstrong would make annual visits from the UK to Lawrence, Mass., to visit Mary's classroom at the Henry K. Oliver School, where the students' family origins were mostly in the Dominican Republic or Puerto Rico; for many, Spanish was their primary home language. In Mary's classroom, documenting the children's work was just one part of making their learning visible to the children themselves, their families, their teachers, and the wider public. Seeing in action Michael and Mary's "wonder working" focus on the growth of the imagination and how to read, describe, and interpret the children's stories—and why it matters—had a profound influence on my understanding of children and young people as artists, story-tellers, readers and thinkers.
From Mary, her colleagues and students at the Oliver School and the ABL social action collective, I learned what "classroom as cultural site" and "community as classroom" could mean: schools, curricula, and out-of-school youth-serving programs that are open-ended and interdisciplinary, where students collaborate with each other and their teachers and community mentors. Where they thrive as learners. In short, revolutionary.
I've learned with and from Mary what it means to be in it for the long haul.  I've travelled with Mary to national conferences, attended her workshops, read her articles, and visited her Oliver School classroom fairly often, several times when Michael was making one of his visits. Observing Mary in action—her focus always on her students and her Oliver School community while connecting beyond with community organizations and across the Bread Loaf Teacher Network (BLTN)—helped me appreciate the obvious:  Mary and many other Bread Loaf teachers have constructed for themselves rich and varied roles as teacher-scholars, researchers, community organizers, and advocates for equity and inclusion. They have the skills and knowledge to develop curricula, design and lead professional education programs, conduct action research, change public awareness about public education, and engage in policy decision-making at every level.  Their collective genius is a priceless asset that is mostly silenced in these days of commercialized, routinized practice.
Now I'm learning from Mary a new skill:  how to retire.  Having herself retired after almost two decades of teaching in Lawrence Public Schools, where she was twice named Teacher of the Year, Mary once again is teaching writing and self-expression at the Oliver Partnership Elementary School. She continues to be the co-owner and manager of El Taller, the bookstore-café that is a vibrant cultural hub of the city of Lawrence, energized (and often staffed) by Bread Loaf youth and adults. For BLTN, El Taller is home, a place where almost every minute it's open someone from Bread Loaf is in room.  Mary and another Bread Loaf alum, Jineyda Tapia, run a once-weekly "Rising Loaves" writing workshop for young people in Lawrence. Mary co-directs the Bread Loaf Slice program for middle schoolers at the Lawrence History Center (where she is a Board member).  She's currently reviving the ABL "Teachers as Writers" program, where a group of teachers and youth development workers meet every Saturday to write as part of a project to honor Michael Armstrong's continuing influence on ABL. She works year-round to bring artists and writers like Junot Diaz and Julia Alvarez to Lawrence. In her spare time, Mary is at Cafe Azteca with her husband Chef Antonio, helping out.  I'm sure there's more. 
Mary's approach summed up in my own words: "Be hopeful, loving, and persistent. A sense of humor helps a lot."
- Dixie Goswami