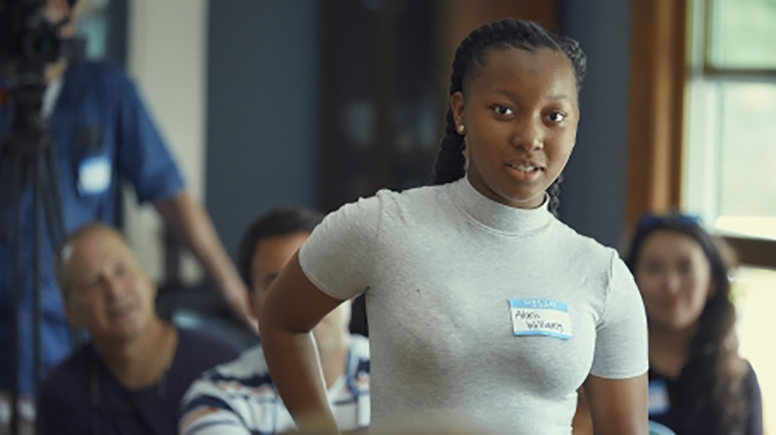 At Bread Loaf's special Poetry Free for All event last summer, Taylor Abasta, a youth from the Navajo Nation, joined Martín Espada and other distinguished poets to read one of his poems. His words, "We the movement, we the students, we the voices to be heard," captured the spirit of conviction embodied by the 20 other youth leaders who gathered with their mentors at the Bread Loaf campus in Vermont in July to kick off programming funded by a major grant from the Ford Foundation.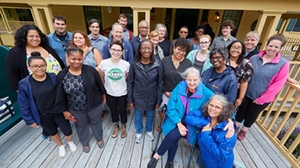 The grant supports the Bread Loaf Teacher Network Next Generation Leadership Network (BLTN NextGen), a network that will provide learning and leadership opportunities for a diverse cohort of talented youth from Lawrence, Massachusetts; Louisville, Kentucky; Vermont; rural South Carolina; Atlanta, Georgia; and the Navajo Nation. "Like other BLTN initiatives," says BLTN director Beverly Moss, "NextGen seeks to make visible the valuable resources, critical thinking, and leadership young people bring to their home communities and this country."
In launching the event, BLTN NextGen program director Dixie Goswami remarked on the initiative's power to support youth as they take the lead as advocates and agents of change. Throughout the week, the youth leaders collaborated with each other and Bread Loaf faculty and staff in a variety of leadership-building activities inspiring participants to, in Goswami's words, "tell stories and produce action that matters across our networks, communities, and larger world."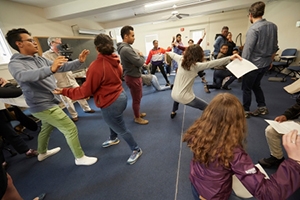 In a series of workshops, participants worked with tools—media kits, video cameras, lavalier mics—and were led through a series of storytelling exercises by the Bread Loaf Acting Ensemble. Reflecting on the experience, Monica Sim, a senior at Lawrence (Massachusetts) High School, said, "We interacted with each other to reach a rhythm and find harmony." That kind of momentum and ethos is necessary for any successful collaboration, she believes, and she intends to transport the energy of the Bread Loaf acting workshop back to the sessions she leads for students in grades 8 through 10 to improve their writing and self-expression.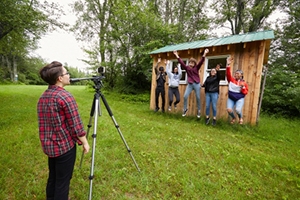 Other activities centered on producing action. In one, students discovered that many of their geographically and culturally distinct communities face similar challenges, and they collectively devised creative responses like after-school programming and supplementary reading and writing programs. "Networks," says Goswami, "are about being in it together." The members of BLTN NextGen will connect throughout the year online and in person, engaging each other as allies and resources in the fight against inequality and exclusion. Indeed, a steering committee, composed of NextGen youth and Bread Loaf mentors, will guide the program. They have already planned several cross-site visits and presentations at national conferences such as the Southern Education Foundation's "Reimagine Education" forum in Atlanta and the annual NCTE convention in St. Louis.
In his role as a BLTN NextGen youth leader, Taylor Abasta, who began his first year at Fort Lewis College in Durango, Colorado, this fall, plans to work on a documentary about youth self-expression and music culture on the Navajo Nation and hopes to help create an arts center there. He imagines such a center would "give freedom for artful expression" and would "address social issues and concerns, an alternative to substance abuse." His, clearly, is a voice to be heard.
To learn more about the BLTN NextGen initiative, please see Middlebury's news release and a video on the kick-off events at the summer 2017 session in Vermont.