Awards
Lou Bernieri MA '80 was recognized in August 2019 as one of 12 annual national teacher honorees by the Honored organization.
In May, the Reverend Robert D. Farrell, SJ, MA '66 received an honorary doctorate from Boston College, where he has taught since 1990.
Dixie Goswami, former Bread Loaf faculty member and cofounder of BLTN, retired this August after 40 years of service. Goswami has been named Director Emerita of the Bread Loaf Teacher Network, earning that title for her visionary leadership. Please see our related coverage on Dixie's retirement
Publications
Dan Toomey MA '89 published the essay "'My Oldest Friend in This World': Robert Frost and John Bartlett" in the Robert Frost Review (No. 28, Fall 2018).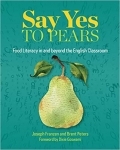 Brent Peters MA '16 (and current MLitt student) published with his colleague Joseph Franzen the book Say Yes to Pears (NCTE, September 2019), which chronicles the development of and serves as pedagogical handbook to their successful Food Literacy program.
Kate McQuade MA '11 published the article "What I Teach: Seven Titles from a High School Class on Trauma Literature" in the Literary Hub (August 6, 2019).
The White Dress, a play by Roger Mason MA '14, debuted off-Broadway at the Access Theater in July 2019. Mason's short film Softer premiered at the Outshine Film Festival in Fort Lauderdale in October.
J.T. Price MA '14 published the story "The Expected Hungers" in Juked (April 2019).
"These Are the Pearls," a poem by Myra Shapiro MA '73, appeared in the July 15, 2019, edition of the New Yorker.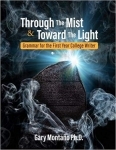 Gary Montaño MA '98, MLitt '04 published the book Through the Mist and Toward the Light: Grammar for the First Year College Writer (Cognella, May 2019).
Tommy Mulvoy MA '19 published the 
essays "My Wife Supports Our Family and I Love and Hate It," "How to Raise a Puppy When You're Expecting a Baby," "I'm a Dad with OCD. Here's How I Handle the Worrying," and "Postpartum Care Abroad: When the Nurse Midwife Is Too Hard-Core" in Fatherly.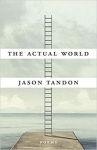 Jason Tandon MA '01 published his fourth collection of poetry, The Actual World, in August (Black Lawrence Press).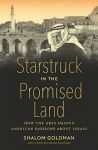 Shalom Goldman, Vermont faculty member and Pardon Tillinghast Professor of Religion, published Starstruck in the Promised Land: How the Arts Shaped American Passions about Israel (UNC Press, October 2019).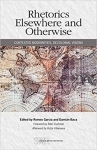 Damián Baca, New Mexico faculty member and associate professor of English at the University of Arizona, edited (with Romeo García) Rhetorics Elsewhere and Otherwise: Contested Modernities, Decolonial Visions (CCCC Studies in 
Writing and Rhetoric, March 2019) and published "Writing the Digital Codex: Non-Alphabetic, De/Colonial, Network/ed" in Afterlives of Indigenous Archives, edited by Ivy Schweitzer and Gordon Henry (Dartmouth CP, September 2019).
Cindy Rosenthal, longtime member of the Bread Loaf Acting Ensemble and professor of drama and dance at Hofstra University, published "Judith Malina's Voracious Body, Mind, and Spirit" in Performance Research (Vol. 24, Issue 3, May 2019).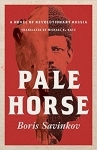 Michael Katz, Vermont faculty member and professor emeritus of Russian at Middlebury College, published a translation of Pale Horse: A Novel of Revolutionary Russia (University of Pittsburgh Press, May 2019).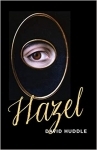 Hazel, the sixth novel by Vermont faculty member David Huddle, was published in June (Tupelo Press), and My Surly Heart, his ninth poetry collection, was published in October (LSU Press).
Mark Jerng, Oxford faculty member and professor of English at UC Davis, published "Race in the Crucible of 
Literary Debate" in American Literary History Vol. 31, Issue 2, Summer 2019).
Presentations
Oxford faculty member Cora Kaplan organized and spoke at an event titled "Elizabeth Barrett Browning and Place" at the Ledbury Poetry Festival (UK).
In April, Kate Marshall, Vermont faculty member and associate professor of English at the University of Notre Dame, was the keynote speaker at the "American Literature in the World" graduate conference at Yale University.