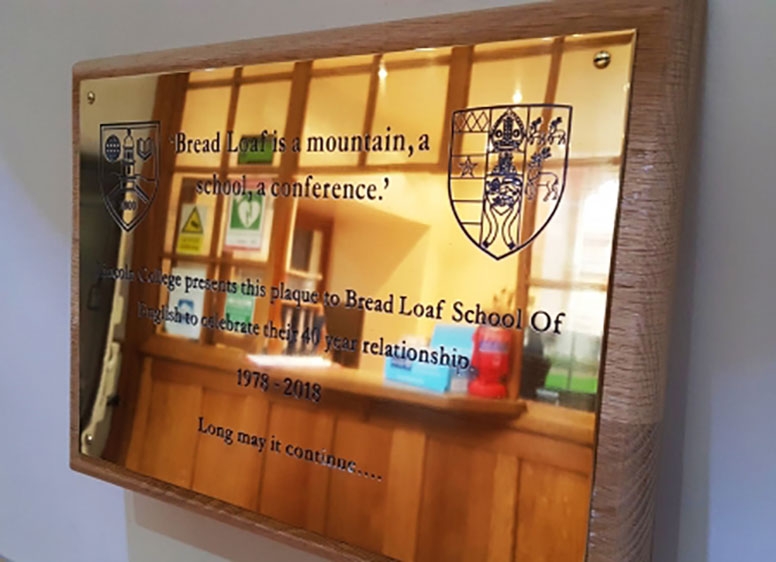 Under the imaginative direction of Bread Loaf faculty member and Equity actor Jonathan Fried, the Bread Loaf/New Mexico Acting Ensemble enjoyed an immensely successful debut summer, performing a program of Shakespearean scenes and monologues, conducting acting and teaching workshops, and visiting nearly every classroom to engage with students in dynamic textual analysis and interpretation.
Bread Loaf/Oxford celebrated 40 years of residence at Lincoln College, University of Oxford, with a birthday cake presented to the Bread Loaf director at a High Table this summer. Lincoln College offered Bread Loaf a plaque commemorating our long relationship and expressing the shared sentiment "Long may it continue."
n Bread Loaf/Vermont, a generous donation from Tyler Curtain and his husband, Jay D'Lugin, funded a one-of-a-kind concert by the Kronos Quartet. A highlight was an original piece that incorporated the voice of Mahalia Jackson speaking on what it meant to be black in America in the first half of the 20th century. Actors Whitney White and Peter Mark Kendall presented a thrilling cabaret version of Macbeth, told through the music of Ike and Tina Turner. And former Bread Loaf faculty member and current U.S. Poet Laureate Tracy Smith gave a standing-room-only reading of her poetry as our 2018 Drew Lecturer.
The letterpress project at Bread Loaf/Vermont was fueled by the activities of students in the courses Print Cultures and Poetry and the Graphic Arts, who worked with on-site master printers to produce projects for their classes, while other letterpress novices and experienced hands alike created their own printed texts. Graduates received a copy of a poem—"Shed," by Middlebury President Laurie Patton—printed on the Bread Loaf press.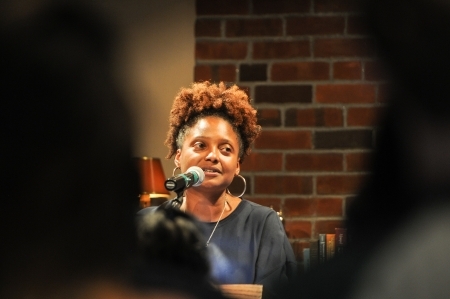 A group of 60 youth and adults from six BLTN Next Generation Leadership Network sites gathered this summer at the Bread Loaf/Vermont campus to reflect on their first year of youth social action advocacy. Youth, in consultation with adult mentors and Bread Loaf staff and faculty, presented key work from the first year of the initiative, and planned for year two. Cross-site visits to youth-led events will drive the second year of collaboration. BLTN NextGen is supported by funding from the Ford Foundation's Youth Opportunity and Learning initiative.