Midsummer Events
To kick off the Vermont session, Brian McEleney, Bread Loaf Theater Program director and faculty member, will perform in a one-man production of An Iliad, an adaptation of the Iliad, by Lisa Peterson and Denis O'Hare. The Vermont campus will also host a joint alumnae reading by Rebecca Makkai MA '04 and Kate McQuade MA '11. Makkai, finalist for the National Book Award for her novel The Great Believers, has also earned the Pushcart Prize for her short fiction. She is author of the novels The Hundred-Year House and The Borrower. McQuade, recipient of awards and fellowships from Yaddo, the Vermont Studio Center, the MacDowell Colony, and the White House Commission on Presidential Scholars, is the author of the novel Two Harbors and the story collection Tell Me Who We Were.
Former Santa Fe poet laureate Valerie Martinez will read at the New Mexico campus. Author of the poetry collections And They Called It Horizon, Each and Her, World to World, and Absence, Luminescent, Martinez is the program director at the National Hispanic Cultural Center in Albuquerque. And in Oxford, students will enjoy all-school performances of Measure for Measure at Stratford-upon-Avon and A Midsummer Night's Dream in London.
Hieroglyphics for Bread Loaf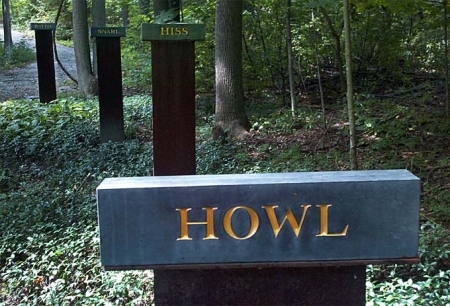 With a historic act, the Committee on Art in Public Places (CAPP) will help mark a historic event: Bread Loaf's centennial. CAPP oversees Middlebury's "One Percent for Art" policy that dedicates one percent of the cost of any renovation or new construction to the establishment and maintenance of publicly accessible art on campus. For the first time since the board's adoption of the policy in 1994, a CAPP sculpture will be sited at the Bread Loaf campus. The committee voted this winter to relocate the work Hieroglyphics for the Ear (1997) by British artist Kate Owen from its current location on a wooded pathway behind the Atwater Dining Hall to its new home. 
That new home is ideal for Hieroglyphics, a piece that blends the visual, textual, and lingual in five slate-and-steel columns bearing onomatopoetic words such as "crackle," "howl," "snarl," "gurgle," "hiss." As Jennifer K. Brown MA '94, chair of Bread Loaf's Centennial Committee, remarks, the installation of this "sympathetic and permanent work of art accessible to the Middlebury community is an enduring tribute not only to Bread Loaf's previous 100 years but also to the promise of the next."
Introduction to Graduate Studies Offered at New Mexico Campus
"Graduate literary studies stands at the crossroads where rethinking the uses of literature intersects with reimagining the narratives that shape knowledge, truth, and value." So writes Bread Loaf faculty member Jennifer Wicke in the description of her new course, Introduction to Graduate Studies. The course, which will explore critical and theoretical approaches to reading and writing, expands the offerings at Bread Loaf's New Mexico campus that are particularly well suited for first-year students. Small class size and an intimate campus environment on the edge of culturally rich Santa Fe make the leap into graduate study especially inviting, while faculty panels on writing and research and orientation sessions on publication and the PhD lay out the "whys" and "hows" of graduate study. Open meetings of the Bread Loaf Teacher Network, headed by Bread Loaf veteran Susan Miera MA '97, galvanize teachers who are interested in working with each other and their students on life-changing pedagogies.
BLTN NextGen Activities
Three large-scale conferences made possible by Ford Foundation funding are allowing youth and mentors of the BLTN NextGen network to voice the unique and common struggles their communities face, to share the accomplishments of their local work, and to develop ways to connect their advocacy efforts. A November conference in Lawrence, Massachusetts, titled "My Identity: Reclaiming Ourselves through Writing and the Arts" featured updates from the NextGen sites. Youth on the Navajo Nation reported on their involvement in building homeless shelters, recycling trash into art, public health policy making, and workforce and job creation. The rural South Carolina team described their concentration on sports as an avenue for social discourse and change through the establishment of a program merging basketball and mentoring for elementary schools in gang-influenced areas. In addition to their food literacy and food justice programs, Louisville, Kentucky, participants have added a focus on promoting gun legislation. Vermont youth shared local issues they are taking up in the What's the Story? course, and the Lawrence team gave insights into youth-driven community partnerships.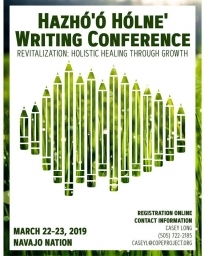 This March, youth at the Navajo Nation hosted a writing conference titled "Revitalization: Holistic Healing through Growth." And plans are under way for a final 2019 NextGen gathering at the Hindman Settlement School in Kentucky to include participants from Berea College's GEAR UP program as well as local eastern Kentucky teachers and students.