Two professors honored with first Marlow Above and Beyond Award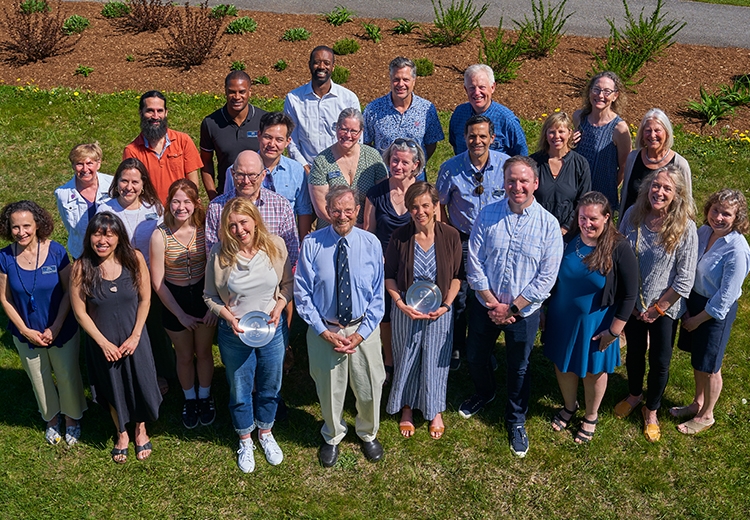 In April 2020 as the COVID-19 pandemic was taking hold, Middlebury Professors Caitlin Knowles Myers and Sarah Stroup helped launch a new initiative called Faculty at Home, a webinar series that allowed them to share the work of Middlebury faculty with virtual audiences around the world.
For their work in providing this engaging connection, Myers and Stroup have been awarded the first Hugh W. Marlow, Class of 1957, Above and Beyond Award by the Middlebury Alumni Association.
The award is named for Hugh Marlow '57, who has demonstrated a magic touch in connecting Middlebury College alumni with each other and their alma mater for more than a half-century. Marlow, who retired as executive secretary of the Middlebury Alumni Association in 2009, has never stopped being chief cheerleader for Middlebury, its students, and its alumni.
In honor of all the ways Hugh has gone above and beyond to boost Middlebury and its alumni, the Middlebury Alumni Association has created the Marlow Above and Beyond Award to recognize members of the Middlebury community who have done exceptional work to further Middlebury alumni engagement. 
Aptly, the first Marlow award goes to Myers and Stroup for helping to develop a new way to connect and strengthen relationships within the Middlebury College community at a time when many were particularly craving connection. The two professors have collaborated closely with colleagues from Advancement, the Provost's Office, and Media Services to plan and execute the series.  All told they have hosted 47 Faculty at Home webinars, on topics ranging from black holes to financial fraud, from politics to art. The events have attracted 7,500 attendees—including students, alumni, parents, and friends of Middlebury. The series will continue in the 2022–23 academic year.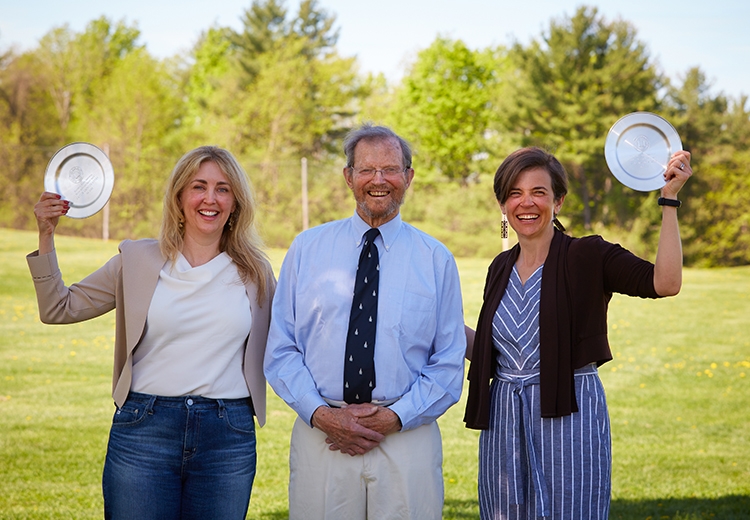 "This is purely a voluntary commitment to Middlebury on top of their course work, administrative responsibilities, community service, and family time," said Meg Storey Groves '85, Associate Vice President for Alumni and Parent Programs at Middlebury. "To say that they've gone above and beyond to engage Middlebury alumni, parents, and friends would be an understatement." 
Myers is the John G. McCullough Professor of Economics and co-director of midd.data, Middlebury's data literacy initiative. She has also made her mark nationally this year by providing data about the causal effects of abortion policy.
Stroup is an associate professor in the Political Science Department, chair of the Faculty Council, program director for International and Global Studies, and former co-director of the Engaged Listening Project.
Janine Hetherington, president of the MAA board, described Faculty at Home as a terrific way to welcome alumni back into the classroom. "Through the Faculty at Home series, Middlebury has immersed us in far-reaching ideas; challenged us to think about how we move through this world and what our responsibilities are to ourselves, our families, and our communities; and brought us together to listen, learn, connect, and converse," Hetherington said. 
With Marlow in attendance, Myers and Stroup were presented the 2022 Marlow Above and Beyond Award at the May 14 Middlebury Alumni Association meeting.
 
Alumni and Families
700 Exchange St.
Middlebury, VT 05753