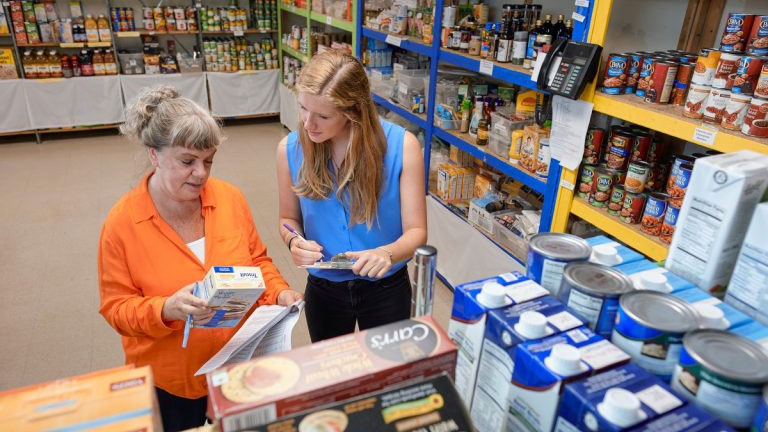 Learn in the classroom and in the world. This is community-connected experiential learning.
Privilege & Poverty (P&P) is comprised of a growing group of students, faculty, staff, alumni, and community partners who share a common interest in studying Privilege & Poverty. We believe that collectively grappling with the problems associated with inequality—in both its domestic and global forms—represents a remarkably good application of a liberal arts education.
If you are interested in exploring the Privilege & Poverty Cluster please reach out to any of us for a conversation. We would be delighted to advise you on how to get started with the study of Privilege & Poverty at Middlebury.
he/him
Faculty Director, Privilege & Poverty
Matthew Lawrence is Assistant Professor of Sociology and a Barksdale, Jr. Faculty Fellow. Professor Lawrence teaches a range of courses, with a particular focus on education, inequality, social mobility, social statistics, data and research methodology.

Professor Lawrence serves as the Academic Director for the Privilege & Poverty Academic Cluster. 
Email:

Tel:

Office:

Munroe Hall 412

Office Hours:

Spring Term: Wednesdays 10:30-12:00pm and Thursdays 3:45-5:15pm
he/him
Assistant Director, Privilege & Poverty
Jason Duquette-Hoffman is an Assistant Director at the Center for Community Engagement, and serves as the Internship Director for the Privilege & Poverty Academic Cluster. In this role, he coordinates the experiential learning, co-curricular programming and community partnerships that underpin the P&P educational experience. Jason also teaches the CCE's Community Connected Learning course, advises student Community Engagement Organizations focused on economic inequality and democratic engagement, and supports the works of community partner organizations and coalitions. 

Book a time to talk with Jason 
Tel:

Office:

26 Blinn Lane, Office 204