Winter Break Library Update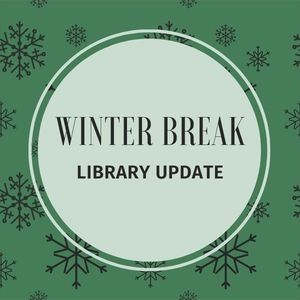 As winter break approaches, we wanted to alert you to a few deadlines, and share some good news.
Library Hours 
The Davis Family Library is open regular hours this week, through Friday, December 17, 2021. At the Armstrong Library, we have adjusted our opening and/or closing times Wednesday-Friday due to reduced staffing levels.
After Friday, December 17, please check the library hours page for winter break hours and closures. 
Good News about the Library Budget!
Our budget for online resources was partially restored after 2020 budget cuts, so we've been able to restart some subscriptions. We apologize for any broken links you find as we work through the systems updates required by these changes. If you're having trouble accessing something online, it's always worth asking a librarian for help.
Our budget for print books was restored as well, so be sure to let us know if you need books! 
Interlibrary Loan Dates
Interlibrary Loan services will stop shipping materials to other libraries on December 15, 2021. If you have Interlibrary Loan materials that are due between December 15 and January 4, please feel free to keep them during the break!
You may continue to request materials from other libraries after December 15, but some materials might not be ready for you until January. Interlibrary Loan will be closed from Monday, December 20, 2021 until Monday, January 3, 2022. 
Interlibrary Loan materials can be renewed online in ILLiad, or by emailing mdyill@middlebury.edu if your item is overdue.
Purchase Requests and Reserves Deadlines (for faculty):
We would like to encourage faculty to submit reserve and purchase requests for Winter Term and Spring by the dates below.  Please be aware that shipping and supply chain delays are having an impact on physical purchases especially, so the earlier you can request those materials, the better!
See these purchase requests and reserves pages for a reminder of how to request materials for purchase or course reserves
Deadlines for Winter and Spring
Winter Term course purchase requests: Dec. 21, 2021
Winter Term reserve requests: Dec. 22, 2021
Spring Term course purchase requests: Jan. 18, 2022
Spring Term reserve requests: Feb. 7, 2022
***
Thank you for your continued support, and we hope you all have a restful and rejuvenating winter break!
If you have any questions, ask a librarian!
Media Contact
Carrie Macfarlane is the Director of Research & Instruction at the Davis Family Library