Summer 2022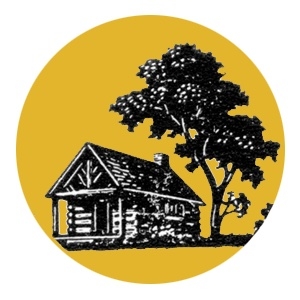 Imprint of the Bread Loaf Press, established 1940
Robert Frost's casual suggestion in 1939 that members of both the School and Writers' Conference should publish two or three small books "printed by hand and even set by the authors themselves" was taken seriously by School of English Director Harry Owen. Through the fall and following spring, he and Dean Storrs Lee acquired essential printing equipment and designated the old Hubbard Study as the home of the Bread Loaf Printers. This button celebrates the Bread Loaf School of English centennial and commemorative exhibit.
Fall 2021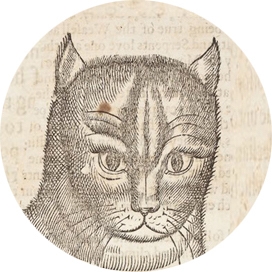 A mischievous cat from the English Renaissance
1607 
A woodcut illustration of a cat, from Edward Topsell's bestiary,The History of Four-footed Beasts, published in 1607. This detailed inventory of fantastical and realistic animals was one of many books in William Shakespeare's library, a possible inspiration for the magical creatures in his play  "The Tempest." Rare Books & Manuscripts-Oversize QL41 .T66 1607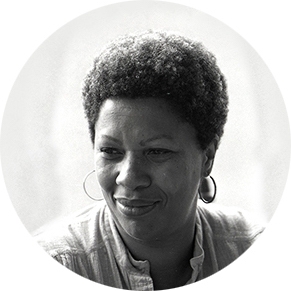 Toni Morrison, Bread Loaf Writers' Conference
Toni Morrison (1931 – 2019) the American novelist who won the Nobel Prize in Literature in 1993, was a faculty member at the Bread Loaf Writers' Conference in Ripton, Vermont, in the 1970s.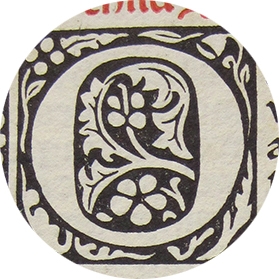 Letter 'O' from the Kelmscott Press
1895
A woodcut initial from Child Christopher and Goldilind the Fair, a novel by William Morris published by the Kelmscott Press, in Hammersmith, England, 1895. Rare Books & Manuscripts PR5079 .C5 1895 volumes 1-2.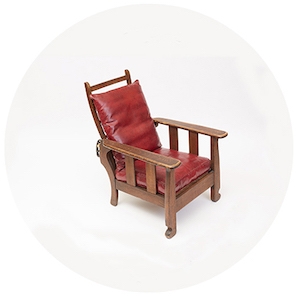 Robert Frost's Morris chair
date unknown
Chair from the wilderness cabin in Ripton, Vermont, seasonal home to the American poet, Robert Frost.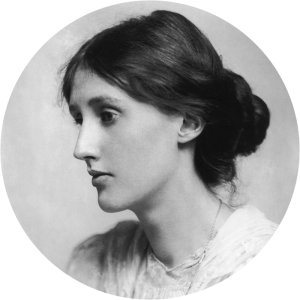 Virginia Woolf, author (1882-1941)
Virginia Woolf was an English author and member of the famous Bloomsbury group of writers and artists. Woolf and her husband, Leonard Woolf, founded the Hogarth Press publishing house. Visit Special Collections to view first editions of works by Virginia Woolf in dust jackets designed by her sister, Vanessa Bell.
Winter Carnival snow sculpture
1944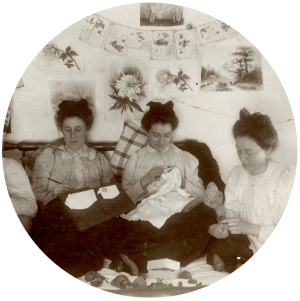 Knitting in a dorm room
1901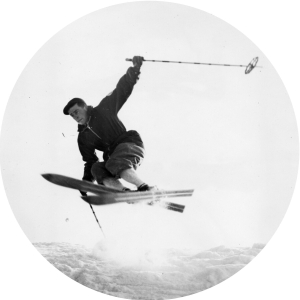 Skiing
circa 1928
From an album compiled by William Storrs Lee, Class of 1928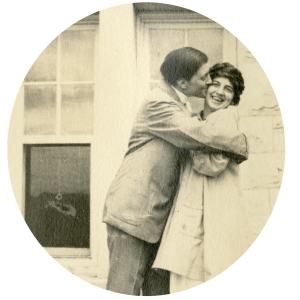 Elsie and "Miget" Jones
circa 1919
From the scrapbook of Ruth Hesselgrave, Class of 1919. This photo, among others, depicts Middlebury women, some of whom are dressed in men's attire, having fun together.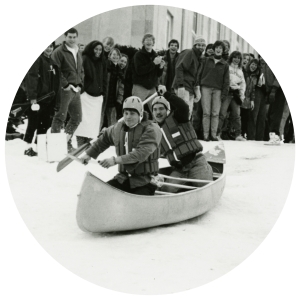 Canoeing at Winter Carnival
1988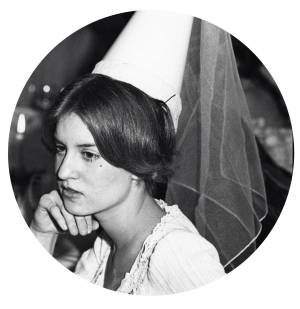 Itty Bitty: Tiny Texts in Special Collections
Fall 2021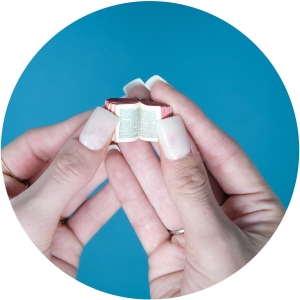 The New Testament of Our Lord and Savior Jesus Christ
Glasgow, Scotland, 1895
At 18mm, the New Testament is the smallest book in Special Collections. Published by David Bryce and Son, it comes in a metal locket case, complete with a built-in magnifying glass.
Held by Katie van der Merwe '22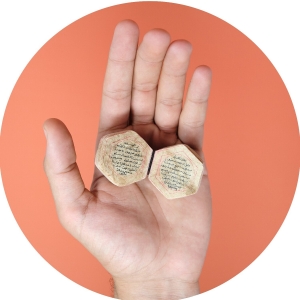 Qur'an (القرآن)
Turkey [?], early 1900s
This hexagonal Qur'an features nine lines of handwritten text on each page.  The opening pages feature hand-drawn color illustrations. Surah - or chapter - headings are written in red ink, while the primary text is written in black.
Held by Abed Abbas '24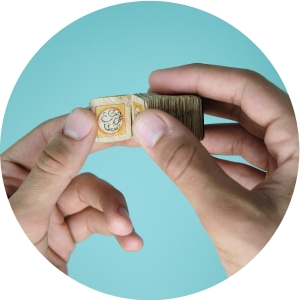 Qur'an (القرآن)
Islamic year 1100, corresponding to the year 1689
The calligrapher of this handwritten Qur'an is noted as "Sulaiman Abu […] son of Omar the Preacher." The opening and closing pages are decorated with red and gold. While not a complete copy, this Qur'an includes a few choice Surah, or chapters. 
Held by Abed Abbas '24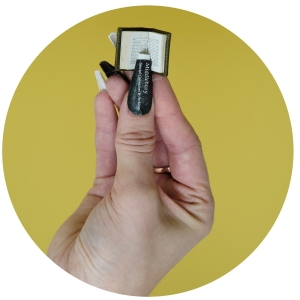 Dialoghi by Giacomo Leopardi. Florence, Italy, 1943
A dollhouse miniature, Dialoghi is bound in sheepskin leather with a gilt (gold) title on the cover. The doll that owned this book certainly read Italian poetry, as this volume contains three poetic dialogues.
Held by Bailey Sneed '22
Under the Covers: The Hidden Art of Endpapers
Spring 2020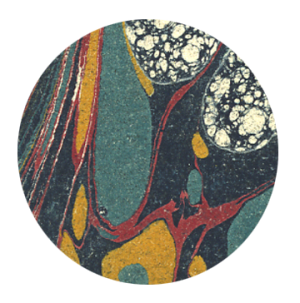 Fall 2019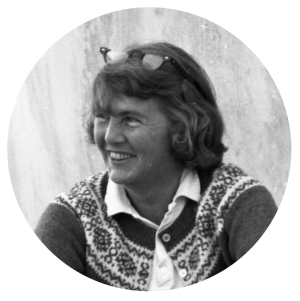 Erica Wonnacott, Dean of Students
(1926-2002)
Erica Wonnacott worked at Middlebury College from 1968 to 1988. During her first two years at the college, she served as Assistant Dean of Women under Elizabeth Kelly and subsequently assumed the position of Dean of Students, a role in which she worked closely with the student body until her retirement. 
Spring 2019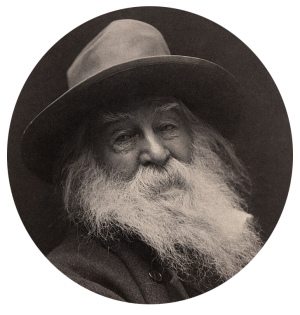 Walt Whitman, poet
(1819, New York – 1892 Camden, New Jersey)
During his long life, Whitman was a hand-press printer, a teacher, an abolitionist, a journalist, a poet, a Civil War hospital volunteer nurse, a government clerk, and a lover of sunbathing in the nude. Special Collections has two copies of the 1855 first edition of Leaves of Grass, self-published and printed by Whitman. According to the American Academy of Poets, "Along with Emily Dickinson, he is considered one of America's most important poets." We agree. Happy 200th birthday, Walt.
Summer 2018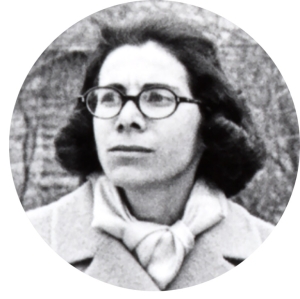 Marjorie Lamberti, Professor of History
Marjorie Lamberti began teaching at Middlebury in 1962 and became the second woman at Middlebury to be appointed to full professor and the first to receive tenure. Devoting almost four decades to teaching German history and the history of European Jewry, while establishing herself as a distinguished scholar, her commitment to teaching and dedication to her students led to the foundation of the Marjorie Lamberti Faculty Appreciation Award.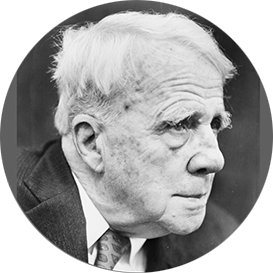 Robert Frost, poet
(1874, San Francisco – 1963 Boston, Mass.)
From 1921 to 1962, the famous American poet spent almost every summer and fall teaching at Middlebury's Bread Loaf School of English. His summer cabin in Ripton, Vermont remains intact, with items from his home on permanent display in Special Collections.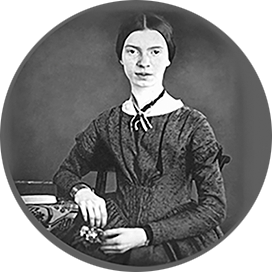 Emily Dickinson, poet
(1830, Amherst, Mass. – 1886, Amherst, Mass.)
With only ten poems published during her lifetime, Emily Dickinson's 2,500 manuscripts are the lifeblood of her work. Abernethy Curator Viola White's purchase of an Emily Dickinson poem in February 1938 represents just one of her historic contributions to the Abernethy Collection of American Literature.
Summer 2017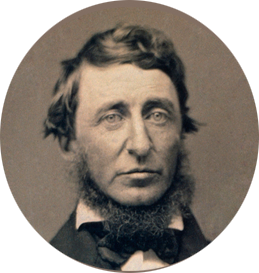 Henry David Thoreau, essayist, poet, philosopher
(1817, Concord, Mass. -1862, Concord, Mass.)
We created this button in honor of Thoreau's 200th birthday, and to promote Special Collections' hundreds of Thoreauvian holdings. Of these is among the most valuable items owned by Middlebury, Henry David Thoreau's personal copy of Walden with his hand-written notes, acquired by Middlebury Abernethy Library Curator Viola White in 1939.
Spring 2016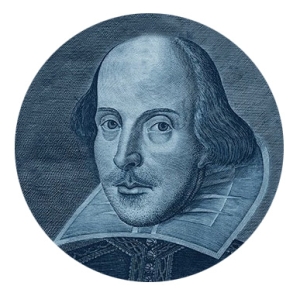 William Shakespeare, playwright and poet
(1564-1616)
In February 2016, Middlebury College hosted the book that brought us Shakespeare, the First Folio, on tour from the Folger Shakespeare Library.
Fall 2015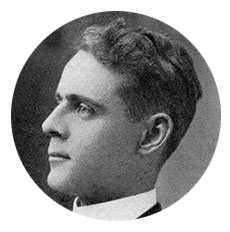 Perley Voter, Chairman of the Chemistry department
Perley Voter received his master's and Ph.D. at Harvard before joining the Middlebury faculty in 1912. A scientist and skier, Perley Voter taught Chemistry at Middlebury for over forty years and contributed to the construction of a 27-meter ski jump on Chipman Hill for the first annual Winter Carnival in 1943.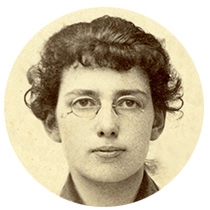 Eleanor Sybil Ross, Class of 1895 
After graduating from Middlebury in 1895, Eleanor Sybil Ross taught at high schools across the country from her native Rutland, Vermont to Pennsylvania and Idaho. Twenty years later, she returned to Middlebury at the request of President Thomas to serve as Dean of Women for thirty years. Here see young Eleanor as a student (Dean Ross above).
Harvey Denison Kitchel, Class of 1835 
Harvey Denison Kitchel became Middlebury's fifth president in 1866 and was the first alumnus to hold the office. Although he had a reputation for being an outstanding student and preacher, his lack of fundraising abilities rendered him an inefficient president. Unfortunately, not even his marvelous facial hair could not protect him from the faculty's scrutiny, and he stepped down in 1873.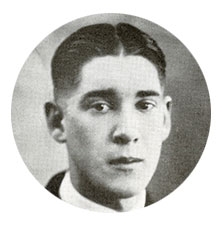 Doc Reginald Cook, Class of 1924 
Doc Cook earned his BA from Middlebury in 1924 and his master's degree from Bread Loaf in 1926 before attending Oxford as a Rhodes scholar. Upon his return to the U.S., Middlebury's President Moody (from 1921-1942) persuaded him to join what was probably the first separate department of American literature established at an American college or university. He was a wildly popular professor and directed the Bread Loaf School of English from 1946-1964.
Spring 2015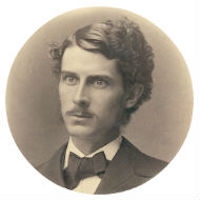 Julian W. Abernethy, Class of 1876
A distinguished teacher and scholar of American and British literature, Abernethy was an avid bibliophile and during his lifetime amassed an extraordinary collection of books and original manuscripts by American authors. When he died in 1923, he donated his library to Middlebury College.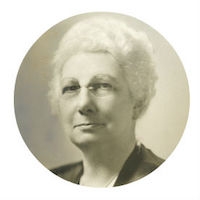 Eleanor Sybil Ross, Class of 1895 and Dean of Women
Eleanor Sybil Ross was Dean of Women for nearly 30 years. She was integral in doubling the size of the Women's College of Middlebury and was remembered for the strict discipline that she insisted upon for Middlebury women.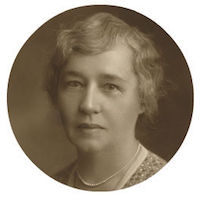 Lilian Stroebe, founder of the German Summer School
Lilian Stroebe was founder of the German Summer School in 1915 and its Director from 1915-1917. She was a professor of German at Vassar College from 1905-1943. For its first six-week summer session, tuition in the German School was $30 for the summer. Board and room at the college was an additional $8 a week.
Fall 2014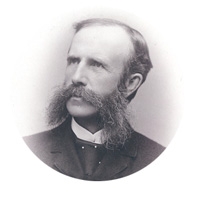 Ezra Brainerd, Class of 1864
Brainerd, born in St. Albans, Vermont, was a College alum, the College's eighth president (1885-1908), and a prominent geologist and botanist with a lifelong enthusiasm for violets. (To boot, his extravagant sideburns rank him in the Top Ten List of Celebrated Middlebury Beards.)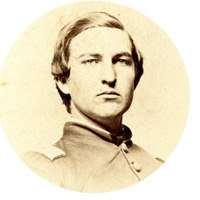 Aldace Freeman Walker, Class 1862
Born in Rutland, Vermont, Walker was class valedictorian. Famously, he delivered his valedictory address in Civil War military uniform before leaving for the front. Following his Civil War service, Walker practiced law in New York City and returned to Vermont in 1873 to serve as a State Senator from 1884-1885.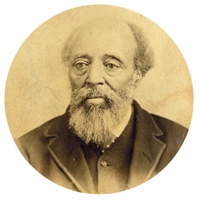 Martin Henry Freeman, Class of 1849
Born in Rutland, Vermont, Freeman would go on to be the nation's first African-American college professor (at Allegheny College in Pennsylvania) and later a professor and president of Liberia College in the African-American colony in Monrovia, Liberia in Africa.  Read this 2016 blog post about Martin Henry Freeman, written by Associate Professor of History, William Hart.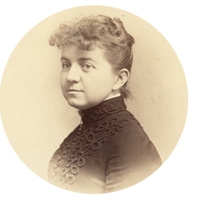 May Belle Chellis, Class of 1886
After transferring to Middlebury as a sophomore from Mount Holyoke College, May Belle Chellis finished first in her class. During her years as a Middlebury student, she boarded in the home of her classmate Anna Bolton, a farmhouse now known as the Franklin Environmental Center at Hillcrest.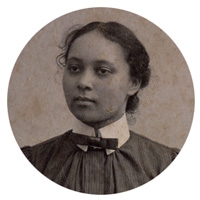 Mary Annette Anderson, Class of 1899
The first woman of color to graduate from the College, Mary Annette Anderson was born in Shoreham, Vermont. Finishing first in her class, she was class valedictorian and is thought to be the first African American woman elected to the Phi Beta Kappa honor society in the United States. Read this 2016 blog post about Mary Annette Anderson, written by Associate Professor of History, William Hart.